5-minute exercises to get children jumping
30 August 2011
Average rating
This item has 5 stars
of a maximum 5
Find out about 5-a-day Fitness, which encourages children to get active every day at school

Childhood obesity
A recent report by the Greater London Authority, 'Tipping the scales', revealed that childhood obesity costs the government around £7.1m a year in London alone, with this figure set to rise if today's children remain obese in adulthood. The report also found that one in five children is obese.
One fitness resource, 5-a-day TV, claims the best way to combat child obesity is to make fitness fun and, importantly, a part of every school day. With 5-a-day Fitness teachers can log on each day and gain access to a wide variety of five minute fitness workout routines. These can be enjoyed by individual children, or shown on an interactive whiteboard to allow the whole class to try a routine together. Each five minute routine is packed with high energy low impact movements, perfect for getting the school day off to a great start.
See 5-a-day Fitness in action:
Using 5-a-day Fitness
Primary school PE coordinator Chloe Jackson has been impressed with 5-a-day Fitness, having previously worked as a School Sport Partnership Development Manager: 'All of our classes take part in 5-a-day Fitness every single day. The children thoroughly enjoy the dance routines and are incredibly enthusiastic about all the activities. We have regular 5-a-day assemblies where whole year groups come together and choose their favourite routines to perform. Our children absolutely love 5-a-day Fitness. It is a major part of their daily routine, and has contributed to making our whole school fitter, happier and more focused.'
The London Christian School in Southwark was previously cited as having one of the highest obesity rates in London. Head teacher Georgina Hale says: '5-a-day is a brilliant resource that is easy to use, fun and effective. Our school uses 5-a-day as part of its daily assembly. Children smile and laugh and participate enthusiastically during the short focused exercise/dance session. All our students, boys and girls, love the dance routines, and they have been talking to their parents at home about how much they are enjoying it.'
Including PE in the school timetable
With increasing curriculum targets, teachers sometimes find it difficult to include physical fitness in the school day. With its short-burst workouts, 5-a-day Fitness is designed to fit into any timetable; children don't have to change into PE kits and can even perform the routines at their desks.
All 5-a-day Fitness routines are now available in French and Spanish. With a spoken foreign language soundtrack and on-screen translations, children can now have fun, get fit, and learn a language at the same time!
Many schools will be focusing on sports and physical activity in the lead-up to the London 2012 Olympic Games next year. As a tie-in with the Games, 5-a-day will launch an inter-school competition allowing schools to compete against each other to perform 5-a-day routines.
Find out more about 5-a-day Fitness at the 5-a-day TV website.
Visit the 5-a-day TV website to subscribe to 5-a-day TV from just £16.99 per month. Quote the voucher code SOA5TV and enjoy 12 months for the price of 10!
Other PE resources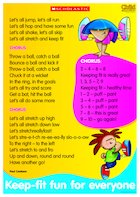 Browse the Child Ed resource bank for PE ideas and activities, including Key Stage 2 dance/PE activities, suggestions on using a school sports event to practice children's teambuilding, organisation and delegation skills, plus a colourful keep fit poetry poster.