New environmentally-aware Early Years resources for Scottish schools and nurseries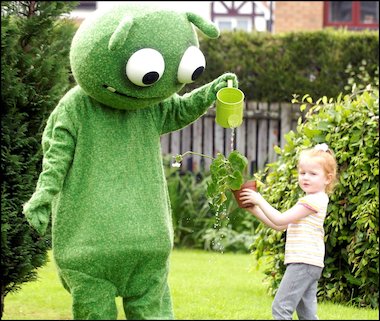 The successful Eco-Schools programme is being extended to nurseries and Early Years establishments in Scotland, after funding was provided by The Green Insurance Company to create resources
The newly available resources aim to encourage young children to live in a more sustainable fashion. They have been designed to enable Early Years practitioners and parents to show their children the importance of a greener, more sustainable lifestyle, with advice on how to get involved in green projects, such as recycling, energy saving and growing plants in their outdoor area.
The funding from The Green Insurance Company has meant that Eco-Schools Scotland has been able to develop resources specifically for the Early Year sector to cover its particular requirements.
The new materials were launched at Hollandbush Nursery School in Hamilton on 23 August by Adam Ingram MSP, the Minister for Children and Early Years. He said: 'I am delighted to help launch this new initiative. As Minister for Children and Early Years, I can see the fantastic potential in teaching our children from a young age the importance of considering the future of our planet. By introducing initiatives which promote eco-friendly behaviour at nurseries, children will hopefully continue to adopt these ideas throughout their lives as well as introducing them at home with their parents. Raising the awareness of the need to conserve and protect the world's natural resources is an important element of Curriculum for Excellence and the Eco-Schools programme is an excellent vehicle for developing even our youngest learners as responsible citizens with the skills and knowledge to help make a difference.
Gaynor Wood, Head of The Green Insurance Company, said: 'We are very proud to announce our partnership with Eco-Schools Scotland, one of a number of initiatives we are involved in throughout the UK.'
Kate Campbell, Manager of Eco-Schools Scotland, said: 'We are very pleased to be launching these new Early Years resources. The Eco-Schools initiative has been extremely successful in Scotland, particularly in primary schools. However, some of the materials did not fully meet the needs of the many Early Years establishments participating in the programme.'
The new resources will enable schools and nurseries to apply for the Eco-Schools accreditation, with the ultimate achievement being the Green Flag Award.
More than 100 nursery schools have already achieved a Green Flag Award and the additional funding and materials should help all of Scotlands Early Years establishments to become involed with the Eco-Schools programme.
Discover more about Eco-Schools Scotland at www.ecoschoolsscotland.org