Class

PET

goes live!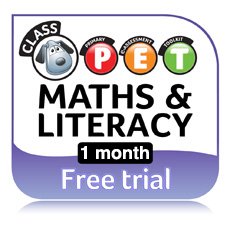 Class PET, the online assessment toolkit, goes live today and launches a free trial!
Class PET is an online tool to help you with Assessment for Learning with 100s of ready-made, high-quality literacy electronic assessments and extremely flexible assessment, reporting and tracking – designed to work with the way you teach.
In a recent review by www.bee-it.co.uk it was described as having the potential to revolutionise the way primary children are taught maths and literacy.
Christian Hilton, Headteacher at Shipston-on-Stour Primary School described it as "an excellent digital toolkit that improves the APP experience for children and teachers. It allows teachers to monitor child progress, providing a valuable, paperless, evidence trail".
The 3-month free trial allows you to use Class PET to show your children and actually teach and learn with the materials and if you order before 1 December, you get an APP workshop worth £350 completely free of charge!