Jillian Harker reveals her top tips on teaching children with dyslexia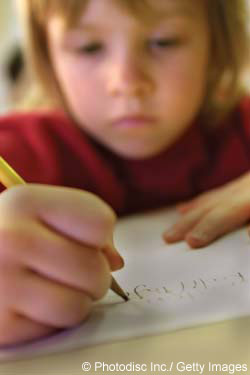 Around one in ten children experience dyslexic difficulties.
Many dyslexic children speak of the difference an understanding attitude can make. The school environment frequently focuses on tasks such children find difficult. Adults can choose to avoid problematic situations; children do not necessarily have such choices. Acknowledgement of the difficulties can be the first step in helping the child to begin managing them.
Make your teaching multi-sensory
Dyslexic children thrive best when teaching is multi-sensory. So ensure that concrete aids are available to scaffold learning. The children need to touch and feel letters, as well as see them and hear their sounds. They need counting aids that they can group and separate. Teaching should also be structured and cumulative, building on what has gone before. So endeavour to make overt links with previous knowledge.
Teaching times tables
Do not expect dyslexic children to learn times tables by heart. Instead, teach strategies to use a few key facts from a given table as springboards from which to work out others. In this way, the child can work from first base if poor memory fails them.
Use inventive over-learning
Over-learning is essential if the problems with short-term memory are to be minimised. Do not expect children to familiarise themselves with a new phonic pattern, for example, within the same time frame as other children. Provide ample opportunity to practise any new skill in different contexts. Repeating the same type of exercise over and over leads to boredom and switches the child off learning.
Dyslexic children thrive best when teaching is multi-sensory
Allow extra time
Do not patronise the child with low expectations, but do make allowances for extra time to produce a piece of written work. Always comment on content first.
Think of alternatives to writing
Create opportunities for the child to demonstrate knowledge through oral responses, diagrams or shorter bullet points. Allow some work to be recorded onto tape rather than written.
Reading material
Research has demonstrated greater improvements in reading when phonological awareness programmes are implemented alongside reading schemes. Also, ensure that any reading material provided for the class includes books that have lower level text but with a high interest level.
Banish negative connotations
Encourage understanding of the issues, both with the dyslexic child and among their peers. Help children to understand that dyslexia has nothing to do with intelligence and that having difficulties with reading and spelling do not mean that you are 'stupid'.
Foster their talents
Foster any particular talents – artistic, sporting or dramatic. Success in other areas will boost self-esteem and help the child to make the greater effort needed to master more problematic skills.
Read up!
Make yourself knowledgeable. The more you know, the more effective help you will be able to provide.