Once children have gathered the basic skills of learning to read, schools can start to explore ways in which parents can support children's development in reading and writing – Huw Thomas offers some ideas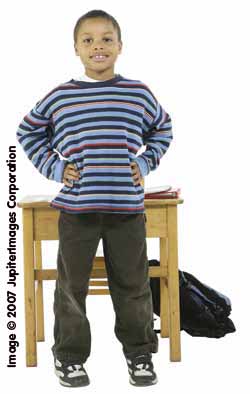 Talking about books
Once they are taking longer titles home, parents can play a role in helping children to get further into a story. If a parent reads half a Horrid Henry, a child is far more likely to finish it – and nothing beats the warmth of reading together at home. However, some parents may have issues regarding time or confidence.
Well it isn't all about reading! Children benefit from discussing texts too, and the questions in Table 1 are ones any adult can ask any child about a fiction or non-fiction text. In this relationship the child is the expert – they know their Harry from their Hermoine – and the parent just pops a few questions, in as relaxed and chatty a manner as possible.
Events for parents
The main message here is that it's not about doing much that's new – it's about parents joining what we already do.
Book-based events can provide an exciting way of involving the wider community in reading and, while the whole-school Book Week is great, it does tend to be a one off. Why not supplement it with smaller scale, class based literacy events?
As part of a project exploring book and story choices, one class in our school spent a morning devising a fantasy island on a large sheet of paper. Children invited parents to stay for a coffee and add a location to the map.
Any reading or writing topic can be extended to create an open door for parents:
If children are looking at traditional tales, parents can be invited to devise or participate in a quiz about well known fairy tales.
Parents and other members of the community can be invited to tell events from their own life story. Our school has recently engaged in a project involving local veterans of World War II sharing their reminiscences.
If the children are working on report texts, spend some time creating adverts and ask the parents to come and test them out. What works in each advert? What would make them more persuasive?
Involve parents in the production of news stories. One of my Year 3 classes used to make and sell a newspaper every so often. It just so happened that one mum was working in a bar during a notorious incident that led to a police raid. The child interviewed Mum, wrote up her story and we sold out!
Talk prompts
Table 1
Anytext questions
Fiction
How did this story start?
Who did you like in this story?
Which page (so far) has the best moment in the storyline?
How do you think the story will end/How did the story end?
Non-fiction
What information have you found in this text?
What is the most important item of information in this text?
What don't you understand in this text?
What do you think is the most important sentence in this text?
Parents may be reluctant readers and even more reluctant writers, but they should all be encouraged to talk to their children. Talk prompts can be sent home and used as ways of encouraging parents to engage in the sort of talk at home that will promote writing. The following set of talk prompts fit with the various genres of non-fiction writing present in the Literacy Framework:
Recount — After recounting an event – whether news, story or gossip – ask what made the event significant. Why did we recount it?
Instruction — Try a task like programming the video, and think through the instructions we would give to someone coming afresh to this task. Which instructions in a task are hardest to deliver? Why is that?
Report — Pick some favourite mementoes or ornaments from around the home. How would we describe them? What descriptive words would we use?
Explanation — Can we find examples of one thing causing another around the house? Listen in discussions for connections of a causal nature – words like 'so…' and 'because…' indicate the explanation of a process.
Persuasion — Listen out for the way television adverts use language to describe – eg, 'probably the best …' or 'the crumbliest, flakiest…'.
Argument — When listening to persuasion – on the news or in an advert – ask what counter-case could be made.
A buzz about books
One vital task for the school is to ensure parents get some guidance as to the books to get their children. There are a few ways of doing this:
Book clubs and book fairs – bringing a book fair into school or running a book club can raise money and promote reading – but also provides a chance for parents to see the titles on sale and discuss them with teachers.
Let them know what's hot – if a book is being read in class, let parents know the name of it. (Wait until you're just finishing it off, though, else some kid is sure to act as a plot spoiler!) A class novel can become a craze, so let them know how to join it. Even better, will a local bookshop let you place a bulk order for parents?
Library time – every junior class should visit its local library at least once a half term. Make this into an event that parents can join and encourage them to browse with the children. It's important that parents know they aren't just there to help cross the road. Their participation will enthuse the class.