Writer and illustrator, Alex T Smith, provides some creative ideas for making stories and reading magical for children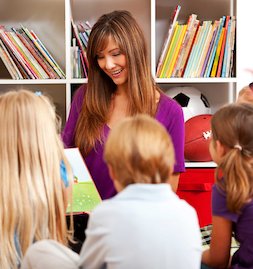 It goes without saying that stories, and the art of telling them, is vastly important for a child's development. If you can spark a child's interest in books when they are young, they will (finger's crossed!) embark on a lifetime lost between the covers of hundreds of books – reading and adventuring in imaginary worlds, time travelling and interacting with the host of extraordinary characters literature has to offer.
My love of reading and books didn't just come from home. My teachers at primary school played a big part in it, too. I used to love storytime at the end of the day and thinking back to it now, it was a wonderfully calming moment after the frenzy of activity involved in finding your bag and coat and putting your chairs on the tables to help the cleaners. I was also the odd child who would enjoy sitting in assembly listening to our headmaster read stories and cautionary tales from a little book he kept in his suit pocket.
Now it's me who is telling the stories when I visit schools and I find reading to groups of children a thoroughly enjoyable experience. I always find that children bring fresh eyes to any story and for someone who spends most of their days cooped up in a tiny studio inventing imaginary worlds and images, their input, for me, is extremely valuable.
Here are my top tips for reading aloud to children…
Build a story den
Make reading an exciting, interesting experience by creating a story area in your classroom. When I was little, one of my teachers and her husband would create the most amazing stable setting in the lead up to Christmas. It was a tented area with straw on the floor and bales of hay to sit on. It was lit with fairylights and it was the most incredible space in which to learn about Christmas and to enjoy stories in the build up to the big day. I think this is something that could be recreated to a lesser extent (without the Christmas theme) in a classroom and it could be brilliant. Pin up some fabric in one corner of the room to make a tent and fill the area with comfy cushions just right for snuggling up on with a good book. I've always thought that dens and books seem to go hand in hand.
Read more about Alex and how his love of reading and stories came about
Mix up storytime
Don't limit storytime to the end of the day – try reading a book or a chapter of a book at different times during the day. Before lunchtime, after lunchtime or in between lessons. A school I visited recently had decided (for a week) to ring the school bell randomly throughout the day and whenever it sounded, the children had to drop everything for a couple of pages of a story. The children loved this and surprisingly it didn't disrupt the class concentration at all. And, don't forget poetry! It is brilliant for introducing short, snappy bits of literacy into a child's day.
Do the 'voices'
Do do 'voices' for the characters and don't worry if they sound funny or your accents don't sound very much like the real thing – children love it and I think it helps bring books to life. This was certainly the case for me when I was a child and my mum gave the BFG a Lancashire accent!
Tell your own story
Remember that a story doesn't always have to be in the form of a book and it doesn't always have to have a beginning, middle and end. When I was little, I would love stopping over at my Irish grandmother's house. In the morning, she would send my grandfather downstairs to make a cup of tea and I would hop up onto the bed and she would tell me about the potato famine! As a little boy I had no real idea what she was talking about, but sharing in a story that didn't come from a book was a lovely experience. At storytime, maybe dispense with the book and tell the children something about your childhood, or a story you like or something funny that has happened to you, or encourage them to take turns to do the same.
There are lots more fantastic ideas for inspiring children's love of books in the Child Ed PLUS archive. Take a look…
Alex T Smith is the author of several picture books including Home (Scholastic, £5.99 PB). The charming and witty tale, My Mum Has X-Ray Vision by Angela McAllister (Scholastic, £6.99 PB), which Alex illustrated, is also available now. We have ten copies of My Mum Has X-ray Vision to give away!