Writer and illustrator, Alex T Smith, explains how his love of reading began in childhood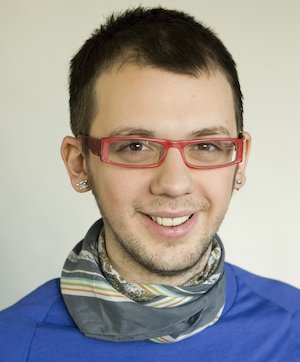 I've always loved books. Always. I used to sit 'reading' them even before I could make out what the letters meant. I was enchanted by the shapes of the words and the pictures and even the unique smell a book has. Even now if I feel like I'm in a bit of a panic, I dive headfirst into the nearest bookshop and stroll among the shelves for a few minutes, picking out the odd book for a flick through and a casual sniff. Maybe I shouldn't admit to that…
My love of stories and storytelling came first of all from my family. We've always been a bookish bunch and with my grandparents coming from the four corners (well, three corners and the middle) of the British Isles I was exposed to lots of stories from a very early age.
My grandparents brought with them a tradition of telling tales that had a huge impact on me as a child. At family gathering, it wouldn't be long before the telling of stories would begin – whether it was family gossip, family history or snippets of stories from their childhoods. What I always loved about this was the way in which words and phrases would wash over me and even if I didn't understand exactly what they meant the sound and the tone of the words would say so much.
My Irish grandmother, Alice, was a fantastic storyteller. I don't ever remember her reading to me from a book but she could recount the day's activities with such liveliness and energy, it was a joy to hear. She also had a wicked turn of phrase and many of her funny Irish words and sayings have filtered into our family language.
As a child, I was also in the very fortunate position of having a writer for a grandfather. Sid, my mum's dad, was Head of English in a large school in Birmingham and in his spare time (yes… back when teachers had spare time!) he would write articles for newspapers and plays and stories for the radio. When he retired he started to look after our dog during the day and when he would pick her up in the morning, he would leave me a handwritten story to find when I returned from school. This, as you can imagine, was brilliant. I was the star character in hundreds of short stories and from this I began to realise what magic can be created with a pen and paper. My most prized possession is an old diary in which my grandfather collected and wrote out by hand my favourite stories from the ones he had written.
Discover's Alex's top tips for reading aloud to children
Alex T Smith is the author of several picture books including Home (Scholastic, £5.99 PB). The charming and witty tale, My Mum Has X-Ray Vision by Angela McAllister (Scholastic, £6.99 PB), which Alex illustrated, is also available now. We have ten copies of My Mum Has X-Ray Vision to give away!