Encourage active citizenship in your class while stimulating lively discussion and debate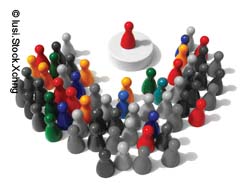 A healthy debate, which considers the different viewpoints of people in the community, can be a very positive experience for children
Unit 10 – Local democracy for young citizens of the citizenship curriculum, can sound very dry and uninspiring to some teachers, but children often see things from a different perspective. At Key Stage 2, there is often a refreshing amount of passion and idealism about the political process, especially if children have had positive experiences through schemes such as school councils.
The following ideas and activities are designed to cover all sections of the unit, while appealing to a wide variety of learning styles. The citizenship unit will really take off if the local community knows what the children are studying and are encouraged to participate in the learning. Be sure to mention it in school newsletters and on noticeboards and invite any parents or other members of the community to contribute in any way they feel able.
1. Interactive citizenship
Use the Interactive resource, 'Community link' as a whole class to discuss potential citizenship issues in the children's local community.
The first frame aims to encourage children to think about their area's features and amenities that make up their local area. Encourage them to think of other facilities that are not shown. Will all communities have the same services?
At Key Stage 2, there is often a refreshing amount of passion and idealism about the political process, especially if children have had positive experiences
The second frame will get children thinking about any community, crime or environmental issues that affect their area.
For the third frame, ask the class to name people or organisations that could help to deal with community issues.
The fourth frame invites children to think about their local area's future. What changes would they like to see? Is there anything that they can do to help?
2. Call my bluff
Split the children into small groups and give each group one or more key words, such as: government, democracy, citizen, issue, community, council, debate, discussion and representative. Ask the children to use dictionaries to write down the real definition of the word(s), along with some other plausible alternatives. After a few minutes, get the class back together and ask each group to read out the possible definitions. The other children have to guess the correct one, which should then be displayed.
3. Now and then
Using reference books, the internet, family members and children's own knowledge, try to map out how the local community has changed over the years. You could use the first frame in the interactive activity to present this visually. Establish how, when and why the community was established (did it grow from the need to house certain workers, for example). In what ways has it changed, and is this for the better? Make a list of all the positive changes.
4. Ear ear
Aside from councillors, there are certain people in the local community who many people talk to and rely on – shopkeepers, hairdressers, postal workers, community officers, and so on. You could use the information compiled in the second frame of the interactive activity to say how these groups of people contribute to the community. Invite a cross-sample of such groups in to the classroom to see if they are able to fairly represent a range of different opinions about local issues. Encourage the children to be challenging, but polite. The experience should be a positive one for both sides.
5. The House of Representatives
Mention the origin of this American body and discuss what it means to be a 'representative'. How does one person represent the views of many different people in the community? Which views take priority? Discuss whether children feel they would be able to represent views which go against their own personal beliefs. What sort of a person would be good in this role? What would it mean to vote with one's conscience? Should representatives always put their own feelings and knowledge to one side?
6. Design a chamber
Arrange a visit to your local council chamber. Before you go, ask the children to design one of their own. If your school or class has a council, where do they meet? Is this a suitable setting for the purpose? Divide the class into small mixed-ability groups with one child acting as the official artist. Ask questions such as: What will need to be included? How comfortable should the seating be? If there is seating for the public, where should this be? Should people speak from their seats or should there be a central point at which they address others? Should refreshments be allowed in the chamber? Give children the option of how they want to present their drawing – a representational drawing, a plan, a labelled diagram, and so on.
After the visit to the local council chamber, discuss how their plans and drawings differed from the actual chamber. Could they combine the two, incorporating the best of their ideas with some of the practicalities they might not have considered? Do the children still think it is necessary for councillors to attend meetings in such chambers on a regular basis? Could video-conferencing or some other modern method take the place of these regular meetings? Is it as good a use of time and resources?
7. School council
After the visit to the council chamber, encourage the children to discuss what they have learned. Are there any points which they can use at school, through the school council, or otherwise, to improve things? Refer to the fourth frame of the interactive activity to discuss any issues the children would like to see addressed in the future. Try to present the findings to as many people as possible through assemblies, meetings with governors and parents, and so on. Encourage the children to have a debate with parents about an issue which has been discussed in the council chamber. It will be very useful and may help to highlight how difficult it can be to reconcile different viewpoints (of people of different ages, for example).