Michael Morpurgo talks about young writers, World Book Day and the books that made him want to become an author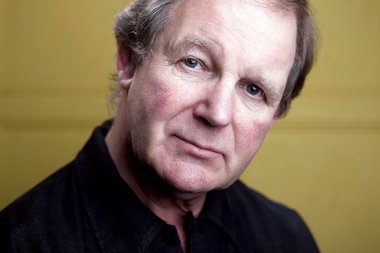 How did your involvement with the Wicked Young Writers' Award come about?
Many years ago I had been a judge on another award for young people's writing – The WHSmith Award that ran for about 30 years. When this award stopped because of lack of funding and the fact that teachers were so overburdened with the demands of the curriculum and testing and didn't have time to encourage this kind of creativity within schools, I always felt that the award had left a big gap. When the organisers of this new award – Wicked Productions – who have created the musical Wicked, approached me to be a judge on this new award for writing, I was really pleased. What makes this award unique is the breadth of its appeal spanning a wide age range and allowing children and young people to write on any theme and style.
At what age did you realise that you enjoyed writing your own stories?
I wasn't particularly gifted with writing at school and wasn't much good at reading either as a young boy, but I loved stories. I loved hearing them being read to be me in particular and the music in them. My mother would read to me all kinds of things – the Just So stories, The Jungle Book and then later Beowulf and Treasure Island. I loved the sound of her voice. She was an actress and really brought these adventures to life. I was completely hooked. I suppose it was partly drinking in all these stories that stayed with me all my life. When I finally became a teacher, there was a moment one afternoon in class at the end of the day that I was reading a story to my Year 5 class. They were tired and not interested, and I realised that what I was reading to them just wasn't any good. So I went home that night and wrote up something of my own and then told it in extracts over the week. The children seemed to like it and when the bell went at the end of the day, they didn't want to leave. That gave me such a sense of excitement and I realised for the first time that perhaps I could do this.
It's World Book Day on Thursday 4 March. Which books particularly inspired you when you were at school?
There were many of course but one that really stands out is Mike Mulligan and his Steam Shovel by Virginia Lee Burton. I loved this picture book and think it might be the first book I ever read for myself. It helped that the hero and I shared the same name. Wonderfully illustrated, it had the most satisfactory of all endings. Then there was The Happy Prince by Oscar Wilde. This was the first story that ever made me cry. What was strange was that I wanted to read it over and over again. It still has the power to make me cry. I loved Rudyard Kipling and particularly The Elephant's Child and The Jungle Book. My mother used to read me The Elephant's Child often because I asked for it again and again. I loved the sheer fun of it, the music and the rhythm of the words. It was subversive too. It's still my favourite story.
What is your all-time favourite children's book? What current children's books have caught your attention?
It would probably have to be Treasure Island by R. L. Stevenson. This book was a huge inspiration and was really the first real book that I loved. Jim Hawkins was the first character that I identified with totally. I lived this book as I read it. I don't tend to read many other children's books – I would love to but there just isn't time, but I do love picture books. Emma Chichester Clark's Alice in Wonderland is wonderful and recently Michael Foreman, who illustrates a lot of my books has republished a wonderful picture book and story that he wrote in 1960 called The General. It's a story about peace and appreciating the beauty of the world around you.
Which books have you most enjoyed reading aloud to children?
From my own stuff, I love reading a whole story out loud so something like Angel Wings that I do as a performance at Christmas time with a wonderful group of singers called Coope, Boyes and Simpson. We've performed this all over the UK in theatres and at festivals. I love reading to people of all ages. There is something amazing about taking the audience on a journey with you through the story.
To be a writer you need to drink in the world around you so it's always there in your head. Finally, try and live inside your story, hear and feel it all around you and become the characters
You've written adaptations of traditional stories such as Hansel and Gretel, Sir Gawain and the Green Knight and Beowulf. What are the differences between inventing your own stories and adapting existing ones?
When I am retelling a well-known ancient poem, like Gawain, or a folktale or a some ancient legend, I try to find a way of telling it in my own voice, as if the listener of today was right in front of me. So, I have used language that will be readily understood, but if I can I try to echo the tone and rhythm of the original text – if there is one. I do not keep strictly to every detail of the old story either. I try to interpret it in such a way as to make it exciting and meaningful, both to me and to a modern audience. And that, of course, is how retelling has always happened over the centuries, each generation of writers reinventing for their contemporaries. When I am writing a retelling I do feel in some way that I am like an actor. The story of the play is not mine, but I am the one living it, interpreting it. So I tell it as I see it, as I feel it.
Retelling is also a wonderful exercise for me in between my other books. These old stories have stood the test of time, thousands of years sometimes. I can learn from them, just as an artist can learn from copying great pictures. Each time I do this, it reminds me how the best of storytelling should be, and I find that truly inspirational, and instructive too. When you are writing, you should be learning all the time. There is so much I can learn from these amazing stories. The next one of mine you can read will be The Pied Piper of Hamelin, out next year, wonderfully illustrated by Emma Chichester Clark.
What advice would you give to a young writer trying to decide what to write about?
Always write because you love it and not because it is something that you think you should do. Try to write about something or somebody you know about – something that you feel deeply and passionately about. Never force it. Probably the most important thing is to try to live an interesting life. Keep your eyes, ears and heart open. Talk to people and visit interesting places, and don't forget to ask questions. To be a writer you need to drink in the world around you so it's always there in your head. Finally, try and live inside your story, hear and feel it all around you and become the characters.
What advice would you give to a teacher trying to encourage a reluctant or unconfident child to write creatively?
This is a difficult one. I think the main thing as a teacher – or it certainly was for me – is to try to pass on what we love, to convince and convert with our own enthusiasm. When I'm telling a story or writing it I really mean it and the reader knows it. It's difficult but we mustn't fake it with children as they see right through us. If as a teacher you love stories, love the music in stories and poems, then you can pass on that passion to your children, and create readers and writers.