The fourth part of Huw Thomas' series, discussing how understanding the way our brains work can help motivate learning, looks at creative thought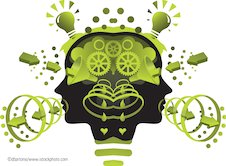 In nine months a screaming baby gains nearly 100 billion neurons. Averaged over time such growth works out at 4000 neaurons a second. These neurons grow and find other neurons, making the connections we call synapses – information flows from one neuron to the other via the synapse. More neurons are created than will actually be needed – those that don't make connections die away. Our daily experiences quite literally change our brains, making different synaptic connections between cells. We're not fixed. Instead our heads are places of ongoing creativity.
Having looked at how our brains engage, enquire and analyse, we now home in on that business of creativity and look at its essential place in learning. (Take a look at the other articles in this series.)
1. Originality
One facet of creativity is the original slant creative thinking puts on things. Human beings have the tendency to search for information that is in keeping with the ideas we already hold – something called a confirmation bias. For example, asked how many squares there are on a chess board, we will most likely count the number of little boxes. We may not 'think outside the box' and ask whether we can also include squares made up of four smaller squares, or whether the whole board isn't a square.
2. Lateral thinking
The thinking guru, Edward de Bono, coined the term 'lateral thinking' – presenting the image of hole digging as a way of understanding how our brains work. De Bono presented two types of thinking. Vertical thinking is a bit like digging deeper down the same course of thinking. De Bono acknowledges the place for such thinking, but suggests we need skills that enable us to think laterally, too – a bit like digging a new hole in a different location.
Faced with a problem, such as how to tackle litter in the lunch hall, lateral thinking would involve strategies such as these:
Random words – having a set of words on cards that, while interesting, are gathered at random, can provide a tool for creative thinking. Selecting the word 'jolly' from the pack, our task is to let that word prompt our thoughts – maybe getting us to think of fun ways of filling the rubbish bins, such as having some competition between days of the week to see if Tuesday's bins can be fuller than Monday's.
Asking 'why?' – this potentially never-ending quest involves posing 'why' to the problem – 'Why is there litter?' Then challenging answers, so 'Because children don't walk to the bin' can be challenged by 'Why don't they walk to the bin?' We could keep going – or we could find that the answer that children are keen to rush onto the playground causes us to move the bin to the lunch hall doorway.
Fractionation – take a problem and split it, and you have looked at it creatively. Split further and you keep taking that different perspective. 'Litter in the lunch hall' gets split into two aspects of the issue – 'litter' and 'hall'. Split again and you divide litter into 'unwanted' and 'floor.' You could split further, but lateral thinking has dug a new hole and you may find yourself asking why the rubbish is unwanted. It may lead nowhere – but it's creative thinking.
3. New from old
To be creative, our brains have to shift from getting stuck in a rut. This can involve the use of old learning as a means of stimulating new. It has been suggested that one measure of creativity is the ability to use one load of knowledge to help figure out and organise another. The 'Creative Innovation' article, quoted later, suggests this and presents the famous physicist, Richard Feynman, as an example. He used visual representations of his ideas to get them going, then translated these into mathematical terms.
Creativity involves taking a different route, freeing thinking from a rut and taking it in a different direction. For example, take this simple shape. You can either play table tennis, or think of the hundred and one other things we can do with it. The creative possibilities are endless – at least, I never reached the end.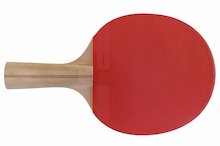 Four Arrows
The four creative strategies presented below using symbols can provide interesting provocations and challenges to thinking, and are the sort of thing that children become used to applying. Faced with a stimulus, such as a question, a task or project encourage children to ask: Can we oppose, divert, branch or connect?
To oppose involves coming from the opposite direction and looking at the thoughts that stimulates. What would a wrong answer look like? What makes it wrong?
To divert you take the stimulus down a whole other route that seems like a diversion. It's a bit like the road less travelled – where might it lead? What would the seven times table look like if we danced it? Could we dance place value? In doing so might we learn something about base ten and times tables? Travel down the diversion and see.
To branch, the stimulus needs to reify out into loads of different thoughts. Branching makes sure more than one or two ideas are gathered, it's particularly important when modelling writing. We often take the first 'good enough' suggestion for the opening line or next phrasing. Instead, children should be used to coming up with a branch of possibilities, then selecting the one they want.
To connect is a huge aspect of learning, and one we will look at in the next article, but in this context it's about thinking whether there is any connection that can be made. The child asked to draw a tree who connects the image with the arms of a body, may produce the more original art work.
4. Hemispheres
Our brain is made up of two halves – two hemispheres – and they seem to have the certain skills and specialisms on each side. You may have read about 'left brain' and 'right 'brain' and come across suggestions that people are dominated by one side or another. In actual fact there is a flow of information between our two hemispheres, but they do differ, even physically. Remember those brain cells? The axons in the right brain are longer. They can connect further enabling them to draw on more of the brain at any one time. This may explain a difference in the thinking in which each hemisphere specialises.
The left is literal and analytical, with closely packed neurons that get down to the detail. It processes speech and figures out arithmetic. It will take the instructions from flat-pack furniture and itemise all the parts before following the instructions, step by step.
The right deals with wholes. It recognises faces and patterns. It's broader but vaguer and will make strange connections – making it the basis for much humour. It will build the flat-pack furniture in its own way, but it may not end up the way it looks on the box.
It's not actually this simple, and the brain can pick up things each half should do, but each hemisphere specialises.
Our education system veers to the left – our science teaching has become focussed on small answers, the assessment of writing is about box ticking and our maths is maths! However, within our teaching we need to make room for the type of thinking that will stimulate both sides of the brain – particularly as some children will veer more towards that type of thinking.
There are a number of implications for teaching – but the five that stand out for me are:
Keep the big picture in view. You're doing 'The Tudors'? Make sure you make connections with other bits of history, both on a timeline and in terms of similarities and differences between eras. As you move from Henry to Elizabeth, clarify where everyone is fitting across the period. Keep a vision of the whole as you explore the part.
Make learning visual. Whether it's about using a video clip, a picture or a diagram, keep learning visual. Also, encourage children to picture learning in their own minds. You're dividing 24 by 4? Ask them to picture 24 people shifting into four groups.
Allow children to represent learning in varied ways – including drawings, doodles and diagrams.
Seek and make connections between current learning and other things we know.
And finally – avoid any talk of assessing for 'left brained' or 'right brained' children – it's about balance teaching for balanced learning.
5. Landing the flight of fancy
It's worth just noting that flights of creativity also have to land. In our teaching, there will always be a tension between creativity and the purpose of their learning, and this is where children need to remain aware of the aims and goals of creative thinking. So, remember to balance the flights of fancy with an idea of where we're landing.
Happy flying.
Take a look at the other articles in this series.
Links and resources
Edward De Bono
I cannot recommend Lateral Thinking by De Bono too highly. It is a gem of a book that will spin your thinking. You could also try his excellent: How to Have Creative Ideas or Children Solve Problems.
Tangram
The tangram puzzle provides a great resource for creative thinking, taking a simple and ancient pattern and turning it into an array of images.
You can find a tangram template here and some tangram images here.
Sir Ken Robinson
This inspiring talk on creativity is a great way into

TED

talks, where short talks keep your thinking on fire.
Books
Mapping the Mind by Rita Carter (Phoenix Publishing)
A dazzling and visually engaging tour of the brain and consciousness.
The Little Book of Big Stuff about the Brain by Andrew Curran (Crown House Publishing)
One of the best, and certainly the funniest of, places to start exploring your brain – neuroscience with a smile.
Teaching Maths to Pupils with Different Learning Styles by Tandi Clausen-May (Sage Publications)
An excellent and creative approach to various aspects of the maths curriculum.