Social media is everywhere, but is it in your classroom yet and would you want it to be?
Quite rightly, there is cautiousness from teachers and senior management about embracing the social media revolution as part of the curriculum. However, for many of our children, it isn't new or innovative; it's just the way of the world. We worry that our children will not be safe online, that they aren't old enough to understand the complexities of 'Digital Citizenship' and codes of cyber behaviour. However, as teachers, it is our job to move with the times, embrace change and prepare our children for their futures.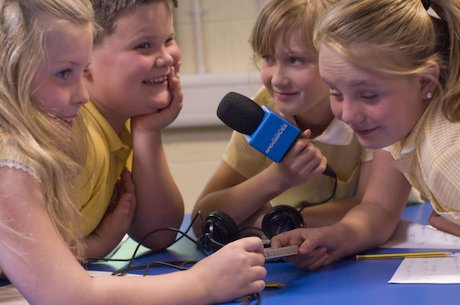 How can we use social media to engage children in their learning?
We want to keep the focus on education, make sure our children are safe online and yet for the activities to remain appealing. Give them the tools for creating social media in the classroom and let them document their world in a way that they find absorbing. A blank page to fill is daunting, but a microphone is freeing. A child's writing online about an activity they have undertaken becomes evidence of self assessment and reflective learning. For the child, sharing your creation with your peers, teachers, family and friends allows celebration of achievements, as well as the ability to receive feedback to aid reflection.
How can this be achieved within the confines of the primary classroom?
Primary children shouldn't be on Facebook (the recommended starting age is 13), we can't always connect to Youtube and Twitter is too restrictive for all our brilliant projects. There are alternatives to these sites, and one of the most popular in schools is Radiowaves.
See some examples of use of social media in a creative curriculum on Radiowaves:
Case study: Buckingham Primary School, Richmond
Background: At Buckingham Primary School in Richmond, we have a media station called Buckingham Buzz. Our station is nearly three years old, and has been going from strength to strength. From humble beginnings, when it was started to inspire a child at risk of exclusion, we now have created a thriving media hub, with over 300 reporters, 350 stories, 400 blogs and 4000 comments!
Content: The programmes we have made reach across the curriculum; from real-life problem solving in maths, predictions in science, on-the-spot reporting in history, reader's theatre in literacy to interactive records of school visits.
Extended schools: Not only has it engaged the teachers and children in their subjects, but it is great for encouraging extended schools as parents, carers and families across the UK and internationally can listen, watch and leave comments. Recent feedback for recorded Valentine Day messages include: 'I am Rhiannon's Nanny and live in Wales, it was so wonderful to hear her voice and all the others in her class, I could picture them all! It made me smile, what a wonderful idea.'
Blogging: Blogs can also be useful as reading records – a quick insight into what the child is thinking of their chosen book and their understanding of it. As children can access Radiowaves outside of school, they can also update their blogs, profiles, and video or audio stories independently.
Safe, social media: All work is moderated by a teacher, so the reputation of the child, the station and the school can remain intact! A 'friends' facility allows young people to connect with the other 24,000 reporters on Radiowaves and the newsfeed means that they can look at their programmes as soon as they are made.
Equipment: From a practical perspective, we use an mp3 recorder for making audio, which we edit on Audacity, a Flip camera for video and the school has a full licence for Radiowaves.
Glossary of social media terms
Social media: Online tools and sites that let users share multimedia content such as videos or photos and take part in peer-to-peer conversations (examples are YouTube, Flickr, Facebook, MySpace, Radiowaves).
Podcast: A series of digital media files, usually either digital audio or video, that is made available for download.
RSS (Really Simple Syndication): A simple way of sending content from one site to another. The basis for podcasting and widgets.
Widget: A Small application that lets you import and interact with content from another site. Examples include Google widgets, Mac gadgets, Facebook applications.
Social networking: Similar to social media but more focussed on building networks of friends and associates and introducing different people, whether it's music fans on MySpace or business contacts on LinkedIn.
Blog: Short for weblog. A journal that is frequently updated and intended for general public consumption.
Microblog: Another type of blogging which consists of blogs with very short posts – for example Twitter.
Radiowaves is the world's leading online community for children and young people to safely and easily publish their videos, podcasts and blogs. It allows schools and groups working with young people to get all the creative and learning benefits of social media in a simple, safe way.
Via Radiowaves, you can create multimedia projects, join national campaigns and easily develop your children's digital literacy skills. Radiowaves is the place to hear what children and young people are saying.
Get your FREE Radiowaves site and see the 30,000+ stories already online at the Radiowaves website.
Have you discovered the social networking tools within the Child Ed PLUS website?

Use the forum to discuss topics, activities, and current news stories with other education professionals – just register and log in to get involved.

You can also sign up for daily news updates using our RSS service, or follow us on Twitter or Facebook (search for Scholastic Education PLUS on the Facebook website).

You can also rate and review every activity or article on the website. Just scroll to the bottom of each page to rate the content out of five stars, or add a comment to help other readers find the most useful activities.