Follow these ten top tips to help you get the most from your interactive whiteboard and boost your children's development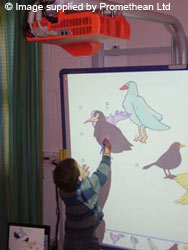 It is crucial in any early years setting to develop an engaging and stimulating environment for young children to grow in confidence and become motivated to find out about their world. Offering a range of activities that foster independence, as well as allowing for adult intervention, means that each child's needs can be catered for. Today's children, born into our multimedia world, can develop with the help of new and ever-improving technology.
An interactive whiteboard (iwb) with appropriately-developed software will allow young children the opportunity to share their ideas with their peers, as well as engaging with a range of opportunities for consolidating other learning experiences.

1. Vocabulary and language
Upload a digital photo on to the iwb and encourage the children to draw over it. Using the sound icons, the children can record explanations of their drawings or diagrams, which will help to develop their language and vocabulary skills. The photo can be anything, for example, a known place within the setting or perhaps a place the children have recently visited.

2. Familiar stories and rhymes
Display a big book on the iwb to enable the children to interact with the story. Encourage them to talk about the story and offer them the opportunity to retell it using the images from the book. Exploring story characters and retelling well-known stories will extend a child's world into make believe, where anything is possible.

3. Be creative
Provide access to a wide range of images and tools. This will encourage the children to quickly become engaged with creating pages of images. The sharing of ideas and representing their own versions all form part of the basic requirements for reading and writing.

4. Fine motor skills
Holding a pen correctly from an early age and being able to follow a line, road or pattern offers another stepping-stone towards early attempts at writing. This type of activity is obviously also available through traditional paper and pencil activities, but this example is another way of encouraging interaction and discussion opportunities with peers. By doing this activity on the whiteboard, not only do the children follow the lines with the pen, but the reinforcement of tracking from left to right is also an obvious factor.

5. Environments and experiences
This page was created on an iwb by four children following a visit to a wood. The children have drawn on their own frogs (in the water) and acorns near the tree. As the children interacted, comments were made such as 'Put the frog on the lily pad', 'The acorns have to be under the tree' and 'They (the acorns) are too big'. It is important in this type of activity to offer the children a limited range of images. The activity would also benefit from an adult interpreting and supporting the discussion, and asking relevant questions such as 'Why are the acorns so big?' and so on.

6. Expand imaginations
Have the iwb continuously available for spontaneous use to encourage the children to explore. They will quickly understand how to find pictures and with limited reading skills can often find what they need. Provide a folder linking to a topic or theme that the children can access to encourage independence. This two-and-a-half-year-old child had been using the software for barely ten minutes before he chose a range of different birds. 'This bird is higher,' he explained, as he dragged the blackbird over the pink dove.

7 Ownership of play
Use photos of the children to personalise characters to make it easier for the children to appreciate feelings and emotions. Provide a folder of photos that can be used to customise characters from a story. This is a fun and safe way for the children to explore other worlds, thereby developing creative and imaginative ideas.

8. Problem solving
Counting objects on a page would be an obvious number activity on this page. However, moving some of the children behind the bus, using the layering functionality, and challenging the children's understanding of this makes for more discussion opportunity.

9. Decision making
Use the children's names to associate them with a picture of something that starts with the same sound. The children will register that picture when they first come into the room as part of self-registering. Encouraging the children to take ownership of their learning environment can offer all sorts of scenarios, where they can begin to make decisions on what to do next and how to use their time.

10. Consolidation opportunities
This activity will encourage the children to learn how to match sounds with pictures. Let them click on the letter to hear a sound and then ask them to match it with the picture. The children can do this by dragging the relevant image to the letter, or using a pen and drawing a line between the two images.
The above skills can all be developed using various resources available in all nurseries and early years settings. Using an iwb is another way of offering the children access to a variety of engaging environments that will form the basis of some of their language development and confidence to enter into the unknown.