Use films to bring teaching to life and boost children's confidence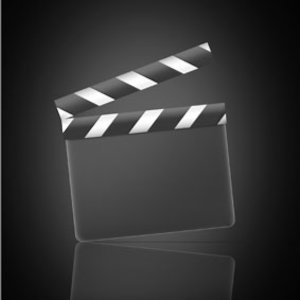 In this article
Firing children's imagination with film
Every teacher knows that a subject – no matter how dry it may seem on the surface, or tricky to grasp – can be brought to life through pictures. Younger children, especially, enjoy having something visual to relate to whatever they might be learning about. For example, maths is brought to life with an imagined trip to the shops, and students are more able to identify with the Victorian age or World War II when they can see for themselves what clothes were worn, or what toys the children their age played with. Exploring an image is adventure, not work.
And when those images are moving – that's really when a child's imagination can be fired, and that's why so many schools are now creating a space in their extended day for FILMCLUB: a free, government-backed initiative that provides teachers and children with access to thousands of films that they might not get the chance to watch elsewhere.
The organisation is promoting films from around the world this summer term as part of a 'Film Journeys' campaign that aims to show young people that there is international cinema to be discovered in addition to Hollywood blockbusters. These films, in particular, can introduce children to people, places and ideas that otherwise might be hard to understand or relate to. The whole world (universe, even) beyond the school playground exists on celluloid, so why not use film to take your students on a journey of discovery they will never forget – without ever leaving the classroom?
Films that transport you to faraway places
Perhaps your children fancy heading to a country thousands of miles away; one that the youngest might not have even heard of? The beautiful, simple movie The Cave of the Yellow Dog (U) will show your intrepid youngsters the vast, majestic plains of Mongolia, while teaching them all about loyalty and the fact that growing up sometimes means taking tough decisions. Or, perhaps they will want to head Down Under? There they will meet Mike in the celebrated Australian film Storm Boy (PG), who adopts three orphaned pelicans and tries to shield them from the 'real world'.
Using film clubs to build children's confidence
One of the greatest draws of a film club from a child's point of view is that it demands absolutely no special skills or natural aptitude. Joining a drama club requires a certain level of confidence, and sporting activities are a scary prospect for some – but to watch a film you simply need an open mind and undisturbed time to watch and concentrate, something which a dedicated film club can provide.
Headteacher, Sarah Shirras, has said that: 'a complete mix of children [come to the club]… Very few friendship groups are represented, just children who want to be there' and this capacity for inclusion has also been noted by teacher, Steven Gibson: 'This club has so far ensured that children have an equal starting point in conversation… Everyone is equal, and everyone has something to contribute.' This open environment allows even the quietest of voices to be heard, something that is refreshing for both teachers and children. Laura, 11, said: 'I used to stay in the classroom a lot but now I can go in the playground and play with my friends. FILMCLUB should be called Confidence Club.'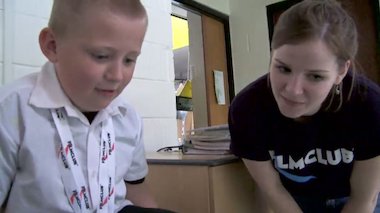 Starting a film club
The egalitarian nature of a film club can even be extended to the ways in which your children respond to the films they watch. Their first port of call will probably be a discussion, led by yourself, about theme, character and story, and the second will hopefully be the FILMCLUB website – a rich and child-friendly resource curated by top film experts, onto which children can post their honest reviews. The realisation that the 'public' will be reading their work often means that children are more careful than usual to use full stops, capital letters and full sentences.
Beyond this, the possibilities are virtually limitless, and can be tailored to any special needs your children might have, or to the film you show. The DCSF's Year of Music initiative, for example, is a great excuse to get out the percussion instruments and keyboards to soundtrack a short scene. Why not show a chase scene, and see how your children parallel the movement with fast, frantic rhythms? Many of the great slapstick movies of the 1920s feature this type of scene, and one of the best – available to order direct from the FILMCLUB website – can be found in Buster Keaton's Sherlock Jr (U). This has the added benefit, of course, of introducing children to classic, black and white films that they might be reticent about watching otherwise.
Film is a vast cultural resource that can explain tricky subjects and open a child's eyes to the wider world. A film club has the capacity to create a sense of community within school, develop powers of analysis and critical thinking and improve children's receptiveness to learning. Combined, they are a powerful tool that can provide children with many happy memories, and teachers with hundreds of ideas to take into the classroom.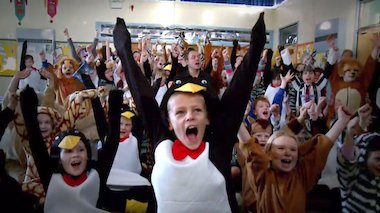 Watch a video showing film clubs run after the end of the school day.
FILMCLUB

FILMCLUB is a free service that helps state schools to set up after-school film clubs. It provide young people with access to a diverse range of thousands of films. Schools participate in weekly screenings, online reviewing and inspirational film industry events. For more information, and to get signed up to the scheme, visit www.filmclub.org
Image © Egahen/sxc.hu