Find out how to win over your audience and wow your colleagues as you take to the stage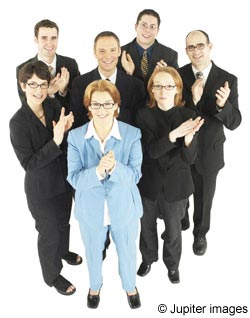 Presenting a good assembly will create a rousing response
You are about to start your very first assembly. Row upon row of eyes are staring up at you, colleagues wait expectantly in the wings and your boss looks on, eager to assess your performance. It's not easy to keep cool. But be reassured: a successful assembly is not beyond your grasp.
You will need a clear sense of purpose. If you are full of bluff and bluster, insecure about what you are going to do or say, the audience will detect this and also feel insecure. Children don't like that and, one way or another, they will let you know it. Communicate that you are intent on doing a job, and you will command the children's attention.
A good beginning is very important, so work out carefully what you are going to say and don't waffle.
Make sure, too, that you focus on the job in hand. Put the audience, the staff and the smell from the kitchen out of your mind. Being relaxed, but focused is an ability that great actors and sports people share, so if you can do this like Nicole Kidman or David Beckham – good for you. But don't be silly when your theme is serious, don't interject the school netball results or tell Mandy not to pick her nose at an inappropriate time. Stay focused.
Using stories
The best assemblies use story: children are not very good at absorbing messages wrapped up in sermons. Traditional beginnings such as 'Long ago and far away' or 'Once upon a time', are used to prepare the listener for what is to come, but the unexpected, for example, 'One Thursday I found jelly in my socks…' also works. A good beginning is very important, so work out carefully what you are going to say and don't waffle.
'Tell' rather than 'read' because it is easier to establish eye contact and communicate when telling. If your memory is not very good, don't worry. Have a book or notes nearby as an aide memoire. You will find that children are surprisingly forgiving if you have to stop to check some details – just tell them what you are doing and why.
Things to avoid
Asking rhetorical questions is a definite no-no. You will get answers even if you don't want them, because young children take things much more literally than adults. I once told a Russian story that used the term 'roubles'. Realising that the youngest children had no idea what they were, I said innocently, 'A hundred roubles, er… shall we say a hundred pounds?'. Taking me at my word, the entire class at the front of the hall then chanted in unison, 'A – hundred – pounds'.
When you speak, do so clearly in a steady voice. If you can do 'voices', that's fine, but you don't have to. It is much more important to establish the right pitch and tone. Too loud is worse than too soft. Don't shout, unless for effect, and don't attempt to talk over audience noise – you won't win.
Using props
Props can help to establish tone and atmosphere. Pictures, candles, music, lights – you are spoiled for choice. I once took a sack full of every different kind of hat I could muster into assembly and it sustained the children's interest throughout by the anticipation of what hat would pop out of the bag next. Children themselves make good props and asking for helpers from the audience always goes down well, but audience participation does carry risks, so don't do it unless you are confident.
Make sure that props add to the assembly and don't detract from it. This is especially true with music. A serious homily about famine does not sit easily with a chirpy pop song, no matter how popular that choice is with the children.
A friend of mine who had spent some time in India did an assembly on Ghandi as Ghandi, complete with loincloth and make-up. He carried it off, but I know that I never could. The rule is, be yourself. Use ideas and tips, but always adapt them to suit your own personality and style. If the loincloth is not for you, then don't wear it.
Endings
Ending the assembly should be easy, but don't neglect it. Always try to end on a positive note. I once used a powerful Greek myth in assembly that reduced some children to tears and left the staff depressed until playtime. An error. Use powerful stories by all means, but make them upbeat. Assemblies should not only be about love and faith, but also about hope. Make sure that your ending is timely and if you lose the audience – stop. What do they call someone who goes on talking long after the audience has stopped listening? A teacher.
Coming next – how to shine at parents' evening