Are you confusing your maracas with your castanets? Don't despair, help is at hand with this essential NQT beginner's guide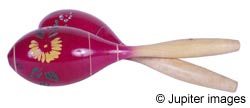 Remembering my music seminars at university (I had just eight in four years in which to prepare me for teaching the KS1 and KS2 curriculum!), I was under the misapprehension that with my own class, I would spend every music lesson playing 'London's Burning' on the recorder and singing 'Land of the Silver Birch' with a chime bar accompaniment. Ring any bells? I hope not.
I was lucky. I am fairly musical. Gloria Estefan was right – the rhythm did get me and it equipped me with enough knowledge to teach a music lesson well. But not everyone feels like that – I still receive numerous bribes from colleagues to take their classes for music. For many it is clearly an area where subject confidence is flagging.
Book yourself on a 'Learn to play the recorder' course.
Getting started
Befriend your music coordinator, unless that is you – in which case, panic slightly! If you are the music coordinator, then contact your local authority music representative. They are usually lovely – very laid back and easily coerced with cakes.
Book yourself on a 'Learn to play the recorder' course. It is a great way to get started with music. However, if the thought of ritual humiliation on an organised course doesn't appeal, there is always the solo approach – a teaching video and soundproof bunker.
Planning
Most schools use the

QCA

schemes, which is great, but in most cases these will need some adaptation. I always think that it is pitched towards the Charlotte Churches or Vanessa Maes of the school, but in reality you are faced with just 30 excited children with tambourines.
Visit the

DCSF

standards site. Click on the subject list and choose Music at Key stages 1 and 2. This will give you access to the complete set of

QCA

topics for this subject. Remember, the

QCA

documents are there as a guide – they are not written in stone, to be followed to the letter. Dip in, choose ideas and adapt. Think about what interests you. If you show enthusiasm, then the children will too.
Resources
You will see adverts for in-school shows, music workshops and resources. If money allows, get as much as you can. If there is anything you are not confident about teaching, get someone in. They can cover nasty things such as composition and recording sounds, while you can stand and watch. And look smug.
When you go on holiday (which will be unlikely until you have paid off your loans), always buy a musical instrument. You can spend hours telling your class that you brought this in exchange for your husband/girlfriend/mother-in-law in the Gobi Desert, when in fact you bought it on a market stall in Faliraki for two euros.
Recording
It is doubtful whether your headteacher will expect up-to-date levels for each child every term, but if they do, set up a few activities from each programme of work, which will give you a basic understanding of where the children are at with regard to vocabulary, singing, composition and so on. I always try to record something each year from each child so that there is a physical record of their work.
Key concepts
Ensure that the children know the meaning of key words, such as 'dynamics', 'tempo', 'pitch', 'timbre', 'duration', 'structure', 'notation', 'processes', 'context' and 'sounds'. Display these words around the classroom and refer to them constantly.
Useful websites
Come soon – Beginner's guide to… Individual Education Plans (IEPs).