Outdoor learning promotes active play and problem-solving. You can create a safe outside environment with these straightforward steps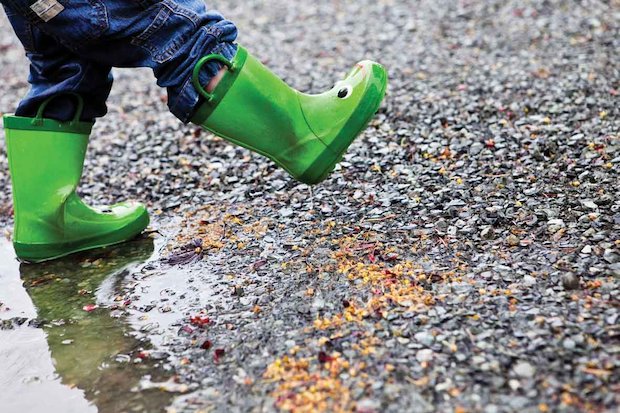 Sections in this article:

All outdoor space, from a window-box to a woodland, has potential for active learning and problem-solving through the changing seasons. Yet, the very thought of planning for the outdoor environment fills some practitioners with dread! So, just how might we plan for the outdoors?
It can be a scary thought!
A common fear among practitioners considering outdoor play is the possibility of children getting hurt. Recent research in Australia has highlighted some of the dilemmas Early Years practitioners face in adapting their practice to the outdoors. After the introduction of 'loose' materials to their playground, such as car tyres, boxes and small hay bales, Australian practitioners' perception of risk increased as well as their fear of litigation, should a child experience injury. Yet there was no increase at all in accidents during the research and practitioners went on to note that children became less aggressive in the playground and more social, resilient and creative in their play with the new resources.
If you are experiencing outdoor 'risk anxiety' in your setting, you could discuss this at a team meeting and look at the research in Australia. The Australian practitioners learned how to intervene at appropriate times, using these 'risky' moments as learning opportunities for the children by helping them to assess the risks involved for themselves, consequently developing self-esteem and confidence. Considered and measured risk-taking can be positive for children, encouraging them to become more independent in making choices. As a child negotiates risk in an outdoor environment, they have a certain sense of freedom and an opportunity to develop confidence in their abilities and judgment. Allowing children to take considered risks and to have more freedom in their choices and movements can improve neuronal growth through greater and more complex body movements. In turn this develops greater bodily control, stimulates digestive organs and creates a healthy appetite.
Engaging with the outdoors
Is wet weather just for the ducks? We can all have fun outdoors, whatever the weather, but we need to ensure that everyone has appropriate clothing, footwear and sun protection, and this includes staff! Our colleagues in Norway and Denmark live in cultures with greater ties to the natural environment than our own. Many young Scandinavian children learn to ski as soon as they can walk and visit their family 'hytte' (wood-cabin in the forest) throughout the year, experiencing the natural environment first hand. When was the last time your team ventured into the forest? If the thought of being in an outdoor context doesn't appeal to some staff members why not arrange a professional development session in the woods? Check out where your nearest community woodland, local park, forest school or national park is, and spend a day there as a team. The sheer magic of a forest, coastal path or woodland might be enough to motivate your team into action and they will experience first hand the vast learning opportunities that can be encountered in such contexts.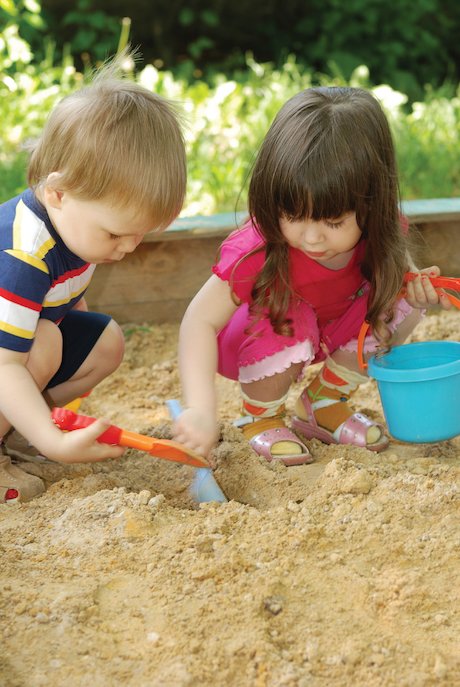 Dealing with anxious parents
Many parents associate the words 'play' and 'outdoors' with leisure and worry that their children will miss out on learning when allowed to play outside. You can gently remind parents that the foundation for all learning lies in movement, play and making sense of the world in the early years. Movement skills, balance and co-ordination are needed later when children learn to write. Hand-eye co-ordination skills are developed when children, out of their own curiosity, pick up shells, stones, minibeasts and leaves. Discriminating between sounds, essential for good spelling, can be nurtured by listening to different bird-song or wind chimes. Gathering leaves of different shapes and sizes can be the beginning of mathematical sorting and shape identification.
All of these activities are embedded within meaningful experience; they are fun and motivate children to learn. Research has shown that children who play and explore natural landscapes appear to be healthier, have greater motor control, balance and co-ordination and exhibit more creativity in play. All of which creates a strong foundation for later schooling and nurtures their self-esteem and well-being.
Becoming active listeners
Practitioners often experience a great tension between their desire to allow children to play and explore outdoors and their need to satisfy the demands of the curriculum. Adopting a holistic approach to long-term planning by working with the seasons, allows us to cover all areas of the curriculum during the year, placing a different emphasis on learning each week or month, as well as ensuring space for spontaneous activity and child-initiated learning. Working in this way can help to relieve some of the tensions we experience as practitioners while offering us the chance to work closely with children, to observe their choices and to listen to them. Adopting a non-directive way of working allows social, emotional and cognitive development to occur simultaneously in children's active learning and helps them to feel there is real value in their own experiences. Tina Bruce states that direct teaching strategies are a backward step in early learning, yet we need the most 'sophisticated teaching strategies of all' to work indirectly with children. This, of course, can be daunting for practitioners, yet by creating an environment in which children feel engaged and motivated to explore, coupled with an 'extended' style of teaching using observation and active listening, we can create a truly child-centred approach.
This is especially valuable to key workers who can develop a deeper understanding of the children in their care by asking certain questions: What motivates this child? What choices do they make? What problem is this child trying to solve? How can I facilitate their problem-solving? What is my child's question? What progression is there in their learning?
Allowing children to become 'active learners' goes hand-in-hand with practitioners becoming 'active listeners', able to reflect on children's learning and to act responsively out of their professional knowledge of child development. Active bodies lead to greater synaptic growth in the nervous system and more active, flexible brains. By allowing children to play and explore outdoors we can help nurture flexible bodies and flexible, resilient minds. So… put on your wellies and play!
More resources online now!

Discover more outdoor play activities, research and articles on our website.
A holistic approach
The outdoor environment affords children the chance to experience the cycles of the year, the seasons, and all the changes they bring. For many children the huge snowfall during last winter was their first experience of snow and ice. The opportunities afforded by such an exceptional experience can easily be used by practitioners to extend children's knowledge and skills across a wide area of the curriculum through authentic and purposeful activities; sweeping the snow away to clear paths, putting on snow boots, mittens and scarves (a first for some children), making decorative snow sculptures and helping to feed the birds. These activities allow us to use open-ended exploratory questions and you may have tried a few of these learning opportunities with your children last winter:
Problem-solving: What tools do we need to help us clear the path? What will we do with all that snow? Can we prevent the path from being so slippery?
Personal and Social Skills: What clothes will keep us warm outside?
Numeracy: How much snow do we need for a snowman? Extend mathematical vocabulary using words such as big, little, heavy, light and round.
Communication, Language and Literacy: How many words can we find to describe the frost, snow, ice and cold? Do we know any snowy poems or songs?
Imaginative Play: Can we make other snow sculptures besides a snowman? What about a snowcat? How can we decorate them? Can we build a snow den? Who might live in a snow den?
Knowledge and Understanding of the World: What do the birds do in winter? Where do all the wild animals go? How do they keep warm? What happens when we leave a button, a leaf and a petal in the water bucket outside overnight?
Physical Development and Movement: Gross and fine motor skills are employed to work with the snow, left and right sides of the body co-ordinate when using a sweeping brush.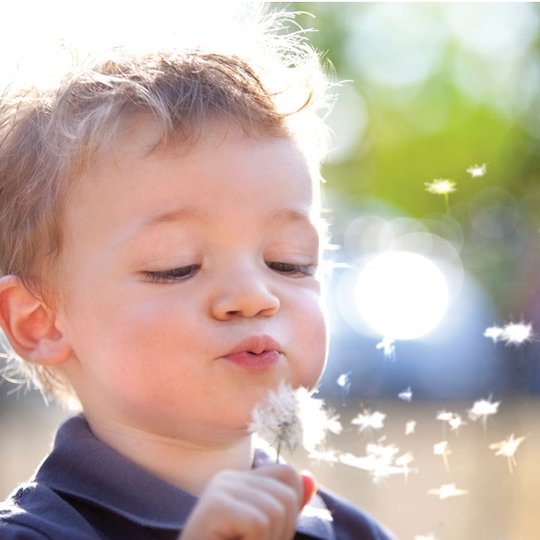 Using the seasons
Each year, as we move through the cycle of the four seasons, we encounter wonderful and far-ranging opportunities for learning. Long-term planning offers us the opportunity to look ahead and to source the materials we need to create inviting outdoor contexts for young children.
By having seasonal boxes ready for windy, sunny, snowy and wet days, we can provide opportunities for children to play and learn outdoors at their own pace. It may be useful to collect items for these boxes such as:
poems and stories
tools to use outside in summer such as sand buckets, spades, sand toys, watering cans and sun-hats
resources for autumn to make the most of the wind, fruits, seeds and leaves around us
tools for the spring such as small trowels, weeding forks, seed packets, bulbs, wheelbarrows, watering cans and materials for nest-building
craft activities for every season.
See more ideas for creating your own seasonal boxes below.
A few extra additions to the outdoor environment can provide further exploration for children, such as:
a small pile of logs and stones to attract minibeasts
a bird table or feeder
logs with moss and lichen growing on them, which will alter in texture according to whether the weather is dry or wet
a large fallen tree trunk provides an ideal balancing pole and a place for mini-beasts to take shelter
Buddleia bushes, available from most garden centres, attract birds and butterflies, offering children the chance to observe them up close, even in urban settings.
Working with the seasons and the changes they bring, in this manner, allows us to take a more holistic approach to our work using long-term planning and maximising possible learning opportunities. Instead of trying to create activities to meet the curriculum we can look for meaningful seasonal activities to engage our children and then match curricular areas to them in our planning. The ever-changing natural environment stimulates, engages and motivates children to explore creative learning opportunities, and helps them learn from nature rather than about nature. In addition, for children from challenging backgrounds who have experienced family disruption, chaos, grief and loss, nature can provide a soothing environment and a reassurance that some things in life remain constant – the seasons of the year.
Seasonal resource boxes
Creating seasonal boxes can inspire your children. Here are some ideas for what to include in yours:
Summer:
flower press
magnifying glasses
bug boxes
water buckets and chutes (old guttering and pipes)
binoculars
shells
garden trugs for gathering veggies
sieves for sand
assorted wooden spoons
ladles and scoops
watering cans
small wheelbarrows
child-sized gardening tools and sweeping brushes
bubble-making equipment
Autumn
small kites and windsocks
washing line/pegs/streamers/twirlers/feathers
windmills and windflags
bags of leaves
plastic toads and frogs
water buckets and chutes
soft toy hedgehogs
child-sized rakes and brushes
tarpaulin for shelter
old umbrellas with holes for rain play (to hang upside down)
tubs of conkers
pinecones and beechnuts
windchimes (ribbons, metal spoons and forks, pieces of wood)
Winter
scoops
seeds and nuts
camouflage net for bird watching
binoculars
lanterns and torches
ice-making containers (jar lids, ice cube boxes, metal trays to leave out overnight)
plastic spades for snow sculpting and shovelling
off-cuts of wood for making bird tables
ice scrapers
twigs
branches from ferns or evergreen trees/plants
Spring
seed packets (calendula, chives, nasturtium, sunflowers, lettuce, parsley or a children's mix)
watering cans
child-sized gardening tools
watering cans
bird-nest material (feathers, moss, twigs, wool, string)
beetle-den materials (wood-bark, twigs, small logs)
soft toy birds
garden hose and reel
bubbles
wheelbarrows
small brushes
whisks and bowls for mud play
Further reading:
'The risk is that there is 'no risk': a simple, innovative intervention to increase children's activity levels', by Anita Bundy and Tim Luckett, International Journal of Early Years Education, March 2009
Framework and expansion of nursery education by Margaret McMillan, Denholm Press
Learning Through Play: Babies, Toddlers and the Foundation Year, by Tina Bruce, Hodder Arnold
Boy © ZoneCreative/www.istockphoto.com; Children on tyres © Midnite77/www.Istockphoto.com; © debibishop/www.istockphoto.com; © Galdzer/www.istockphoto.com