Expert advice and practical guidance for tackling your Early Years Self-Evaluation Form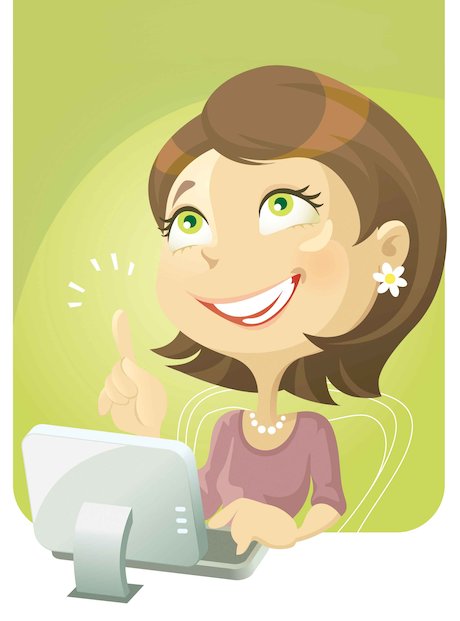 It's tempting to see 'self evaluation' as being all about filling in your form for Ofsted. However, self evaluation is about much more than this and it should be an integral part of the day-to-day running of your setting.
Whatever your role is within Early Years, all providers of care and education, need to carry out effective self evaluation to help take stock of their practice, assist in identifying areas for improvement and demonstrate clearly to parents, carers and children (their stakeholders) how they will achieve the five outcomes of Every Child Matters. An effective self evaluation reflects a realistic view of your current practice and allows you to promote your vision for the setting and set out exactly how it will progress into the future.
Completing and submitting an Early Years Self-Evaluation Form
Although it is not a statutory requirement to complete the Ofsted Early Years Self-Evaluation Form (EY SEF), you need to find a way to carry out a self evaluation, and it's probably easiest to use the form provided. The most straightforward way to complete your EY SEF is by accessing it online. In order to do this you will need to:
Apply to Ofsted for your Ofsted Security Token.
Once you receive your letter, log onto the Government Gateway at https://online.ofsted.gov.uk/onlineofsted/public/launchportal.aspx.
Create a user account – make a note of your User ID and password and keep this secure and confidential.
Use your Ofsted Security Token to access the

EY SEF

for your setting.
When you've completed your

EY SEF

, click on the 'submit' button.
You can also download the EY SEF as a word document, complete it, then post it to Ofsted. If you originally completed your EY SEF as a word document and now want to move it online, it is a straightforward task to cut and paste the information across into the online version. The EY SEF form changed slightly in October 2009, so if you're working from an old version, look at the guidance at: www.ofsted.gov.uk/publications/090265.
More online…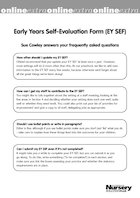 .
Find out more about the Early Years Self-Evaluation Form with this useful lists of questions and answers, which you can download now.
How to complete your
EY SEF
One drawback of completing the EY SEF online is that the design of the form means you can only see a small section of your text at any one time. A good way to overcome this is to copy your text over to a word document to work on it, then cut and paste it into the online EY SEF once you're happy with it.
When writing your SEF, make sure that you give evidence to support the statements you make. It's a bit like writing an essay – for every statement, you need to give evidence to show how you do this. For instance, you might write: 'We use various methods to find out the views of parents and carers. These methods include a six monthly parent questionnaire – we publish the results of this in a summary format for staff, so that they can see the views of parents and understand which areas still need work.' If your setting is in receipt of government funding, you must ensure that you refer to the Special Educational Needs Code of Practice for guidance.
The EY SEF Help pop-up is extremely useful and you may find it helpful to print out these help pages, so that you can refer to them as you complete the different sections. You can find the pop-up on the left hand side of your screen as you fill in the online EY SEF. The sections of the EY SEF are as follows:
Part A:
Section 1: Your Setting – Basic information and details about your setting.
Section 2: Views of those who use your setting – How you find out the views of parents, carers, children and staff.
Part B:
Section 3: Quality of Provision in the

EYFS

– How well do you promote children's learning, development and welfare? In this section you list your 'priorities for improvement' – all those things you are currently working on.
Section 4: Outcomes for Children – What the outcomes are like for children at your setting – how well do you actually do in your provision? This section is divided into the five areas: enjoy & achieve, feel safe, healthy lifestyle, positive contribution and future skills.
Section 5: Leadership and Management – How well is your setting led and managed, and how does this feed into the children's welfare, learning and development? This section is again divided into areas: ambition and improvement, deploying resources, equality & diversity, safeguarding, self evaluation, partnership, engagement, leadership & management. In this final section (leadership and management), you again list your 'priorities for improvement'.
Section 6: Overall Effectiveness ­– The central question here is: 'What is it like for a child here?' Consider your setting's ability to maintain continuous improvement, and also how you are meeting the needs of all the children.
Part C:
Compliance with statutory requirements – Here, you should tick the relevant box to show whether these are fully, partly or not in place. If action is still required, there is a comments box to record how you are achieving this.
Top Tips
Don't procrastinate: Completing such a long form can seem daunting, especially since you know that your setting will be judged on what you write. But once you've got going, it really doesn't seem so difficult.
See it as a working document: Your

EY SEF

is not something that you fill out once and then it is 'done'. You need to update your

EY SEF

regularly, to make sure it reflects the current practice at your setting.
Highlight the positive: Use your

EY SEF

as a way to show off what your setting does well. Every time you try out something new, make a note and be sure to add this into your form.
Refer to your list of priorities: Copy and paste your list of priorities into a separate file, and then print this out and refer to it constantly. Share copies of this with staff and delegate jobs to the relevant people.
Don't expect perfection: You will make mistakes – aim to learn from them and do things better the next time around. After a while, you should find that the process of self evaluation becomes instinctive. As you go about your day-to-day work, you'll find yourself constantly evaluating what you're doing and changing it to see if it works better when it's done differently. Take care not to introduce too many changes at once, though, as this can confuse the children and make them feel insecure.