This year's Guest Editor, Nicole Lefebvre-Fry, is a reception teacher from Piddle Valley in Dorset. Nicole reveals all about her experience with the Nursery Ed team and talks about life in a rural school.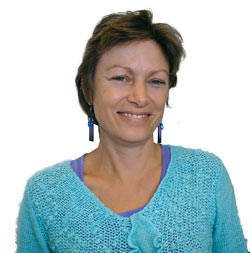 What inspired you to apply to be Guest Editor?
As I work in a rural school, I wanted to be able to help the readers of Nursery Education PLUS empathise with practitioners in similar settings, while at the same time, give our small extended school, and recently-opened pre-school, some limelight.
How did you feel knowing you were going to guest edit the magazine?
I couldn't believe it when Nursery Education PLUS Editor, Helen Dean, called to say that I had been chosen to be Guest Editor. As I arrived at the magazine offices in Leamington Spa, I felt nervous, wondering what I had let myself in for! However, I was greeted with friendly warmth by the magazine team, and began to feel important and special.
What did being Guest Editor involve?
On the first day, the magazine team gave me an entertaining 'whistle-stop' insight into the magazine editorial process from concept, planning and designing through to production. They also treated me to some lovely meals and presented me with lots of generous gifts. The next day, it was over to me to help put together the December issue of Nursery Education PLUS. I felt rather daunted by being given such responsibility. However, everyone soon put me at ease and between us we planned content and layout ideas. My knowledge of supporting practitioners in local settings helped me to suggest general topics of interest, which the team thought would be interesting areas to cover in future issues.
What do you enjoy about teaching in a country setting?
Piddle Valley CE First School, now has a new Pre-school and extended Kids' Club, and is set in a peaceful, river valley surrounded by wonderful fields. A local landowner allows us to use nearby woodland to give us first-hand experiences of lifecycles, farm life and seasonal changes, and lets us make the most of the wildlife and nature that encompasses the school. Our wellingtons are on the 'Welly tree' outside, ready for us to go exploring and collecting ripe berries from hedgerows ready for juice making!
Apart from the countryside, what else is good about a rural school?
A small, rural school affords the nurturing luxury of quite small classes and the ability to have whole-school events. The community network is close, with long-established family connections, local work and continuing village customs and traditions.
Do you find educating children in a rural setting can sometimes be challenging?
Yes, we lack the richness and diversity of multicultural experiences, although we do try to balance this with inviting creative visitors into the school and borrowing artefacts from DEED (Development Education in Dorset – website).
Finally, what did you gain from your experience as Guest Editor?
When I got home from my visit to the office, my head was buzzing with so much new and interesting information about publishing. I admire the energy and ethos involved in creating the magazine. The children of our nation are better educated by the ideas, innovation and support that Nursery Education PLUS provides. The children are our future and the team should be proud to have contributed to that. I also got the chance to tell the magazine team about life in a rural setting. I am looking forward to seeing how our ideas finally look on the page!