Keeping children safe on the web is all about education. Andrew Foyle, founder and CEO of BLi Education, discusses this important issue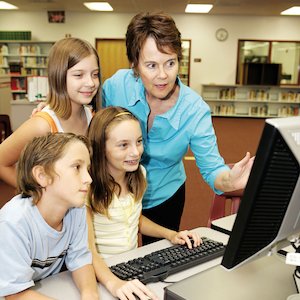 Audio interview
Listen to an interview with Andrew Foyle for more of his advice for keeping children safe on the web.
The internet has brought with it a myriad of benefits, yet, we are all too familiar with its darker side and the risk it poses to society's most vulnerable. With horror stories hitting the headlines on an all too regular basis relating to online grooming, fraud or inappropriate content – it begs the question: is enough being done to equip children with the know-how needed to protect themselves against such risks? And, with so many associated dangers, should the internet have a role to play in a child's daily life at all?
In my childhood, one of the biggest concerns for parents and teachers was the need to educate children about the dangers of the road. While these dangers can be easily seen and understood by children, e-safety can be a difficult concept to grasp. After all, children usually access the internet from a safe environment: their home. But, stranger danger is just as applicable online as it is in the real world and with the rise in social networking – the need to educate both children and their parents about e-safety has never been greater.
Education, education, education
The perils of cyberspace mean that adults have good reason to be concerned with what or who children might come across while browsing. This means that adults can often want to overprotect a child when it comes to the internet – some might even think the best solution is to not allow children to use the web at all. The problem with this is that children will not learn how to use the internet safely and responsibly. Education is therefore vital to ensure children understand the rights and wrongs of web usage. The Government clearly agrees: e-safety now forms part of the National Curriculum.
With older children, it is important to go beyond the simple dos and don'ts. A debate in the classroom to discuss the issues can be very effective. But, it's not just children who need educating – many adults are still unfamiliar with the concept of the internet. Helping parents understand e-safety will ensure a belt-and-braces approach to keeping children safe online.
Stranger danger
While children can be taught what content is and isn't suitable for their viewing, protecting them from coming into contact with the wrong person can be far more difficult. Yet, sadly, we know all too well that stranger danger is as prevalent online as it is offline. Internet communication is on the whole very informal, meaning that children can sometimes be relaxed about revealing personal information about themselves to someone whose true identity is unknown. The anonymity available online is appealing to online child predators and can also leave the door wide open for cyber bullying.
Again, it comes down to education and teaching children that there is an actual person behind the online persona. Appropriate supervision of internet usage needs to be encouraged: it's easy to assume that a child is safe because they are at home, in sight, quietly tapping away on the keyboard – but the truth can be quite different. Teachers can have a large role to play in encouraging parental supervision by providing parents with guidelines for monitoring their children's internet usage.
Let technology lend a hand
Although in an ideal world censorship would not be necessary, in reality teachers and parents need to have some level of control over what children can access on the internet. Technologies now exist that enable teachers and parents to filter content to control what their children can and can't view. There is also now technology that has the ability to trace data uploaded onto the internet back to its source.
That said, while the advancements in technology allow for internet use to be controlled, it also means that mobile phones give access to the web and there are an increasing number of Wi-Fi hotspots. This demonstrates just how difficult it is to truly police the internet as only a certain amount of protection can be put in place. So, although technology can lend a hand in the home and classroom, an appreciation of the dangers is essential if children are going to be able to identify when their safety is at risk, in order to raise the alarm.
Learn which websites are suitable
There are certain sites that adults can trust (CBBC for example). In stark contrast, there are also sites that will be quite obviously inappropriate for children to have access to. So, without appropriate supervision or filters in place the internet is their broken-glass scattered playground.
Some websites that might appear to be harmless have a mix of suitable and unsuitable content contained within them. A good example of this is YouTube: the site doesn't automatically monitor the videos that are uploaded. Social networking sites, such as Facebook, are perhaps more tricky to judge: the sites contain a lot of personal information, and although security settings are available to reduce access, it doesn't always occur to children to raise their privacy settings or, if it does, they may struggle to perform the action – leaving their most personal information open for all to view.
Young children shouldn't be using such sites as Facebook in the first place, but we know that many do. The appeal of such social networking and content-sharing sites is vast and children don't like to feel like they're being left out – especially if their friends and older siblings are involved. Offering safer alternatives for children to use, while learning about e-safety, is a good way for children to be able to share content with their friends without putting themselves in danger. There are now quite a few sites that are moderated, such as Schools Tube.
Embracing e-safety
There's no escaping from the internet, and preventing children from using it will only hinder them in the long term. Wrapping children in cotton wool is not a realistic option for parents looking to save their children from the perils of cyberspace – no more so than preventing a child from playing outside through fear that they'll fall and hurt themselves, talk to strangers or cross the road without stopping to look and listen. As with all these things, increased understanding and supervision are key. The solution to the threats posed by the internet is an increased awareness in children of the dangers and for parents to better understand the risks (and the tools available to mitigate them). To achieve this and promote e-safety, education must extend beyond the child in the classroom and translate to the parent in the home. On a positive note, although there are dangers online, just like there are in all aspects of life, these can be reduced and the overall benefits the internet has brought to everyone, including children, far outweigh the risks.
E-safety resources
There are lots of ideas and resources in the Child Ed PLUS resource bank to help you educate your children about e-safety. Take a look…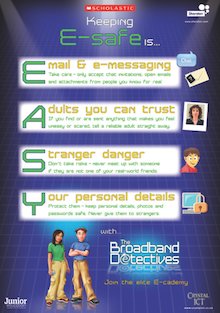 Image © Lisafx/istockphoto.com