As a student teacher or NQT, you're not expected to be an expert on special needs, but being familiar with some of the basic facts can be a bonus…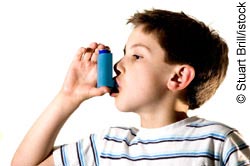 Asthma
What you need to know
Asthma causes children to cough, wheeze, have a tight chest and get short of breath. This is because their airways are almost always inflamed and sensitive. These airways react badly when the child has a cold or comes into contact with an asthma 'trigger'.
Common asthma triggers include viral infections, pollen, cigarette smoke, house-dust mites, furry or feathery pets, exercise, air pollution and stress.
Children whose asthma has been diagnosed by a doctor will need to take a dose of their prescribed reliever medication when they have symptoms. This is usually given by inhaler. Some children need to use a preventer inhaler each day as well.
Asthma symptoms can be very mild for some children, and extremely severe for others.
Each school should have guidance on the use of medication in school, who can administer it and what consents are needed from parents and carers and doctors.
How you can help
Keep a diary record for any child who has asthma so that you can identify any triggers in school. Record the child's symptoms and what you think might have set them off.
Keep any inhaler in a safe place (refer to school guidelines), clearly marked with the child's name and ensure the child knows where it is.
Encourage older children to take responsibility for their inhaler.
Make sure that a child's reliever inhaler is always at hand and encourage the child to use it as soon as an attack begins. Parents and carers may also advise you to let the child use it before physical activity or other events that might trigger an attack.
Stay calm and reassure the child. Reliever inhalers usually work quickly to relax the muscles. Do not put your arm around the shoulders as this can restrict breathing.
Help the child to breathe slowly and deeply by breathing with them.
When the attack is over, help the child return to normal activities.
If the medication does not work after five-to-ten minutes; if the child is too distressed to talk; or if you are worried about their condition, call an ambulance. Parents and carers can tell you what would constitute an emergency in their child's case.
Make sure that colleagues and midday supervisory assistants know what to look out for and what they should do.
Coming next – Bereavement.