In recent weeks, the media has brought to the public's attention that school libraries are underused and underfunded. Could the reason be that books are too 'old school' for our schoolchildren today? Ben Barton looks at the paperless alternative to books.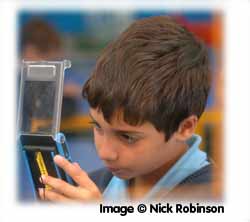 What's wrong with books?
Although ICT has been infiltrating the classroom for some time now, most teachers probably thought that books were safe from the impact of technology. Paperbacks have served children – and adults – well for generations and many people would agree that the look, the feel and the smell of books is inimitable. However, in an age where our children and children are being labelled 'digital natives' and we, their teachers and parents, are 'digital immigrants', we need to consider whether times should move forward to suit the younger generation's needs.
Today, technology has altered the way children live: tennis can now be played on a Nintendo Wii rather than the local courts, children listen to music on their mobile phone and can chat to their friends without needing to be in the same room or even a telephone – a computer or laptop will suffice. Therefore it seems little wonder that they are so engaged with, and confident in, the use of technology and gadgets.
The story that one in five children leaves primary school unable to read is sadly familiar to us now. One reason for this could be that school is a less vibrant and interactive atmosphere than this generation expects and therefore they do not feel engaged. Making books fit into their e-world seems to be a step in the right direction.
What are ebooks?
Ebooks are electronic books that can be used on hand-held learning devices such as EDAs (electronic digital assistants) or interactive whiteboards. As with paper books, writing and illustration are key to a book's success for a child, but the difference between the two formats is that while the traditional option is linear – ie, a story that flows from one page to the next – ebooks have depth; readers can jump between chapters and, if connected to wireless internet, can explore topics further on the internet. Teachers can also embed questions and answers to make ebooks a fully interactive experience – or to assess children's reading comprehension abilities.
The ebook can replace paper books in a whole class literacy session, or can be used for guided reading groups, with each child reading from their own EDA, just as a paper book would be used. When used in pairs, with teachers or teaching assistants, or in groups, ebooks need not differ greatly from their paper counterparts; it is when children use them independently that the possibilities of ebooks become apparent.
Ebooks are a perfect tool for collaboration. Using Microsoft Word, children can create their own ebooks, or customise existing ebooks, which they can then proudly show to their teachers or share with friends who have similar interests. This works particularly well with non-fiction. For example, after reading a book about fast cars, a child can link straight to the internet to find a picture of their favourite fast car to import into their customised ebook. Customisation is not limited to images; children can add in text and create their own quizzes for their friends to complete.
For some children, books have an image problem; reading them is generally not seen as cool
One school in Wolverhampton using ebooks asked its Year 4 children to each create a non-fiction ebook of their school trip to the local Black Country Living Museum. Usually after a day out, children might be asked to write about their favourite parts of the day, create a poster or do a group project; but when given an ebook, the possibilities are infinite and the end result is something of which a child can be really proud.
To adults, new technology often does not come naturally. By contrast, children not only enjoy but also expect to tackle new challenges every day. Reading from a screen still feels foreign to some adults, yet the younger generation are completely comfortable with the process. Reading literacy books on an interactive whiteboard is engaging for children. It also has the advantage of focusing the whole class' attention on the same page and, if necessary, on the same words or phrases as these can be highlighted on the board.
Why do they work?
Although already popular in the USA, ebooks are still in their infancy in the UK. In January 2008, Rising Stars is launching its ebooks website, www.i-stars.co.uk,, where teachers and parents will be able to purchase ebooks for readers on an individual or site licence basis. Titles available to buy online will include three series: Download, The Extraordinary Files and Mystery Mob. In addition to the online shop, the i-Stars community will encourage children to vote for their favourite books, write reviews and upload their own or customised ebooks. Teachers will also be able to download activities and notes which can be printed out for class use. To see ebooks in use on EDAs and interactive whiteboards, visit Rising Stars on the New Technologies Zone at BETT 2008 on Friday 11 January.
Ebooks have proved particularly successful with low ability and reluctant readers. Not only can they reflect the young learner's world more appropriately than paper books, but the technology itself is also greatly appealing. For some children, books have an image problem; reading them is generally not seen as cool. Therefore, the likelihood of seeing a child carrying a book in their pocket or reading on the bus is small. However, EDAs and other handheld devices are portable and many children already own one. This means that children can read on the move, in school or at home; engaging with texts in an enjoyable, portable format.
Reading on personal EDAs or together in class on a whiteboard makes those who are reluctant more interested, particularly when they can click through to relevant websites listed in bibliographies and discover more about a topic for themselves.
A difficulty with encouraging low ability readers to get reading is a lack of confidence which then impacts on a child's motivation. When some children are reading books suitable for their year group, it is demoralising for the less able in the class to read books which are obviously appropriate for children of a much younger age. By reading on an EDA, children avoid scrutiny from their peers and can read to their level, progressing to more challenging texts when they are confident and ready and not when their friends say.