What will the future classroom look like? Will it involve a blending of traditional teaching with the use of technology?
The new Government's manifesto states that every child who is capable of reading should be doing so after two years in primary school. To make this happen, schools need to teach synthetic phonics and focus on back-to-basic skills. In recent years, the Government has invested significantly in ICT in education, replacing the blackboard with the interactive whiteboard and seeing books evolve into ebooks.
Recent figures suggest that children's basic literacy and numeracy skills are depleting with around a fifth of children leaving school functionally illiterate and functionally innumerate (see TES, 7 May 2010). With ICT becoming the teaching tool of choice in many classrooms, what effect does this have on children's basic skills and can it in fact enhance the way we teach?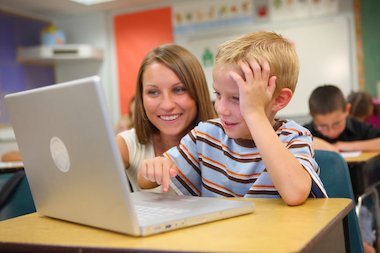 The 'back-to-basics' approach
In recent years, 'back-to-basics' teaching has been publicised greatly, with many suggesting that children need to be taught fundamental skills in order to achieve the three Rs: reading, writing and arithmetic.
When the Rose Review was released in 2006, it was suggested that children need a more language-rich curriculum, focusing particularly on speaking and listening. The findings also specified that phonic work should start by the age of five so as to nurture children's communication skills from an early age. It stated that 'speaking and listening, together with reading and writing, are prime communication skills that are central to children's intellectual, social and emotional development' and revealed that these abilities are all promoted via high quality, systematic phonic work.
Basic writing skills play a crucial role in the development of a child's academic career; the need to be able to write fluently and quickly in order to cope with tasks such as essay writing and note taking is essential. However, unfortunately the introduction of results-driven reforms, such as numeracy and literacy strategies mean that all too often teachers are forced to rush children through the basics. Metaphorically speaking, sometimes we expect children to build a house when we have not provided them with the necessary bricks and mortar. The ability to type 50 words a minute is a useful skill to possess, but what are the words that are being typed? Do the sentences make sense? Is the grammar correct? If children can master the fundamental skills from an early age then ICT can supplement this and help improve learning throughout their education, and indeed, their work life.
Workbooks are one of the main resources that teachers still use that could be classified as more 'traditional'. Workbooks have long been used in the classroom; they are easily transported and can be taken home, promoting parental engagement. As not all homes have access to a computer, workbooks allow all children to complete work and contribute; exclusion is not an issue. They also do not have to be sent away to be repaired!
Visual learners who make up a large portion of schoolchildren like to learn by looking at a word, visualising it and then writing it down, workbooks and sheets are ideal for these types of learners. I have found that children who can look back at their work via a workbook or worksheets can see how far they have come and what they have achieved, resulting in an increase in overall motivation.
Getting the right balance
Sadly, over recent years we have seen many teachers replace such traditional and highly effective learning resources with technology, without considering their invaluable place in the learning pathway to consolidate learning.
In my time as headteacher at my previous school, the teaching staff and myself realised that standards in maths were not good enough, with many children unable to grasp basic skills such as number bonds and knowing their times tables. To address this problem, it was decided that every classroom should be equipped with resources including information displayed on the walls, and workbooks also introduced in daily teaching. Every room in the school had positive and negative number lines on the walls and were also available for children to use at their desks. Mental arithmetic workbooks were distributed to every child in the school; our aim was to ensure that children were allocated a workbook that corresponded with their ability rather than based on age. Within each year group, children would be working on a range of different books at different levels, all workbooks were carefully graded. This personalised learning gave the children enthusiasm for maths in the school and results showed that on average 85 per cent of children gained a Level 4 at the end of Key stage 2. The programme showed us that by going back to basics, in terms of teaching numeracy, results could improve and children could become 'number happy'.
Transforming learning with
ICT
ICT has created vast opportunities, allowing children to become computer-literate by the time they leave primary school. The children we have in our primary schools at present are part of a digital age and conversant with PlayStations, mobile phones, iPods, and so on. The ICT tool of choice, used by the majority of teachers today, is the interactive whiteboard, a device that can interact with children through video clips, the internet, presentations and visuals. This form of teaching encourages collaborative learning, while providing all learners in the class with an equal level of involvement.
Children are encouraged by ICT-based learning, where visuals are more exciting and interactive; it can provide a new insight and approach to a topic, catering for kinesthetic, audio and visual learners, thus ensuring the learner's attention is better held.
Teachers also benefit greatly from ICT. Technologies can deliver time and cost savings and teachers can also change resources and lesson material quickly and effectively; they then have time to consider lesson plans in greater depth. When used to improve the way in which a lesson is taught or the way in which children's work is marked, recorded and assessed, ICT is hugely positive; I see it as a way of enhancing teaching rather than the teaching itself.
However, I feel that the significant investment in ICT in learning should not be at the detriment of the proven traditional methods of reinforcing and consolidating learning. While technology has allowed learning to be broad, creative and motivate children to learn, it should not be adopted to the exclusion of traditional workbook-style learning.
A balanced approach
Looking at ICT and traditional teaching methods, I believe that if technology is used imaginatively and creatively it can complement traditional skills and the two can work together, resulting in a balanced education. Schools nationwide have a duty to unlock the potential of every child; marrying traditional learning materials with modern teaching methods, incorporating literacy, numeracy, ICT and communication skills. Furthermore, the provision of workbooks and interactive online content caters for a range of learning preferences; inclusion should be at the heart of today's pedagogical delivery.
Andrew Dunn writes on behalf of Scholfield and Sims, whose main focus is on literacy and mathematics skills with products that include a wide range of graded activity books, dictionaries, revision guides, reading books, parent guides, and posters. For more information, visit www.schofieldandsims.co.uk
Image © Daniel Hurst Photogrpahy/istockphoto.com