This week's assembly is all about World Cup football.
Main assembly
By Peter Riley – author of the Hot Topics series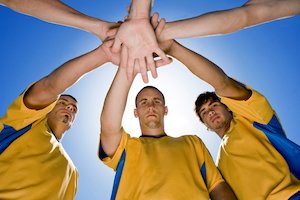 In this assembly…
Key ideas
Introducing the World Cup and the countries that will take part in the tournament.

Explaining how football developed from a rough and dangerous pursuit into a sport that can be a joy to play or watch.

Discovering the skills needed to be a top-class footballer.

Exploring how talents can be developed by self-discipline and practice.

Considering how tournaments, like the World Cup, help to unite the people of the world and can help towards a better understanding between them.

Considering how personal talents can be used for the good of all.
Ideas for music
Preparation
Children could make a flag for each of the competing countries to display in the assembly. (See the FIFA website for a list of the countries.) These can be made from a large piece of cardboard and coloured on one side. You may also like to have a large map of the world pinned up at the front of the assembly that you can use to show the location of each country as the children and their flag enter the room.
Introduction
Tell the children that on 11 June one of the greatest sporting events in the world begins and ask them what they think it is. Hold up a football to give them a clue.

Explain that the event is organised by the International Federation of Association Football that is usually known as

FIFA

.This is the acronym of its French name Fédération Internationale de Football Association.

Tell the children that although the World Cup tournament begins on the 11 June the qualifying games began nearly three years ago when 204 countries entered the competition. After 848 matches, in which 2337 goals were scored, just 32 teams are left.

Say that we are now going to find out who they are and where they come from. Children could now display their flags and the Official

FIFA

anthem theme song played. Point to the relevant country as each flag is displayed.
Main assembly
Use the 'Football' presentation to accompany this assembly.
Explain that football has been around for a very long time. Tell the children that the first football matches were very dangerous affairs. A match took place between two teams that could have any number of players. The game was played through the streets of towns and across fields in the countryside and the goals could be over a mile apart. As the teams scrambled for the ball people were kicked and punched and could be badly injured.

In Tudor times, there was a school teacher called Richard Mulcaster who thought that the game could be improved by working out a set of rules.

Show the picture of the football pitch and say that over the years the size and markings of the football pitch changed and so have the rules. One thing that hasn't changed, however, is the players' aim to be the best that they can be. Perhaps we can learn something from them.

Show the picture of football practice. Explain that top-class footballers have some natural abilities that make them good at the game but they have to practise hard to be as good as they can be. They have to learn self-discipline so that they spend a certain amount of time each day practising.

Show the picture of the striker and say that although a striker may be at his best shooting for goal, he must also be able to run well, dribble, tackle and head and pass the ball.

Show the picture of the goal keeper. Say that goal keepers have to be especially courageous to come out of goal and stop a shot or dive at an attacker's feet but they also have to be good at catching, throwing and organising the defenders to help him.

Show the picture of the football team and explain that whatever natural abilities a player has or however hard he practises at developing his footballing skills, he is still part of a team and a club and must care for others and get along with them. Say that footballers should also extend their goodwill to the opposing teams and show them respect and be concerned for their welfare by playing fair and within the rules at all times.

Show the picture of the globe and say that by the footballers and their supporters extending their good will to everyone involved with the game one of the main aims of the World Cup will have been achieved – to help bring peace and understanding between the peoples of the world.
Concluding thoughts
Suggest that everyone has a natural talent for something but it might not be football. It could be another sport, or painting, writing, being good at puzzles, dancing, singing or cooking.

Suggest that everyone thinks hard about what they really like to do or what they seem to have a natural talent for and think about how they might develop it even more.

Remind the children that footballers only become the top-class players by self-discipline and practising hard.

Tell the children not to worry if they cannot think of anything they really want to do well at. Many people only discover their talents when they are older but when they suddenly find something they become enthusiastic about, can do easily and well and it gives them great pleasure. Say that when that happens to them it might be worth following it up to see how good they could be.

Say that no matter how hard you work on yourself to improve your skills you should always remember, respect and care for others. This could extend to finding out about people in other countries, particularly countries less wealthy than our own and discovering ways to help them.
Closing thought or prayer
Ask children to sit quietly and share a closing thought or prayer.
Dear Lord,
Thank you for all the enjoyment that following or taking part in sports such as football can bring us. Thank you for the special talents that you bestow on everyone and help us to discover them and develop them through self disciple and practice to become the best we can be.
Thank you also for the world and its peoples and help us to consider and care for both in our lives. Help us to be mindful of those less fortunate than ourselves and to work with others to make the world a good place to live for everyone.
Amen
Let us sit quietly together and think about how activities such as football give us pleasure. Let us think about discovering our talents and developing them and also consider how we may use them to help others.