Using film to inspire writing and drawing
18 June 2010
Add to My Folder
This item has 3 stars
of a maximum 5
Rated 3/5 from 2 ratings (Write a review)
Encourage your children to respond to their favourite films in writing and pictures
Young people are often enthuasistic about film, and there is great value in encouraging them to respond in writing or pictures to a subject that can wring persuasive opinions even from the most reticent of children – especially reluctant boys.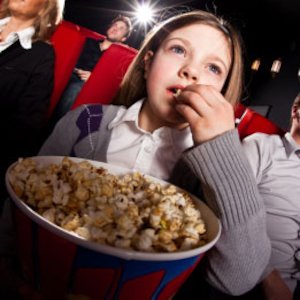 Activities
Key Stage 1 – creating a film poster
Since the 1960s, the trend has been for film posters to comprise montages of still images drawn from the film itself. However, in the golden age of cinema, studios had artists churning out posters as on a production line. Their efforts were unsigned and cinemas were expected to return them for destruction following a film's screening – but now these posters can raise enormous prices at auctions.
This sets the scene for an invitation for children to create a poster design for a film they have enjoyed (and then contribute it to the Film Education competition – see below). Designing a film poster opens the door to all sorts of opportunities for discussion and self-expression. It is a way of encouraging some high-order 'picturacy' skills such as recognising how some of the best poster art is full of messages about the film's likely content and pleasures.
Researching film posters
Show your children some of the best poster art you can find – images that manage to encapsulate as complex a thing as a film in a single image are great proof that less can be more. One of the best is the helmet in the sand poster created to promote The Longest Day (1962). Also show children the 'teaser' poster for the 1984 comedy-horror Ghostbusters where a single logo is being used to sell a film.
These kinds of economical designs are not the norm. The majority of children's films employ far busier compositions – but the challenge is to avoid being too confusing. For example, show them the original poster for Disney's The Jungle Book (1967). There's lots that could be said about this image, but perhaps the key things to ask children is how the poster suggests the film is fun and likely to be full of action. Can they guess who the most important characters in the film may be from the poster? See if they have an opinion about the placing of Kaa the python and Shere Khan the tiger slightly outside the central group of characters. Ask: What other information is included on the poster apart from the picture?
Planning the poster
Before children start their designs, encourage them to have a good think about what they want to include on their poster and where each object will be. Sketching a plan of their poster might help.

The picture or pictures children draw will need to give people a sense of the film to encourage people to want to watch it. Encourage them to include the main characters or draw something exciting that happens in the film.

Remind children to use the whole page! The picture behind your characters is just as interesting as the characters themselves and can give clues to where the film is set – for example, in space or in a city.

Explain how posters need to make people stop and look at it. Bright, colourful and eye-catching images will catch anyone's attention.

Remind children to include the title of their film. Get them to practise using different styles of letters to see which they like best, then write the title big and bold. Look back at the examples of exciting typography on real film posters.
Finishing touches
Children need to add the names of the actors that may attract people to the film. They will need to find out who is in the film and write their names clearly, and accurately.

To make their poster look even more authentic they can include the date that the film is released to let everyone know when the film is out.
A tagline is a short, funny sentence to tell you about the story. Some examples are 'Chicken Little. Movie Big.' from Chicken Little or 'Something bunny is going on' from Wallace and Gromit: The Curse of the Were-Rabbit.
The Mini-Film Fan of the Year Award is a part of the Young Film Critics Awards 2010. The closing date is 23 July, and the best entries have a chance of winning their creators a place at a prestigious ceremony at the London HQ of the British Academy of Film and Television Art (BAFTA) in Piccadilly, while the very best will bring the child responsible the accolade of Mini-Film Fan of the Year. See the www.youngfilmcritic.org for more information.
Key Stage 2 – writing a film review
Last summer I was asked by the charity, Film Education, to draw up a shortlist of entries to their annual Young Film Critics of the Year Awards – a national competition of children's film reviews. It was a salutary experience because alongside highly engaging entries were many that were casually thrown off: many so perfunctory that they struggled even to hit the modest 200 word-length requirement. This was evidence that with extra guidance many of these children could have got a great deal more from the process of taking part – here was a golden opportunity for them to write for a true audience and about a topic that they come to with a great deal of pre-established interest and knowledge.
Film reviewing is a highly relevant exercise: a perfect way to hit all sorts of key skills with children encouraging them to lively debate and subsequent descriptive and persuasive writing. If your school has the means for children to cache their reviews as sound files then film reviews will make excellent content for school webpages, VLEs and child blogs. Alternatively, the finished reviews could be the basis of the script for a videoed film review programme.
Researching film reviews
Discuss the value of film reviews. Is it helpful to have critics to offer their views about movies before the general public spends its money? How well informed about films do they think they would be if they only had advertisements and posters help decide which films to see? Have they ever felt let down by a film that promised a lot in its advertising but didn't actually deliver?

Track down some examples of accessible professional reviews, preferably ones written about films the children will have seen. Mark Kermode's online blog is a good source, as many of his film reviews are stored as filmed sequences. He is also a champion of good 'family films' – he was full of praise for the two Nanny McPhee films and so that might be a good starting point. The website of American reviewer Roger Ebert is also worth visiting. Also, on the official Young Film Critics Awards website you can find previous winners' entries in the 7 to 11 age category. (Ensure to check the suitability of all reviews before showing them to your children.)
Writing a film review
Lead a discussion about the skills that a reviewer needs to employ. Check out the detailed checklist of hints in the Film Education Young Film Critics Awards notes, taking in everything from the need to write in the present tense to avoiding 'awesome' hyperbole and cliché.
The closing date for the 2010 Young Film Critics of the Year competition is 23 July.
Booking for this year's National Schools Film Week begins in September. The festival includes free screenings – see www.nsfw.org for more information.
Image © Kevin Kloepper/istockphoto.com