Using body percussion to accompany a nursery rhyme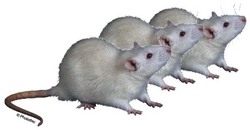 You will need
Tape of Three Blind Mice (optional).
What to do
Ask the children to sit facing you on the floor. Play the recording of the rhyme or sing it to the children.
Repeat the song together, asking the children to clap on the last word in each line. Sing again, this time counting and clapping the beats in lines 1-4 and 8-9. Sing and clap lines 5-7 slowly, counting the beats.
Three blind mice (3 beats)
Three blind mice
See how they run (4 beats)
See how they run
They all run after the farmer's wife (9 beats)
Who chops off their tails with a carving knife (10 beats)
You never did see such a thing in your life (11 beats)
As three blind mice (4 beats)
Three blind mice (3 beats)
Discuss, demonstrate and practice other ways of making hand sounds, eg clicking fingers, rubbing palms, tapping back of the hand.
Incorporate these into the song. For example, on lines 3 and 4, the children could click their fingers rather than clap.
Extension
Divide the children into two groups and sit them in lines facing each other. One group 'echoes' the other on lines which are repeated (1 and 2, 3 and 4, 8 and 9). The other lines are performed together.