Most children love to draw – explore some practical activities to get your children excited about art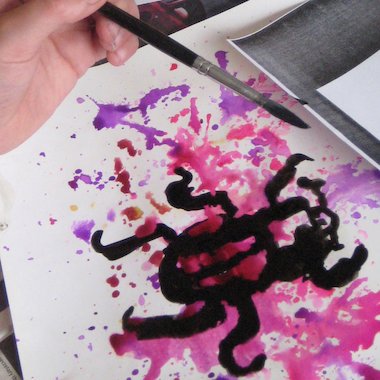 This is the Key Stage 1 part of the article by Bridget Bowie and Dr Richard Jolley. Take a look at the Key Stage 2 drawing activity, 'It's a bug's life'.
Investigating children's attitudes to drawing
The Leverhulme Trust recently funded a large-scale interview and survey study on the attitudes and practices that shape children's drawing experience at home and at school. The findings revealed that the vast majority of children aged between 5 and 14 enjoyed drawing and were confident in their own drawing abilities.
However, more than a third of primary school teachers said that their own perceived lack of drawing skills was hindering their ability to facilitate their children's drawing. The study also found that teachers focused more on observational and representational skills than creativity and expression in the help they reported giving children with their drawing.
Why do we think we can't draw?
The main reasons teachers might struggle to teach drawing is a lack of confidence, and a lack of knowledge, rather than an inability to record something visually. The key to observational or representational drawing is looking and practice. If you are teaching your children to draw from observation, help them to focus on the reason for drawing – to retrieve and record visual information through looking.
If you are interested in the creative, imaginative outcome, then encouragement and general suggestions or prompting questions are key. Pose questions, so that children can make decisions themselves.
Preparing for the 'Ugly bug ball' activities
Find a copy of the song 'The ugly bug ball' by Burl Ives as a fun way of introducing the project.

Collect images of bugs and creatures from books, the internet, illustrations – and encourage the children to collect some, too.

Collect bugs by going on a bug hunt in the school grounds – to be released back into their habitat within an hour!
Resources and materials needed
Black marker pens
Chunky graphite pencils
A4 white cartridge paper
Shiny/smooth white card
Coloured drawing inks – a range of three or four colours
Wax crayons
Coloured pencils
Water pots
Large brushes – one per child
Activities
Choose one large photograph of an insect to discuss with the children, stressing the importance of looking carefully to really see what it looks like. Ask: How many legs can you see? Does it have wings? Can you count the spots? How many sections does the body have? Do you think it looks hard or soft? How many different colours can you see? What are they? If you have time, you could compare different insects.

On the whiteboard, next to an image of an insect, draw a very simple outline drawing of it, in sections. If you have individual whiteboards, ask the children to copy this exercise. Then, look back at the original image and ask them to check that their insect has the correct number of legs, and so on. Alternatively, this could be done on a rough piece of paper with a pencil/wax crayon.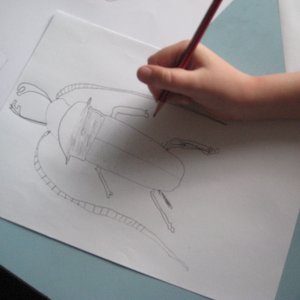 On A4 paper, invite the children to use a chunky graphite pencil to draw from an insect in front of them. Again, suggest that they try to draw the correct number of legs, body sections, and so on, but it doesn't matter if they don't get it quite right! Talk about which bits are light, and dark, patterned or textured to encourage them to add shading.

When finished, this drawing can be photocopied onto paper, so that children can experiment adding different materials without the fear of spoiling it. If you enlarge their image, they could fill in sections with different marks or patterns. They could use coloured pencils, then wax crayons, then coloured inks over the top – encourage them to experiment.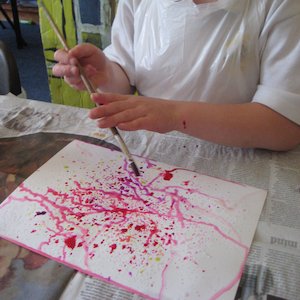 Ask the children to coat a large brush with water so that it is damp and rub it over a piece of A4 paper. Using a small brush dipped in ink, they should tap the brush over the wet paper, and watch the ink disperse. They can repeat this several times, with three different colours in total, and watch as a magical surface unfolds. Leave to dry. When dry, the children can look for shapes that look like bugs in the ink patterns, and add their own drawings using a black marker pen or ink.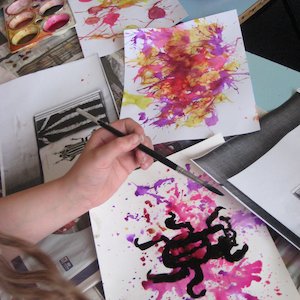 Ask the children to take a piece of paper and loosely fold it in half. Then they should open it back out again, and drop two different coloured inks into the crease, then fold and smooth over. These can be turned into bugs by adding legs, spots, stripes, eyes, antennae, and so on. Let the children go wild with their imagination!

You can cut around all the pictures created and mount them together as a collage on black paper, with a Moon drawn in the sky with chalk. You could also include a glow-worm and you will have a scene from the 'Ugly bug ball'!
Further reading and web links
A report of the interview and survey study described at the beginning of this article will shortly be published in the International Journal of Art and Design Education.
Richard Jolley is the author of Children and pictures: drawing & understanding (Wiley-Blackwell). For further information, see www.childrenandpictures.net
Both Bridget and Richard are associated with the art charity 'Speight of the Art' that works with schools and other organisations to encourage children's artistic pursuits. You can see more information about the charity at www.speightoftheart.org.uk