Most children love to draw – explore some practical activities to get your children excited about art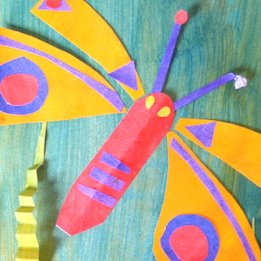 This is the Key Stage 2 part of the article by Bridget Bowie and Dr Richard Jolley. Take a look at the Key Stage 1 drawing activity, 'The ugly bug ball'.
Investigating children's attitudes to drawing
The Leverhulme Trust recently funded a large-scale interview and survey study on the attitudes and practices that shape children's drawing experience at home and at school. The findings revealed that the vast majority of children aged between 5 and 14 enjoyed drawing and were confident in their own drawing abilities.
However, more than a third of primary school teachers said that their own perceived lack of drawing skills was hindering their ability to facilitate their children's drawing. The study also found that teachers focused more on observational and representational skills than creativity and expression in the help they reported giving children with their drawing.
Why do we think we can't draw?
The main reasons teachers might struggle to teach drawing is a lack of confidence, and a lack of knowledge, rather than an inability to record something visually. The key to observational or representational drawing is looking and practice. If you are teaching your children to draw from observation, help them to focus on the reason for drawing – to retrieve and record visual information through looking.
If you are interested in the creative, imaginative outcome, then encouragement and general suggestions or prompting questions are key. Pose questions, so that children can make decisions themselves.
Resources and materials needed
Outdoor space with grasses and plants or pots with flowers – or a range of small plants including grasses, leafy plants and flowers that can easily be brought into the classroom
Water pots
1-inch paintbrushes and fine paintbrushes
Black handwriting pens
Old toothbrushes
Plastic straws
Sponges cut into small pieces
Small pieces of stiff card
Tube of water-based printing ink
A4 paper
A3 cartridge paper
Acrylic paint in assorted colours
Empty cardboard boxes with one side cut away, or large sheets of scrap paper
This activity is all about creating drawings and paintings of environments where insects and bugs live. See the Key Stage 1 activity, 'The ugly bug ball' for ideas on creating insect pictures.
Put out small amounts of acrylic paint onto a palette. Ask children to use a sponge to dampen the surface of a piece of A4 paper with water. There shouldn't be any pools of water. Then they dip a sponge into one colour of acrylic and spread across the paper until it is completely covered – it doesn't need to be even. Tell them next to rinse the sponge and, when the paper is dry, dab the damp sponge in another colour of acrylic, and apply this over the first layer – colour mixing will happen automatically. When this is dry, ask children to dip an old toothbrush into some acrylic paint mixed with water and use an old plastic ruler to flick the paint over the surface. Contrasting colours will give a bold effect – use shades of yellows, greens, purples and orange for background garden habitat colours.
Next, children should create a wash of colour using watery ink, or acrylic paint on an A3 piece of cartridge paper. They should apply with a brush or a sponge, then leave it to dry. Ask children to decide which edge of the paper is to be the ground level, then gradually work along one edge, lay a small pool of ink, and blow the ink along the page with a straw to form grasses and plant forms, then leave to dry.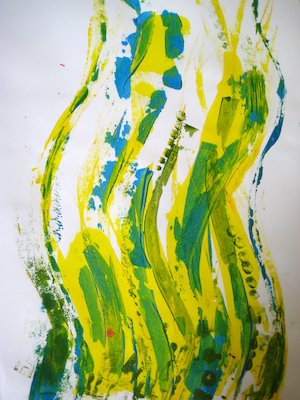 Put a few different acrylic colours out on a palette. Using a piece of card, children then pick up and drag the paint across the paper. They should do this in one direction to create grasses and plants growing up from a base – when this is dry, they can add a wash if there is too much white paper showing.
While the different papers are drying, use these fun exercises to focus the children on the task of drawing from observation.
Draw what you see, not what you think you can see!
Show a plant or flower to the class and ask them to look at it carefully. When a minute has passed, cover the plant or flower. From memory, ask the children to try to draw what they remember in as much detail as possible. Encourage them to observe shapes, lines, textures, patterns, and so on, and try to help them focus on analysing what they are looking at.
Drawing in pairs
Ask children to work in pairs. Using words only, ask them to try to describe the picture in front of them so that their partner can draw it. They are not allowed to say what it is, and can only use descriptive words, for example: 'draw a circle about the size of a penny in the middle of your page. Fill this circle with tiny circles that touch one another, and are about the size of a pin head', and so on.
Blind drawing
The object of this exercise is to show the children how a drawing can be done by only looking at the object, and not looking at the paper. Of course they will not be perfect, but if they concentrate, the results will be surprising. Ask the children to select a good point to start the drawing from, as they will not be able to take the pencil from the paper, and must concentrate fully on the object. Set up each space by taping the drawing paper to the table, and then provide a cover, either by taping a large sheet of paper over it, or by using a box with one side cut away.
Discuss what the children have learned from the previous exercises. Which of their drawings looked most like the actual plant or flower? They may find that although the 'blind drawing' exercise is 'messy', it may have really captured elements of the plant or flower. Why do the children think this is? Encourage the children to appreciate the importance of really looking at whatever they are drawing – seeing it as an object with particular shapes and patterns – rather than thinking about it as a plant, flower, and so on. Turning objects upside down while they are drawn is another way of helping children with this.
Back to the drawing board
Now, taking on board the knowledge they have just acquired, ask the children to try drawing the plant or flower without any restrictions. Develop these drawings by working them onto some of the backgrounds children have prepared. They could use the painted papers for collage, too, or cut out drawings and add them to another background. Encourage children to draw bugs, flowers and grasses with soft graphite pencil, over a colour wash background. Soften the drawing by blending the edges randomly with an eraser.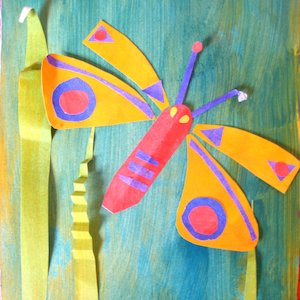 Alternatively, ask children to create a collage of flowers and insects. If you try a combination of these, children will create a range of fabulous drawings/collages/prints/designs that will use observational drawing and creative expression.
Further reading and web links
A report of the interview and survey study described at the beginning of this article will shortly be published in the International Journal of Art and Design Education.
Richard Jolley is the author of Children and pictures: drawing & understanding (Wiley-Blackwell). For further information, see www.childrenandpictures.net
Both Bridget and Richard are associated with the art charity 'Speight of the Art' that works with schools and other organisations to encourage children's artistic pursuits. You can see more information about the charity at www.speightoftheart.org.uk