Grab your sunglasses and explore the sounds of the seaside using our onscreen activity and cross-curricular ideas
Learning to listen and identify sounds is central to early language development. To develop good phonological awareness, children need to be able to listen attentively to the sounds they hear around them.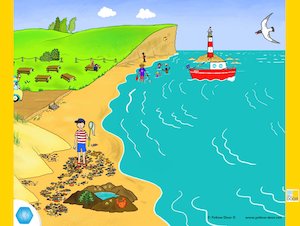 The 'Explore the seaside' interactive resource from Yellow Door's Come Alive Listening series allows you to explore seaside sounds – we have a free sample for you to use with your class. With the Sun shining outside, you can build on children's interests, while providing an inclusive multisensory way to reinforce key listening skills for those needing support with Letters and Sounds Phase 1.
A virtual visit to the seaside
Play the Interactive resource, 'Explore the seaside'. You could use the picture of the seaside scene to discuss the setting and help children to relate it to places they have visited.
You may wish to talk about what the children can see by asking what sort of place it is and whether they have ever been to a place like this. If they were at the seaside, what might they be able to hear around them? What can they see in the picture that will make a noise? What noises do they think these things will make? Can the children make a noise like that themselves?
You could also discuss what time of year it is (summer) and talk about other things that might make a noise at the seaside, such as the wind or children playing.
The scene contains six sound-makers, and you can click on these to make them move and make their sound. Clicking on the ear button plays instructions for using the screen.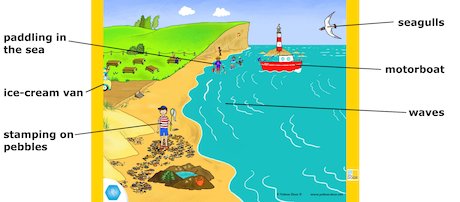 Get into the holiday mood and encourage imaginative thinking by asking the children to sit or lie down with their eyes closed. Click on different sound-makers in turn and describe the seaside scene. Encourage children to imagine that they are at the seaside and picture the different sound-makers around them. You may notice toes wiggling as you talk about feeling the sand under your feet!
Giving children the opportunity to explore the interactive activity in pairs or small groups and listening to their talk will reveal what they already know about things that make sounds in the environment, and offer an insight into their own experiences and interests.
You could also promote aural memory by asking children to close their eyes, then click on a sound-maker and encourage them to name it. They can check by opening their eyes to see if the thing they thought of is moving.
Talk about the types of sounds each sound-maker makes and think of words to describe them. Are they short or long, loud or soft, spiky or smooth? You may also wish to talk about how sounds are always made by things moving.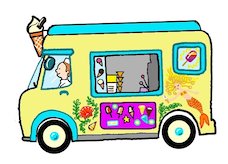 Instrumental seaside sounds
Encourage children to copy the six seaside sounds with their voices. The sounds can also be represented with instrument sounds. You could encourage children to experiment playing different instruments and choose an appropriate one for each sound. Alternatively, you may wish to provide the following instruments:
Waves: wave drum, rain stick or large plastic bottle containing rice
Children paddling: cymbal
Seagulls: drinking straw – cut one end of a 8–10cm straw into a (slightly rounded) point, squash the end, put it in your mouth, squeeze your lips together and blow hard
Ice-cream van: chime bars (D, G, A and B), glockenspiel or desk bells
Stamping on pebble: maraca or small plastic bottle containing dried peas (you may wish to experiment with the sounds of different pulses or pebbles inside a bottle)
Motorboat: drum played fast with two sticks
You could use these instrument sounds to build up a sound picture to depict the seaside scene, perhaps adding other sounds to build up a bigger picture.
Move like the waves
Talk about what actions you could do for the different seaside sound-makers. Ideas could include:
Waves: hold out your arms and wiggle your fingers while you pull both arms in towards your body, then push them away
Children paddling: pretend you are wading in knee-deep water
Seagulls: flap your arms like wings
Ice-cream van: hold your arms out and move an imaginary steering wheel
Stamping on pebbles: stamp your feet to the beat
Motorboat: put your hands together in front of you and push through the water
Holidays in role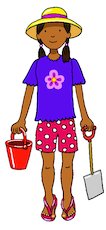 Create a seaside play area inside or outdoors as a stimulus for role play, to inspire children to use seaside language and think about sounds. You might like to include:
sunglasses, a kite, beach balls, rugs and a picnic set
pebbles, shells and sand, with buckets and spades for sandcastle making
large construction kits for building an ice-cream van and a motorboat (that could stimulate ice-cream buying and boat trips)
chime bars or desk bells for playing the ice-cream van tune
gravel and a shallow tub of water for making sound effects by stamping and paddling
fishing nets and bowls of water for rock pools with objects to fish out of them, such as shells or fish figures
a number of real postcards, and blank cards or paper for children to make their own.

These ideas and activities are taken from Yellow Door's Come Alive Listening games and activities pack and interactive CD-ROM by Tim Harding. The Come Alive Listening resources include four different scenes to explore, with a song about the sounds found in each place and self-checking sound-matching games. For more information about this and other listening resources, visit www.yellow-door.net or call 0845 603 5309.