Encourage children to practise their hand-eye coordination and experiment with colour with these simple sewing activities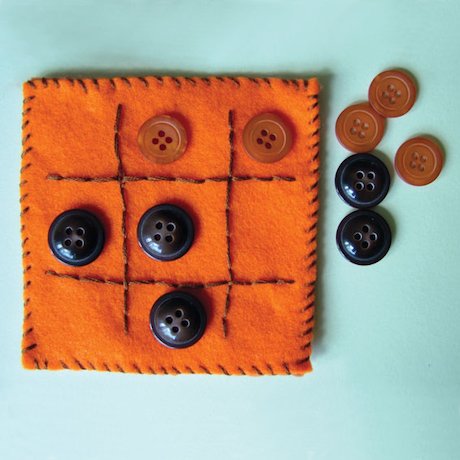 Activities in this article:
Items to keep in your cupboard:
Squares of felt
Fun foam
Holepunch
Buttons
Scissors
Large eyed needles

PVA

glue
Embroidery thread
Felt tip pens
Toy stuffing
1. Sewing card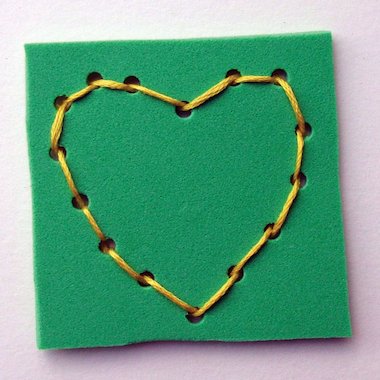 This is the ideal project for very young children or those new to sewing. The cards can be unthreaded again and again to be used many times.
Draw a simple shape onto card or fun foam.
Using a holepunch, create evenly spaced holes around the outline of the shape.
Demonstrate how to weave threads in and out of the holes.
Encourage children to do this independently.
A useful tip:
To help young children thread, dip the end of the threading material into some PVA glue and allow it to dry. This replaces the need for a needle and provides a more sturdy end.
2. Ladybird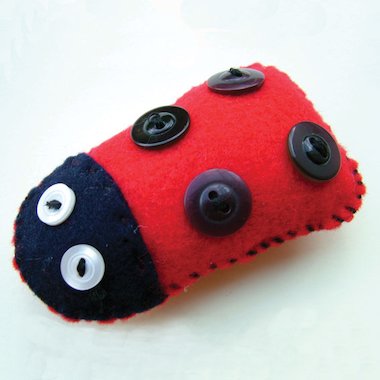 This little ladybird can be used as a circle time friend or as a replacement for a bean bag in a range of fun games.
Cut two pieces of red felt for the main body and a small section of black for the head. (See the image above as a guide for the shapes required).
Attach the head to one section of the red felt; this can either be sewn in place or use a small amount of

PVA

glue.
Attach two small white buttons for eyes and four larger black or brown buttons for the spots.
Place the two pieces of red felt together and sew around the outer edge. Leave a small gap for stuffing.
Stuff the ladybird, then sew up the final section and knot the thread off securely.
Useful tips:
When making items of this type always ensure you use a toy stuffing that follows health and safety guidelines.
To ensure buttons stay attached, stick in place using a little

PVA

glue before you sew.
3. Book mark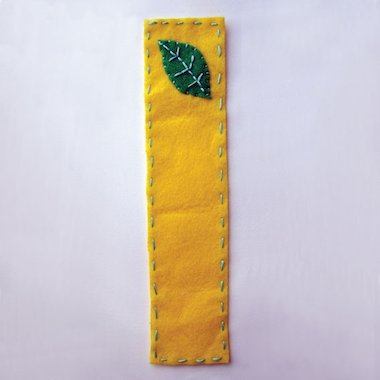 Encourage the children to discover the joys of reading by creating this simple book mark.
Cut a strip of felt approximately 5cm wide and 20cm long.
Using a contrasting colour cut out a small motif.
Invite children to embellish their motif and attach to one end of the book mark.
To decorate the outer edge, use a simple running stitch.
Alternate idea:
To make this activity easier for younger children, use fun foam instead. Simply cut the fun foam to size and punch holes around the outer edge. The motif can be stuck in place using PVA glue.
More creative projects online!

Discover more imaginative and creative craft projects to enjoy with your children in our web resource bank.
4. Tic, Tac, Toe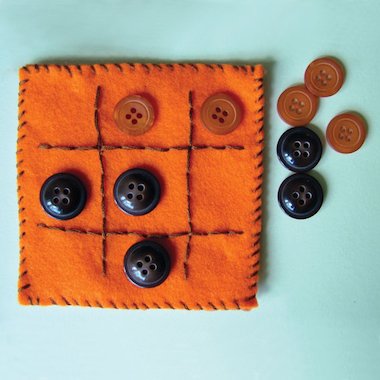 For hundreds of years this simple to play game has been a firm favourite for generations. This travel version allows children to take it with them anywhere to play.
Cut two squares of felt the same size.
On one piece cut a line parallel to one edge to create an opening (see image).
Either draw (using a felt tip pen), or cut strips of felt and stick into place using

PVA

glue, or use a running stitch to create the grid.
Place the two squares together and sew around the outer edges to finish.
Pop ten buttons in two chosen colours into the pocket.
Alternate ideas:
For younger children this item can be created using fun foam. Simply cut out two pieces of fun foam the same size and punch corresponding holes around the outer edges. The 'tic, tac, toe' board can be drawn using a felt tip pen.
If you do not wish to use buttons as counters then Os and Xs can be cut from fun foam.
5. Door hanger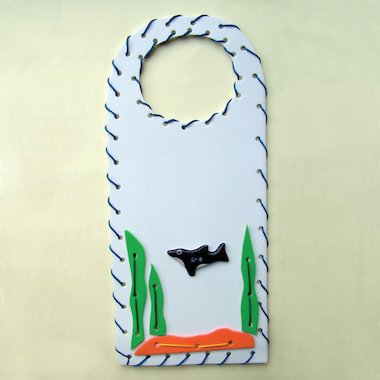 Create a simple collaged door hanger the children can give to a family member or friend as an individual gift.
Cut the main body of the door hanger.
Punch evenly spaced holes around the outer edge and around the edge of the circle.
Cut out shapes to create the collaged picture and punch holes in these and corresponding holes in the main section of the door hanger.
Sew around the outer edge and around the circle.
Assemble the collage images and glue in place.
Alternate ideas:
To cut down on the amount of sewing needed why not purchase ready made shapes and stick these to the door hanger as decoration instead.
Rather than using fun foam why not use card and make this into a simple cut and stick project.
Instead of a collaged picture why not use letters to create a named item for a truly individual gift.
6. Bracelet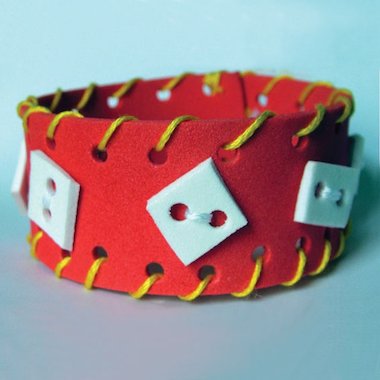 This fun project can be altered to suit the wearer.
To work out how long the main strip of the bracelet should be, get each child to touch their thumb to their little finger. While in this position measure around the widest part of the hand and add 1cm to this to find the length of the bracelet. Cut the strip to the required width (2.5cm is ideal) and length.
Punch holes evenly spaced along both long edges of the bracelet.
If you wish to sew decoration along the middle of the bracelet, then punch holes along here as well.
Over-sew along both edges in a chosen colour.
Attach decoration, perhaps buttons or, as below, handmade squares made from small pieces of fun foam.
Once complete curve the bracelet around itself and sew the two ends together overlapping slightly.
Alternative idea:
Decoration can be added in the form of fabric paint. This should be added before any sewing takes place.
Health and safety:
Always keep a close eye on children when they are using tools such as scissors and needles.To avoid choking ensure children do not place small items in their mouths.
Images: © Lynne Garner