Discover what happens during a childminder's typical working day in our blog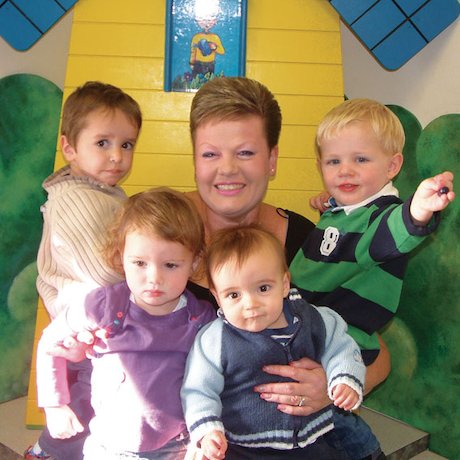 Sue has been a registered childminder since November 2000, after her health visitor encouraged her to consider it as a career. Her daughter was just eight months old at the time and her son was only six. Over the past ten years her business has gone from strength to strength and she happily boasts a full 'register' of children until 2013! On a daily basis, Sue has ten children to take to school and cares for a further four youngsters between 9am and 3pm. Later, after school has finished, she collects ten to 12 children to take them home for activities – there is certainly never a dull moment! 
Wednesday
8am Safe delivery of ten children to school and a walk home for the rest of us via the local park. We got the chance to stop and watch squirrels frisking in the sunshine. I asked the children if they could jump in the air and move as quickly as a squirrel!
10am Back home and friends arrived to play. We got art and crafty making sunflowers by painting paper plates for the 'centre' and using different types of textured, coloured paper for the large petals. Lots of cutting and gluing to make pretty flower heads, which we attached to sticks… beautiful!
10.30am Wash hands for snack time… enjoyed in the back garden as we sat in the shade on blankets with apples, satsumas and milk.
10.45am Story time with favourite books chosen by children. We found some crawling ladybirds as we read stories, presenting an opportunity for a spontaneous 'bug hunt'. Armed with bug pots, the children also found a few spiders and tiny insects. They added grass, leaves and twigs to make 'homes' for their new friends!
11.45am We said 'goodbye' to one little girl who didn't want to leave (and who had a few tears) and washed hands ready for lunchtime… still so much chatter about the ladybirds!
12.45pm Time to check on our bug pots as we sit in the conservatory. A chance to count spots, discuss colours and determine just how many legs we could see altogether! I ensured the children understood the importance of returning the bugs to their natural habitat as we ventured outside to release them back into the garden.
1.15pm Time for a well-deserved rest for all of us while I updated daily diaries and prepared the fruit and healthy snacks for after-school children to enjoy on our return home.
2.30pm Very hard to wake the children this afternoon, so fruit snacks were enjoyed as we walked back to school!
3.20pm Collect 12 children from school.
4.15pm Arrive home to a chorus of 'Can we play outside?' – which I could hardly believe! Snacks were enjoyed and the older children had time to enjoy scooters and bikes outside… as well as yet more searching for bugs!
5.15pm All 'indoors' to finish the afternoon with free play and time for a little television as parents arrive for pick-up.
6.00pm Most children have been collected and my own family have come home too. One little girl is staying a little later tonight, which provides a lovely play time for my own daughter as the two engage in small world play. Time for me to start planning our evening meal…