Learn about learning with the International Primary Curriculum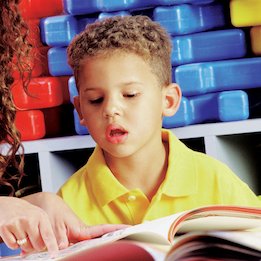 There are a lot of extra brains in the Year 5 classroom at Bransgore Primary School at the moment; big and small, some made from clay, others from paper. They were created as part of the 'Learning to Learn' unit that kicked off the school year back in September and are still having an impact on the children – and teacher Richard Warren – today.
Learning to learn
'Learning to Learn' is one of the units of learning from the "International Primary Curriculum (links to an external site):http://www.internationalprimarycurriculum.com and, says Richard, it really helps the children to develop an understanding of how they learn. 'It's very apparent that if the children understand how and why they learn, and understand that each one of them can and does learn in a different way, then they're more accepting of themselves and each other. They also take more interest and control of their own learning progress,' he says. 'It's the same for me as a teacher; understanding how children learn means that I can make all the difference to the learning that is going on.'
Looking for learning
As well as working with the International Primary Curriculum, Bransgore Primary School is also using the Looking for Learning Toolkit (a five-volume resource with accompanying DVDs and online support) to help the staff focus first on the learning, rather than on the teaching that's going on throughout the school.
Headteacher, Peter Pretlove, explains: 'When we started out with the Looking for Learning Toolkit, we asked ourselves the first question in the manual: 'what's our definition of learning?' and we couldn't define it! We just didn't know what we were saying. We found it really hard to differentiate learning from teaching. I can tell you what teaching looks like but, at that point I couldn't tell you what learning looked like; nor could anyone else on the staff.'
What does learning look like?
A crucial part of the Looking for Learning process is to identify the learning that is happening. But, as Peter and his team soon realised, 'what do you look for when you don't really know what you're looking for!' Getting to the heart of what learning really means and how it can be identified is a skill in its own right and is essential if a school wants to become learning focused.
Martin Skelton is the Director of Fieldwork Education, the organisation that developed the International Primary Curriculum and the Looking for Learning Toolkit. He describes what learning looks like: 'Learning is about getting better at something. So, the first thing about learning is that it's a struggle. Now, there are good struggles and bad struggles; learning is a good struggle. When learning is happening, all of us – children and adults alike – are engaged in a whole series of mini-struggles; struggles to remember, struggles to do something, struggles to build a big picture. If we aren't engaged in a good struggle, we are probably not learning.
'Having a definition of what is happening when children are learning and what the different stages of learning are – what we call beginning, developing and mastering – is essential for being able to identifying learning,' adds Martin. 'Once we can identify learning, we can then decide if enough of the right learning is going on and how to improve and increase on that.'
Identifying learning
At Bransgore, this process of identifying learning is taking shape through learning observations. 'For us, understanding how children learn and what learning in action looks like has been a massive shift change,' says Peter Pretlove. 'Every member of staff is now involved in observing learning. We've even had one of our senior teachers being observed by one of our NQTs. You'd have never heard of that in the past. The NQT wasn't intimidated by it at all; both teachers were very confident in their roles; confident because they knew that the observation was not judging their knowledge or experience of teaching, but that the observation was all about the learning. It's fantastic. It doesn't matter what level or experience of teacher you are, we're all simply looking for the learning.'
Becoming more learning focused
The Looking for Learning Toolkit provides schools with a whole range of practical ideas for creating a learning-focused school. Here are some ideas for creating learning-focused meetings:
1. Learning reports
At the beginning of each meeting, nominate one person to talk for no more than five minutes about some learning that has taken place in their classroom over the past week. It might be a child who has finally managed to consolidate a difficult aspect of maths; or was able to make a new gymnastic movement, or someone who after much trying put into play a new strategy that enabled them to control their temper in a difficult situation.
2. Learning surgery
Ask one person to talk about a learning problem in their class. It may be related to one child or to a group of children. Ask them to set the context and describe the difficulty the child seems to have in grasping the new idea or consolidating an existing one. Then, ask colleagues to talk together for three minutes and provide, through five minutes of quick feedback, a number of possible ways in which the teacher might facilitate learning in their next lesson. The teacher who spoke about the learning problem accepts all ideas with thanks, and at a future meeting they could report back on whether any of the strategies helped learning take place or not.
3. Reflect on personal learning
Ask one person to talk briefly about any learning they have done for themselves over the past few weeks. This could be knowledge or skills or even a deepening of understanding. It certainly doesn't have to be academic learning.
Image © Image 100 Ltd