If you are looking for a fun way to extend your children's understanding of everything green, then how about a project setting up an allotment?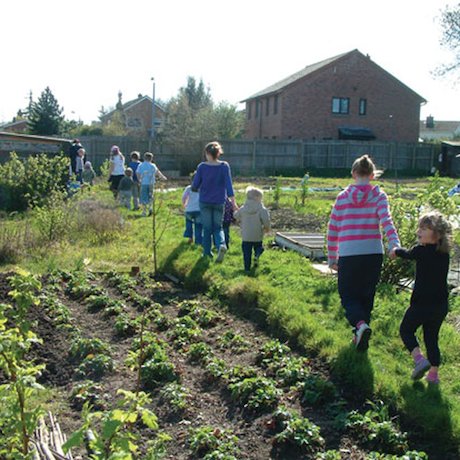 In this article:
Introduction
Setting up an allotment with your children can offer a range of benefits, activities and most of all, fun experiences! Childminder Sue Smith, who shared her typical day in the August issue of Nursery Education PLUS, recognises the importance of providing her children with diverse activities and challenges. As Sue says, 'Giving children a solid, home-loving environment, together with a strong sense of belonging and an understanding of the life skills necessary to further their learning and development, enriches their lives in a holistic way.'
This objective encouraged Sue to develop her children's experiences and inspired the creation of their very own allotment. Here she gives her account of the inspiration and cultivation of a 'patch' with her group of children that will motivate everyone to get out and have fun planting, digging and harvesting!
How it all began…
Following a charity fundraising event in the summer of 2009 I received an email from Peter Holden, the chairman of the Ely Allotment Society, inviting my group of children to visit an allotment in Ely to 'see how their garden grows'.
The seeds were, quite literally, sown and I made an initial visit to the allotments to carry out a risk assessment and to plan a convenient date to return with the children. This was the beginning of something completely new to me as a childminder, but, as a keen gardener myself, I was very enthusiastic about introducing the children to a new experience.
We made our group visit in the summer of 2009 and we were invited for a return visit in 2010; this time, however, to make it even more rewarding for the children, we planned to follow the growth and cultivation of the veggies in even greater depth. Here is how we did it!
Getting started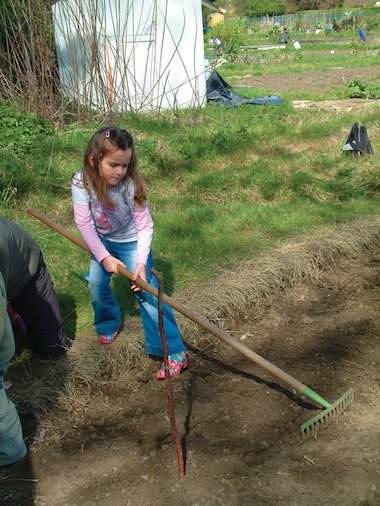 Arriving on a sunny but cold April morning, me and 15 children, aged between two to 12 years, met Peter Holden at the gate of the allotment site. We showed him our packets of green bean, carrot, radish and pea seeds and then followed Peter in a caterpillar line to the top end of the allotments, to find our designated site.
Peter talked to the children about the advantages of having an allotment, as well as the types of vegetables and fruit that could be grown on one. The children had lots of questions to ask and when Peter produced a bag of seed potatoes they had even more questions! They learnt about 'seed' potatoes and how they could produce a much larger crop of potatoes under the ground. Splitting open last year's broad bean pods the children were enthralled to find beans inside that could be planted this year… and so the soil preparation began.
Ground work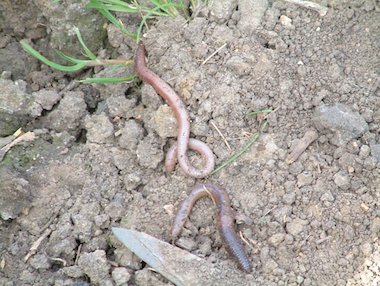 We placed guidelines along the width of the allotment and dug a shallow channel. Each child in turn was given the 'dibber' to make a hole and drop in a seed potato. Some of the children needed a helping hand to get the dibber deep enough into the ground. Once the potatoes had been planted there were plenty of volunteers to be master of the rake and ensure they were all covered over and 'put to bed'!
One of the allotment holders had kindly given up her morning to spend time with the children to help them develop their understanding of how each vegetable crop is grown in a different way. She showed the younger children how to make shallow channels in which they were each given peas to drop at intervals.
The next job was to plant the broad beans that the children had previously shelled. The younger children were very proud to show the amount of beans collected from the pods! Others were helped to count the very small carrot seeds and shown how to sprinkle these into the shallow drills that all the children had helped to prepare. The youngest children loved finding the worms as much as they did digging the earth and planting seeds…
More ideas online!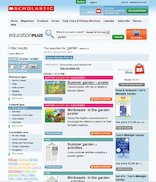 Find more inspiring activities and resources for encouraging children's interest in plants and gardening in our fantastic web resource bank of gardening ideas at www.scholastic.co.uk/nurseryedplus
Two months on…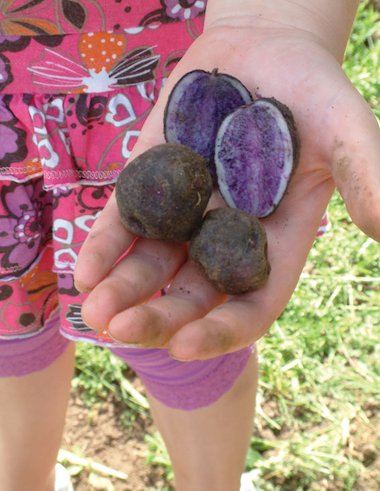 Returning to the allotment in June, on the morning of the hottest day of the year so far, we found the heat intense. However, we were amazed to see just how the allotment had changed. Peter showed us how to dig the first potato plants to see what was under the soil. To our delight we found our first crop and, after digging up just three plants, we had enough for a 'cane', a Fenland term for a 'meal'! There was a lot of weeding to do, so with hoe and fork in hand we set to work, being very careful not to disturb the smaller pea and carrot plants, which were just beginning to show through the ground. The broad beans were in flower and showing promising signs of a bumper harvest!
We even managed to find some rogue potatoes – 'Shetland Blacks' – a heritage variety dating back to the early 1900s, although our historical search showed that this variety came from a ship in the Armada. With blue-black skin and yellow flesh with a purple ring, they are very different indeed!
We left the allotment with a bag full of potatoes to share with all the children who helped to plant the seed potatoes back in April. Our next plan is to put a maintenance working party together to return in a few weeks' time to keep the weeds at bay, and to harvest our other crops!
Top tips for preparing your own allotment visit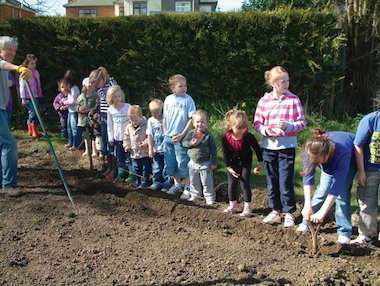 Find out who is in charge of your local allotment, introduce yourself and discuss your requirements and reasons for planning your visit.
Undertake an initial visit and risk assessment of the site; ensure you have contingency plans for adverse weather conditions and if the visit cannot go ahead. Include issues such as the tools that children may use and suitability of tasks for the ages of the children you are taking.
Ensure parents know about your intentions well in advance of your visit and that provision is made for walking children as well as those riding in pushchairs. Plan your route if going by foot and undertake an additional risk assessment of your journey, if necessary.
Make sure you have contacted your local newspaper and informed them of your intentions; see if they can send a photographer and prepare a press release to let your news get into the community!
Advise parents to provide wet weathers and wellies, as well as sun cream and hats! Make sure they know your planned timetable for going to the allotment and estimated return time.
Ensure parents have returned signed permission forms to allow you to take photographs, as well as for using photos to publicise the event in the newspaper.
Consider and discuss with the children and their parents the timing of a return visit to weed the ground as the plants begin to grow, as well as 'digging' up the produce.
Ensure you have emergency phone numbers for parents and back up for each child – and don't forget to take a first aid kit, too!
Use this visit as a starting point to encourage the children to grow some veggies in your own setting; just a simple pot with a mixture of herbs or even runner beans on a cane tripod can be very rewarding, while also extending and encouraging children's curiosity in the world around them.
Images © Sue Smith