We provide advice for helping children in a one-to-one setting
With the number of Key Stage 2 children due to receive one-to-one tuition set to double to 315,000 in 2010-2011, the presence of one-to-one tutors in schools is becoming more pronounced. Working with a child in this context necessitates a particular approach – at the start of their journey, tutors are equipped with a detailed toolkit and induction training. The following is advice is written with one-to-one tutors in mind, although the activities can easily be adapted for use by class teachers, too.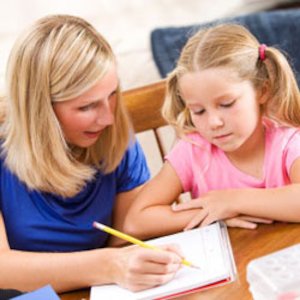 Unlike a class teacher, a tutor does not have a cupboard full of resources to hand. However, many opt for a wallet of invaluable essentials to ensure variety, interest, and good session structure. Some portable essentials include:
Laminated number lines
Wiper boards and cloths
Dry wipe pens
Laminated blank domino cards (create your own domino game using dry wipe pens, for example times tables, number bonds, words with different letter strings)
Multilink cubes
Laminated, high-frequency word flashcards
Key textbooks for the ability range you are working with and list of reading comprehension questions
Ruler, pencils, rubbers
Maths or literacy games to break up the session
Notebook

APP

levels
Managing maths
Frequently, tutors come across children who have common difficulties in maths and try to find fun and effective ways to help resolve these worries. Areas such as place value, number bonds, addition, subtraction, division and multiplication, and negative numbers can be a real challenge to some learners. Here are a few ideas volunteered by one-to-one tutors:
Multiplication – Come dine with me
Common problem: Recalling multiplication facts
Organise a dinner party. The child will need to use multiplication facts to work out how much food and drink will be needed. A carton of orange juice contains four servings, if you want your guests to each have two servings of orange juice, how many cartons will you need for four/five/six guests? Do the same activity with place settings, vegetables, fruit, ice cream scoops, and so on.
Ratios – Powder paint mixing
Common problem: Using simple and more complex ratios
Use scoops of powder paint to colour mix. What is the ratio used to make orange from red and yellow powder paint? What ratio is needed to make green from blue and yellow powder paint? Show how to write this in ratio form. Show how to lighten/darken the shade by changing the ratio of colours and ask the child to record this in ratio form.
Time – Favourite TV programmes
Common problems: Reading timetables and time, using 24-hour notation
Look at a TV guide, and ask the child to find out times of favourite programmes and then draw hands on an analogue clock worksheet to indicate this. Ask the child to write down the duration of the programme. You could also look at a bus timetable and note arrival times for specific bus numbers, and work out journey times between destinations.
Negative numbers – Third floor
Common problem: Finding the difference between positive and negative integers
Discuss lifts travelling to different floor levels (go into a lift with the child if possible!). Discuss floor levels ascending in order as the lift travels upward, then the numbers descending in order as it travels downwards towards the basement. Draw a number line of positive and negative numbers to illustrate this. Show how to find the difference between a positive and negative integer, and negative and negative integer, then ask the child to do this.
Light on literacy
Areas such as sentence structure, comprehension skills, and differences between standard and non-standard English, frequently present problems for children. The following tried-and-tested ideas should provide some help.
Diagnostic task – My favourite holiday
Aim: To supplement school data on assessment
Ask the child to write, unaided, about a favourite holiday or day out. Then go through their writing together pointing out their strengths and areas that you can help them with. The child is then involved in effectively drawing up their own targets. But remember to give positive feedback, too.
Be a good role model – Sentence structure
Common problem: Not being able to differentiate between spoken and written English
Model good sentence structure by speaking slowly and carefully. Point out differences between standard and non-standard English. Together with the child, correct sentences written in non-standard English with special attention on misuse of double negatives and subject verb disagreement.
Quality reading – Books of choice
Common problem: Weak understanding of meaning of texts
Use high-quality texts appropriate to a child's reading and comprehension levels. Develop a list of comprehension questions relevant to each chapter of a key text for the child to answer. Use the texts to illustrate and reinforce teaching points in other literacy areas, for example sentence structure, using paragraphs, punctuation or standard English.
High-frequency words: Sight recognition
Common problem: Inability to read and write KS2 high-frequency words
Always include ten minutes for children to 'look, cover, write, check' high-frequency word cards to encourage sight recognition. Make a snakes and ladders game using high frequency words that the children have to read, cover then write as they land on each word.
Onboard and on task
One-to-one tuition is an intensive and demanding style of teaching that means that tutees need to be alert and responsive. A great way to structure sessions is to begin with a quick recap of the previous session, then introduce the current session's learning objectives in child-friendly language. Avoid using jargon like 'Today we are going to learn about antonyms and homophones to upskill your
APP
level in writing'. Here are more tips:
Break up sessions into 20-minute slots to give children regular breathers.
Use a variety of materials such as whiteboards and pens, hands-on activities, worksheets, games, and so on.
Try to base resources around children's interests.
Offer sincere and regular praise for specific achievements.
Use questions well in maths, such as: Tell me how you worked that out, What do you think we need to do here?, What method did you use there?.
Don't give too much homework: children are already doing extra work by coming to see you.
Reverse roles, let child be teacher so they can explain concepts to you. It's a great way to consolidate learning.
Keeping others in the loop
Finding time to exchange information with class teachers can be difficult, particularly if tutors are not previously known by the school. Try this advice:
Ask for teachers' email addresses or mobile phone numbers so that you can feed back on children's progress.
Have a mid-point review with the child's class teacher. It is also an opportunity to alter a child's targets, if necessary.
Send completed work back into the classroom with the child at the end of a session.
Use the 'passport' form in the government toolkit to pass information at the end of each session.
Arrive early and visit the staffroom for informal chats with teachers.
Be open and flexible to find ways that work for you, the children and the school.
With thanks to:
Marcus Cooper – One-to-one lead, Hertfordshire County Council
Sarah Hurst – One-to-one lead, London Borough of Wandsworth
Sylvia Howieson – One-to-one lead, London Borough of Hammersmith and Fulham
Philip March – One-to-one tutor
Sara Fielder – One-to-one lead, Westminster City Council
Image © Sean Locke/istockphoto.com