Guest Editor, Rosie Warden's Year 4 class review a selection of their favourite books

Tommy Niner and the Moon of Doom by Tony Bradman (Catnip, £4.99 PB) Reviewed by Denny
This book is set deep in space in the present time. It is about a family who want to have time off, but they have an important mission to complete – they have to pick up an admiral and help him to find another important person. On the way back to the space station, they get lost in space, light years away. I would recommend this book to children aged eight and over, because there are some tricky words.

Big Dog Bonnie by Bel Mooney (Walker, £3.99 PB) Reviewed by Katie
I think that Big Dog Bonnie is a great story for more confident readers. The book is about a boy called Harry who is desperate for a dog. One day, Harry's mum gets him a dog, but he thinks it looks like a mouse. I like the illustrations because they are carefully done. I am glad I reviewed this book.

Daisy and the Trouble with Life by Kes Gray (Red Fox, £4.99 PB) Reviewed by Hollie
Daisy is a very naughty and cheeky little girl, and you will enjoy this book if you want to learn about all the things you shouldn't do! I would recommend this book to children aged seven and above.

Junie B. Jones …and that Meanie Jim's Birthday by Barbara Park (Chicken House, £3.99 PB) Reviewed by Chelsea
I enjoyed the bit when Junie B. Jones puts ice-cream on the girl's dress, but I hated the bit when she has an argument with a boy because I don't like arguments. The book has really good illustrations by Denise Brunkus. This is a funny book. I would recommend it to other children around eight years old.

Mouldylocks and the Three Clares by Sally Grindley (A&C Black, £8.99 HB) Reviewed by Bobby
I thought this was a good read. I would recommend it for ages six and above. It's all about Mouldy Locks (the giant) and his hen. One day, the giant sets off to find a wife. He goes to the nearby village where he finds the three Clares, but they turn out to be all sorts of trouble… The best bit was when he shaved himself to look his best – it was really funny.

Ricky Rocket Vorg World by Shoo Rayner (Orchard, £3.99 PB) Reviewed by Saul
This was a fantastic read and I would definitely recommend it to children aged eight and over. It is all about Ricky and his friend Bubbles. They want to go on a space ride and at first his Mum won't let them. When they finally do get to go on the ride, disaster strikes…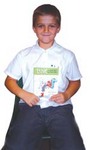 Stink and the World's Worst Super-Stinky Sneakers by Megan McDonald (Walker, £3.99 PB) Reviewed by Liam
The main character in this book is Stink, and he likes to make potions. He comes last in the World's Most Super Stinky Sneakers Contest! This book is good and very funny and I would recommend it for older readers.

Super Powers: The Jaws of Doom by Alex Cliff (Puffin, £3.99 PB) Reviewed by Omar
I enjoyed this book because it was an adventure about two young boys, Max and Finlay, and Hercules. The boys find Hercules in an old castle wall and they have to help him regain his seven super powers. Max gets superhuman strength and fights a sabre-tooth lion. The book was full of interesting facts about gods and goddesses. I will definitely be reading the next book by Alex Cliff!

The Story of Bear by Hilary McKay (Hodder £5.99 PB) Reviewed by Courtney
It is Christmas time when the Bear arrives at the house. He is not invited, he just appears, but nobody needs him. Then the Bear meets a seagull and they discover the forest together. I thought the story was a little sad, but it was all OK at the end! I liked the bit where a seagull flies over him. This is for children aged eight and over.

Boobela and Worm by Joe Friedman (Orion, £5.99 PB) Reviewed by Ella
The reason why I chose to read this book was because it looked interesting. There were pictures on every page, and they were all fantastic! Boobela is an eight-year old giant with stinky feet who makes friends with a worm. This book tells of their exciting adventures at the beach and in a hot air balloon. I really enjoyed it.

Ninnyhammer by Dick King-Smith (Random House, £7.99 HB) Reviewed by Kelsey
The story is about Ninnyhammer (the village idiot) and Peter and his farming family. Peter finds Ninnyhammer's magic wand in the stream and gives it back to him. They become friends and Ninnyhammer does magic to help Peter's family. Then, when it is Peter's birthday, they find a pot of gold at the end of the rainbow – enough to buy Peter a pony. I liked reading this book very much.

Judy Moody Around the World in 8½ Days by Megan McDonald (Walker, £4.99 PB) Reviewed by Mollie
This book is about a little girl called Judy Moody whose class project is 'Around the World'. She has two best friends and one of them is called Frank Pearl. It is a fiction storybook and is by Megan McDonald with illustrations by Peter H Reynolds.