Can trainee teachers help to raise standards in your school? Four primary schools in Walsall did some research to find out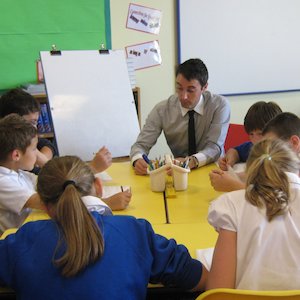 Many schools are reluctant to take student teachers on placements because they are worried about the impact on children's progress, particularly in those important weeks leading up to SATs. However, four schools in Walsall are taking on more students than ever before because they have discovered just how useful they can be.
They all took part in the Partnership Development Schools (PDS) programme with the University of Wolverhampton and Newman University College, Birmingham. The programme, which was funded by the Training and Development Agency for Schools (TDA), encouraged collaboration between schools and initial teacher training (ITT) providers with the aim of improving the quality and number of placements for trainee teachers.
From 2006–2009, the TDA funded projects all over the country that were designed to address regional and national ITT priorities. Before she retired, Cate Price was Primary Partnership Coordinator for the School of Education at the University of Wolverhampton and was behind a number of initiatives in Walsall.
'The priority for us was always developing strong partnerships with the schools we worked with,' explains Cate. 'We wanted to show that having a student doesn't just mean more work, it's also an opportunity for schools to be innovative and develop themselves. There are joint benefits.'
Assessing involvement in
ITT
Four Walsall schools – St James Primary, Bloxwich C of E, Haslucks Green Junior and Redbrook Hayes Primary – agreed to assess the impact of their involvement in ITT, collecting data before and after the placements took place to provide evidence. They decided that class teachers would target specific groups of children for extra support in writing or numeracy while the trainees taught the rest of the class.
'The University of Wolverhampton asked me if we'd be interested in carrying out some research', explains Neil Kinsey, student mentor and Key Stage 2 coordinator at St James Primary School. St James agreed to be the lead school and Neil had to write an action plan, setting out step by step what they planned to do over three terms and what it would cost. This was sent to the TDA for approval and updated termly.
Funding (about £24,000) went directly to St James to pay for supply cover, training and the hire of venues – staff from all four schools involved met each term to share their findings and discuss ideas. They also produced a booklet to promote the project.
Giving trainee teachers responsibility
The student teachers were all given responsibility for whole-class teaching. At St James Primary, for example, a third-year trainee was placed in a Year 6 class for four weeks. During this time, the class teacher was able to focus on a target group of five children as well as carry out classroom observations and ongoing assessments. All the group receiving additional support improved their writing skills by one sub-level; two children made two sub-levels progress. More than half of the children with the trainee teacher still improved by one sub-level.
'When trainees are in school, a lot of teachers use the time to catch up with jobs they don't usually have time for,' says Neil. 'Our findings show that if their time is used effectively it can really boost targets.'
Freeing up teachers' time
The TDA funding also paid for every teacher in the school to be trained as a mentor meaning that they now take seven students a year – one for each class – instead of three. 'This has helped to reduce my workload,' says Neil, 'and been good for professional development.'
Staff have also reaped the benefits at Bloxwich C of E Primary. During a four-week placement in a mixed Year 1/2 class, the class teacher worked with a group of seven less able Year 2 children, developing their writing skills. Even though this involved only a few focussed sessions, the children all made above expected progress. In Year 6, a PGCE student enabled the teacher to work with a group of children with the potential of achieving a Level 5 in their end of key stage tests for numeracy.
'We'd not previously done a lot of group work,' says Cate Gilgrist, Assistant Headteacher and project co-ordinator at Bloxwich Primary. 'The teachers had about 20 dedicated sessions with the target children on a regular basis – one session a day over the four-week placements.
'It was geared up for SATs,' she admits. 'We looked at children who needed a boost. But because all the staff also received training in coaching and mentoring students it was good professional development. It made them think about their own practice.
'We were always reluctant to take too many students for fear of how it might affect standards. We now have several over the course of a year,' says Cate.
'Trainees are not necessarily left on their own at first. The teacher only withdraws when they think they are ready – and then only for one lesson unless the student is on their very last placement when they can be left for 90 per cent of the time.
'Some schools will want to know what happens if you end up with a bad student, but you'd pick up on that very quickly', says Cate. 'In my experience it's very rare. Universities have a rigorous selection procedure.
'I've had students from across the range. Some are more competent than others and good students don't always make the best teachers – we took on a failing student once who proved to be very good. Some schools opt for more experienced students as they think they will be better quality but that's not always the case either. It depends on what support the school is prepared to give. If you look on it as a learning experience you can achieve a lot.'
Cate used the research as part of her Master's degree and is convinced that with careful planning students can be a real benefit. Her advice to others is to plan well in advance how students' time is going to be used.
'It has helped us to plan better. We think about what we will achieve for the children while the student is here. The focus is on the children, not the student. This makes it a more positive experience for the teachers as well, as they can sometimes feel displaced. It has been really worthwhile.'
The Partnership Development Schools (PDS) programme was set up in 2006 and funded by the TDA until March 2009. The TDA is still waiting to hear what funding is available for future programmes following the election of the new coalition government.