Elephant Wellyphant is the title of Nick Sharratt's latest picture book. It's just adorable and young fans will be delighted with it, says Lesley Sudlow. She chats to Nick about his life as a well-loved author and illustrator
Nick Sharatt studied at St Martin's School of Art in London and has worked as an illustrator ever since. Eating is Nick Sharratt's favourite pastime and food often crops up in his work, including Don't Put Your Finger in the Jelly Nelly!, I Went to the Zoopermarket and Ketchup on Your Cornflakes? Nick has won many book awards for his wonderful colourful tales.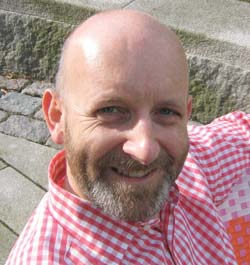 Nick Sharratt, author of Elephant Wellyphant
LS What or who inspired you to write and illustrate books for young children?
NS As a child I loved picture books, especially those by Michael Foreman, David McKee and Quentin Blake, and I knew that this was something I'd like to do one day. Although I wasn't from an artistic background, my parents encouraged me. They provided plenty of paper and art materials for me to experiment with. From an early age I remember making pictures.
LS Your style of picture book illustrations is so simple, yet wonderfuly striking. Where do you get your new ideas from?
NS I wish I had a formula, but I don't. One starting-point is to think about what I enjoyed as a boy. I find it very easy to go back in my mind to being a child. I also meet lots of children and I am fascinated to find out what excites and interests them. Mostly, I just wait for the right thing to pop into my head. How I tackle each subject develops slowly – there's a great deal of trial and error. I chip away at a theme, not quite knowing what I'm after, and eventually a good idea emerges.
I chip away at a theme, not quite knowing what I'm after, and eventually a good idea emerges
LS Children and adults alike will instantly recognise your new title, Elephant Wellyphant, as being illustrated by you. Why did you choose to feature elephants and how long did it take you to come up with all the different ones?
NS I chose elephants because apart from cats they are my favourite animal to draw. My writing doesn't come as naturally as my drawing and I find the word side of books much harder than the illustration side. Word play and puns are my secret. This is why I tend to write rhyming books.
Behind the scenes with Nick…
My favourite food is… pasta and pesto, homemade trifle and jelly. I love eating jelly and I love drawing it too, hence my book Don't Put Your Finger in the Jelly, Nelly!
An author I admire is… Allan Ahlberg and the books he created with his wife Janet. There's also a new writer and illustrator I really like called Polly Dunbar.
My favourite word is… pumpkin (food again!).
On my perfect day I would… spend a day by the sea, swimming, lazing about and eating delicious food.
LS How do you like to relax after a hard day's work?
NS I do work quite long and intense days as I'm very lucky to be busy illustrating my own books as well as books for other authors, so I'm happy to be extremely lazy after work and usually end up snoozing. I live by the seaside, so I'll go for a run along the seafront after a particularly long day sitting at my desk.
The story of Elephant Wellyphant
There's a Fruit Jellyphant, a Rude Smelliphant and a Magic Spellaphant among 18 different types of elephants. You'll find it hard to choose your favourite… Pull the tabs and lift the flaps on this elephantastic parade!