Emily Kilshaw looks to the sky for inspiration with these themed dishes that you can try with your children
Activities in this article
Emily comments, 'Meal times are so much more fun when my children and I can prepare and make our food together. Creating a themed dish makes it even more interesting for them and really gets their enthusiasm going, both for the food we prepare and also the inspiration behind it. We make up so many stories as we go along, too – it's such great fun to inspire the children's imagination, as well as my own, plus we get to eat the yummy creations, too!'
1. Plane puddings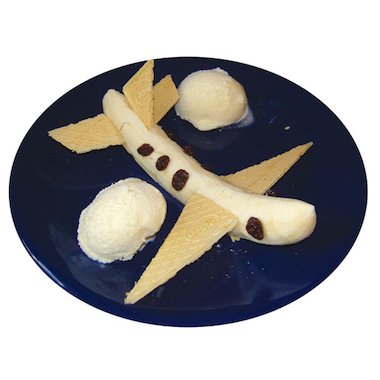 Ingredients
A banana for each child
Ice cream wafers
A handful of raisins
Ice-cream or yoghurt
What to do
Slice a small section from underneath the banana so that it balances in place.
Using scissors cut the wafers into triangular shapes.
Make two shallow horizontal cuts either side of the banana towards the front, two at the other end and one on top towards the back.
Let the children carefully push the wings and tail fins into the cuts in the plane (they do break easily and we needed to cut some spares!)
Push lots of raisins into the sides of the banana to make windows.
Add a scoop or two of ice-cream or some spoonfuls of yoghurt to create fluffy clouds.
2. Let's go fly a kite!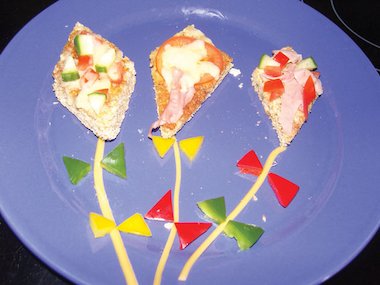 I was inspired to turn our tea into kites one afternoon after a rainy day inside watching Mary Poppins! We kept singing the song as we assembled our very own kites.
Ingredients
Sliced bread
Grated cheese
Stringy cheese
Peppers
Tomatoes
Cucumber
Ham, or other toppings
What to do
Toast slices of bread and allow to cool slightly.
Let the children experiment cutting the toast into diamond shapes.
Position toast shapes on plates and use stringy cheese to create a kite tail.
Cut the peppers, tomatoes, cucumber and ham (or toppings of your choice) into shapes to make patterns on the kites and tails.
Sprinkle with a little grated cheese.
More recipes online!
You can find more recipes and ideas for delicious space-related food and drink in our web resource bank
3. Alien landing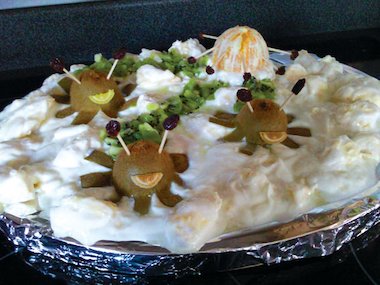 Ingredients
Four kiwi fruit
Meringue
Greek yoghurt
Raisins
An orange (peeled)
Crystallised orange (or orange peel)
What to do
Break up the meringue into medium-sized pieces and mix in with the yoghurt.
Spread out on a plate to make your lunar landscape.
Cut the top off the kiwi fruit and scoop out the flesh.
Spread the kiwi flesh around the landscape as alien 'slime'!
Cut some sections down from the top of the kiwi fruit to create flaps for alien feet when you turn them upside down.
Use cocktail sticks (cut in half) to attach raisin eyes to your kiwi aliens and use a dab of honey to stick on an orange peel mouth.
Create an alien spaceship by cutting an orange in half and pushing cocktail sticks with currants on the ends all around it.
Assemble the aliens on the lunar landscape before tucking in!
This is a great centrepiece for a space-themed party. You can create a huge variety of fruit aliens and spaceships for different children's tastes and they will love the idea of eating slime!
Images © Emily Kilshaw