We follow a day in the life of the Pre-school's leader, Kitty West, in our regular blog spot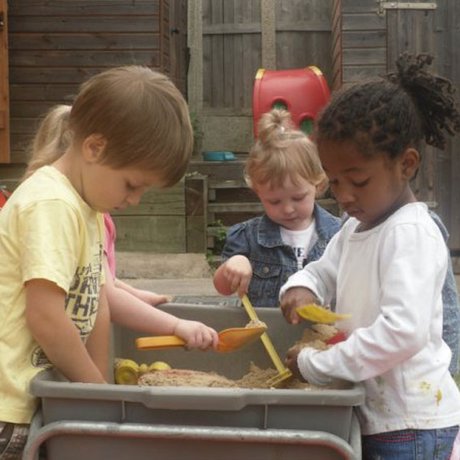 Handsworth Pre-school in Highams Park, East London, recently celebrated its jubilee year, with 25 years of providing community play and learning for pre-schoolers. This thriving pre-school for two to five year olds is run from a church hall and presently has 38 children on its books. It caters for both mainstream and special needs children, offering four sessions in the morning and one in the afternoon every week. It aims to deliver an environment of learning through play, and certainly provides enough activities on a daily basis to keep even the liveliest minds (and bodies) occupied throughout.
Pre-school leader Kitty West, has worked at Handsworth for many years and showed me around when I visited the setting during a morning session.
A day at Handsworth Pre-school
A typical session at Handsworth starts with free play – children move around activities covering various areas of learning, such as: construction play, puzzles, cars, arts and crafts and a home corner. Also, a table is set up with fresh fruit, crackers and crumpets, where children can get themselves a little healthy snack. Drinks are freely available all day. After their snack, children are encouraged to look for their name card, and post it in a special box. This shows who has had something to eat as well as helping children recognise their names.
Next, after everyone has helped to put things away, it's all off to the garden for some outside play – and what a play area! With the help of a government grant, Handsworth Pre-school has developed a really lovely outside space – with a raised flower bed and large lawned area. There are even plans in the near future for a small vegetable patch. It was clear to see that the children were really enjoying playing together in the garden with their toys, including pedal cars, a caterpillar climbing frame and sand play area.
Then it was all back inside for circle and sharing time, which is, says Kitty, 'A nice time to talk about objects brought in for their interest table that follows a weekly and a broader half-termly theme. At the moment we're looking at summer, specifically gardens and flowers, and it's nice to end the session with an opportunity for children to share their thoughts and stories and interesting bits of news'.
The morning ends with the customary handing out of paintings and craft-makes, as another session comes to an end – and for the staff at Handsworth Pre-school, it's time to tidy up, go home and get ready to do it all over again tomorrow!