The Apple iPad may be expensive, but Anthony David sees it as the start of a new classroom revolution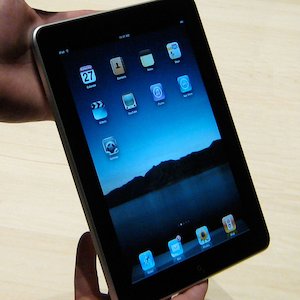 Pupil whiteboards
Thirteen years ago, the National Strategies reintroduced the humble wipe clean board to classrooms. As a tool, it was perfect for drafting ideas, flashing answers and for group discussions. It would be hard to state how many hundreds of thousands have been sold in the last decade along with the requisite pens and board rubbers.
The reason why whiteboards were so effective was because they replicated what was going on the teacher's own board. However, these days that's hard to do when the teacher's board has been turbo-charged with a computer and projector. Children don't stand a chance of replicating the quality of work that a teacher can perform at the drop of a hat… until now, that is.
Here comes the iPad
The first iPads shipped to the UK in June and sales have been strong ever since. Over a million iPads are selling every month, with nearly five million sold so far. Whilst commentators agree this new tablet device is a dream gadget, most are very aware that it is still a gadget. One commentator went as far to say that Apple had created a gadget that nobody new what to do with yet everybody wanted. If that's so, then why bother with the new piece of kit?
The UK leads the world with digital technology in schools. The last ten years have seen unprecedented amounts of investment in software and hardware in each and every classroom across the country. Teachers take it for granted that they will have an interactive whiteboard, laptop and at least one classroom computer at their disposal and this doesn't include the huge range of software, dedicated websites, memory sticks, roamers, video cameras, digital cameras and all the paraphernalia that we are used to. Talk to an American colleague or Australian or South African colleague and you will quickly grasp the differences: these countries are just catching up; however, they may soon draw level with the mass availability of tablet devices such as the iPad. So, what is it that makes this type of device so attractive to schools?
Becoming absorbed in learning
Alex Bell, Deputy Head teacher Sir William Burrough Primary School, Tower Hamlets, puts it like this:
'The iPad is a device reaching out to the world: it's more intuitive. It allows that process of where learning becomes blended between school and home. It allows children to become absorbed in their learning.'
The iPad is set out much like an iPhone in that it doesn't run programs as we know them, but uses tools called apps (short for applications). Apps are mini-programs that, when developed carefully, do one thing very well. Generally they come with few instructions as they are designed to be intuitive to any user. Apple have added a few apps to get the user started when you first open the pad: Safari (a web browsing tool), YouTube (a media viewer), Maps (based on Google maps) and various iTunes-based applications. Apps are accessed by tapping on the screen icon, which then opens the app for the user to navigate with their finger. The whole process feels very natural and the way that apps flip open is stylish. To see how these fit in schools, we need another short trip back in time.
Twelve years ago saw the revolution of interactive whiteboards within classrooms. Quite simply, teaching has never been the same since. However, there has been a struggle to replicate the same quality of resource for pupils. Many schools have tried to use batches of laptops, but these devices are clunky and not generally designed to be bashed around a classroom. Their startup time can be anything from two to 15 minutes, almost a quarter of a lesson, and battery life is rarely more than five hours. Added to this was the relative expense of updating and installing programmes. Basic software such as Office costs around £50 per computer and risks rarely being updated on pupil machines, making it far more vulnerable to viruses. The iPad, on the other hand, is quite different. It starts as soon as you press the on button and has a minimum battery life of 10 hours. The screen is bright and clean and the feel is more durable than a laptop. Software in the form of apps is far cheaper and a similar Office suite would cost less than £30 to install, and will constantly update itself and is almost invulnerable to viruses. Given the rise in laptops, a standard laptop is the same price as an iPad and other tablet devices are cheaper. More importantly, it does for pupils what the whiteboard does for teachers; it provides a high quality tool, connected to the Internet, and therefore the world.
Whilst Alex is extremely enthusiastic about the iPad, he isn't blind to their weaknesses. Currently there are few quality apps available – much of this is due to the device being new and also that large publishing houses are only at the very beginning of their investigations into the financial viability of app sales.
Educational apps on the horizon
Much has been left to small start-up businesses. MAD Learning is a start-up that has focused their attention solely on educational apps. Matthew David, co-partner of MAD Learning, explains why:
'Apple have made it clear that they see the iPad as a tool for students at whatever age. You only have to see children, even as young as Reception age, using an iPad to see how quickly they can navigate the tools and get positive results. What's holding them back are the limited apps available on the market at the moment. Our aim is to create tools for the classroom designed by teachers and pupils, that are actually useful and not just a time filling game.'
So what sort of programs are we likely to see heading our way soon? High on the list will be everyday tools that replicate standard whiteboard tools and high definition games that may have a core objective. The device is also a good ereader and the powerful processing chip can add value to the types of books children read on the iPad. Consider a digital lift-the-flap book or a book that can mark how accurately you are reading the text… Most certainly there will also be assessment tools, turning the iPad into a virtual clipboard, and apps to model experiments. The attractive nature of all these apps is their low price bracket. With most apps available for less than £5, schools can risk buying a few 'experimental' apps and trying them out without it costing a fortune. Certainly as companies get to grips with developing software, these apps will get better and easier to use.
Ten years ago I wrote about how the interactive whiteboard would turbo-charge the classroom. On reflection, I think I was a bit premature, as whilst it did turbo-charge teaching, it left pupils behind. However, with the introduction of the iPad I'm more willing to go on record with the statement that it's time to turbo charge the classroom – look out whiteboards, the iPad has arrived!
Image © Glenn Fleishman/Wikimedia Commons