Georgie Beasley — Ofsted inspector, educational consultant and former headteacher
and John Galloway — advisory teacher for ICT, writer and consultant
ICT can sometimes be a tricky business. Our experts answer your queries…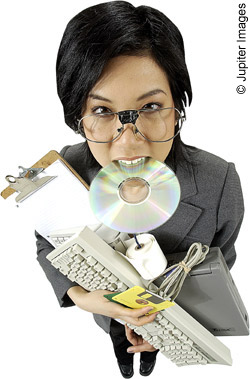 Making
ICT

work

Q: I am finding it really difficult to negotiate the ICT suite, especially when there is a whole class in there! Is there any way to make the experience easier?

A: ICT suites aren't always the easiest places to make sure everyone stays on task, and many of them are designed so that children have to share a machine. You could have a seating plan, so that those you most need to support are at the computers you can most easily monitor, and pairs are based on learning not friendships. There are also routines you can establish early on, including taking turns, turning off monitors when you are talking, and moving keyboards out of the way while computers are not being used. Have activities planned in case the technology crashes, such as learning key vocabulary, examining layouts of printed materials, and sorting data cards or shapes in different ways.
ICT

in the classroom

Q: I am receiving conflicting messages about ICT. On my course, I am told to only use ICT that supports children's learning, but then I am told how many lessons we should integrate it into, which makes me think 'How can I get ICT into this less?'. Which way should I go?

A: One place to find guidance about the use of ICT in the classroom is in a school's Scheme of Work, as almost every subject is expected to use ICT at some time. You should only use it, however, when it enhances teaching and learning, which probably leaves you thinking, 'How can I do the former and be sure of the latter?'. For a start, think about ICT very broadly, it is not just computers and whiteboards, but CD players, digital cameras, remote-control toys and even things that don't use electricity at all. Whether it is taking photos of a trip and recording comments, or helping with the photocopying, there are probably already more occasions than you are aware of when you are using ICT.
Need help?
If you have any questions for our experts, please email them to mailme