October is Black History Month. Use the following activities and resources to celebrate this important awareness event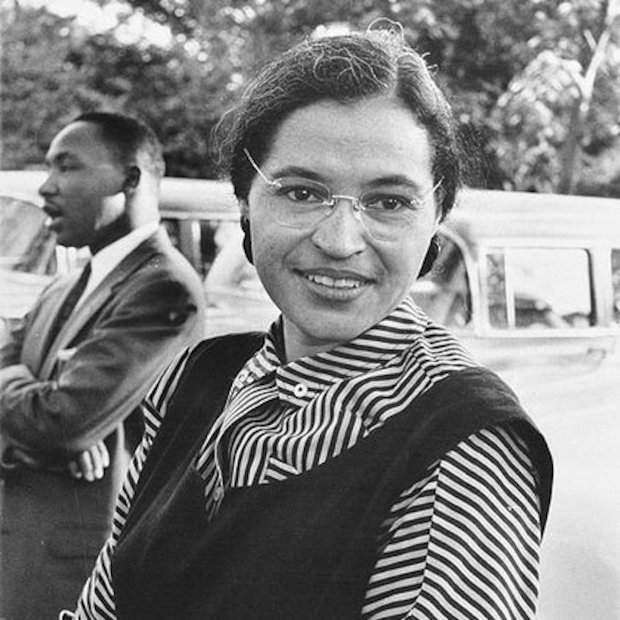 Activities
Rosa Parks (citizenship)
Use the inspirational story of Rosa Parks to discuss the issue of racism and other forms of discrimination with your class. In 1955 in Alabama, USA, Rosa Park, a 42-year-old black woman, refused to give up her bus seat when asked to by a white man. She was arrested and convicted but her stand caused a boycott of the buses by the black community. Explain to the children that at this time in America, black people were believed to be inferior to white, and so were not awarded the same rights.
Hold a class discussion: Do you think it was fair that black people had fewer rights than white? How do they think that this made black people feel? Why do they think Rosa Parks defied the law on that day knowing that she would be arrested? What effect do they think her actions had? Alternatively, you (or perhaps a TA or volunteer) could role play being Rosa and invite the children to ask you questions.
You might also like to take a look at our article comparing the work of Rosa Parks and Emily Davison, complete with several downloadable resources.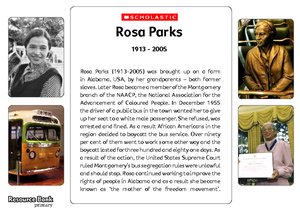 Inspiring figures (PSHE, literacy,
ICT

)

Using the slideshow, 'Inspiring black people', introduce the children to various, well-known black people. Divide the children into groups and allocate each one a figure to research more fully. Using reference books and the internet, invite the groups to research their person's achievements and to think about what challenges they have had to overcome. Invite the groups to present their findings to the rest of the class. Next, individually, ask the children to write a story about a child who is inspired by one of the personalities they have learned about.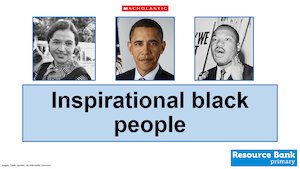 Singing the blues (music,
PSHE

)

Introduce the children to the blues by playing them some clips of famous artists such as Sonny Boy Williamson and BB King. Invite them to comment on the music – how it makes them feel, any patterns they notice, and so on. Briefly explain the background of the blues. They are thought to have been first sung by African-American slaves as they worked on the plantations in the deep south of America at the end of the 19th century. The songs feature great emotion, generally focusing on hardship, and were a way for the singer to express their emotions and defiance in the face of tough times.

Explain the basic format of a blues song: it comprises a 12-bar chord sequence – with three lines of lyrics in each stanza. For example:
Chains of love, has tied my heart to you
Chains of love, have made me feel so blue
Well, now I'm your prisoner, tell me what you're gonna do
Next, invite the children to write three or six lines of their own blues song. Encourage them to write something that has meaning to them. Lisa from the cartoon The Simpsons sings her own blues song in one episode. Hearing her lyrics, which are full of concerns relevant to children, may help to inspire them.
I got a bratty brother. He bugs me every day.
And this morning my own mother,
Gave my last cupcake away.
Finally, if you wish, invite the children to perform their blues song as they wish. Encourage them to adopt the style of the classic blues singers and to put a lot of emotion into their performance!
From the Resource Bank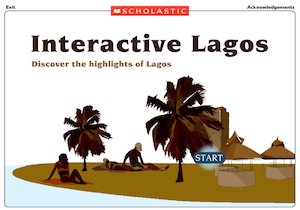 Introduce children to the vibrant African city of Lagos. These cross-curricular activities are accompanied by an interactive walk though of the city.
Use the autobiography of Olaudah Equiano who was sold into slavery as a child to inspire literacy learning. These activities provide ways for children to study autobiographical writing and personal journeys.
This activity sheet provides a brief history of Nathaniel Wells. The son of an enslaved woman and wealthy plantation owner, Nathaniel came to England where he made his fortunes.
From the web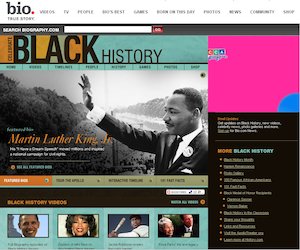 The bio.com website feature biographies of many famous black figures and would be a useful planning tool.
This is a video of Martin Luther King's famous 'I have a dream…' speech that he gave on 28 August, 1963.
The 'Resources' section of the Black History 4 Schools website features links to various activities and useful teaching tools.