Allison Lee explains the financial side of running a small business, gives advice on claiming expenses and provides activities on the theme of 'Past and present'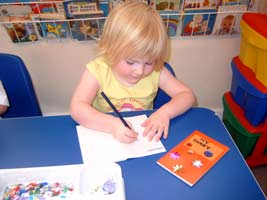 Expert advice
Keeping the books
As a childminder, you are self-employed, and as such you will need to understand the financial aspects of running a small business. There is a certain amount of paperwork that you will have to keep on top of in order to ensure your business runs smoothly.
Although childminders are 'contracted' to the parents whose children they care for, they are not actually 'employed' by them and are responsible for:
paying income tax and National Insurance contributions
obtaining legal and public liability insurance
obtaining insurance to cover yourself, home and car
maintaining accurate, up-to-date, financial records that clearly show your income and expenditure.
It is essential you notify your local tax office that you are working from home and earning an income. It is necessary to provide this information regardless of whether or not you earn sufficient monies to result in you paying tax.
Activities 'Past and present'
My diary
Keep a diary of events
Communication, Language and Literacy
What you need
Small textbook or notebook for each child; felt-tipped pens, pencils and crayons; stickers; sequins; glue.
What to do
Give each child a notebook to use as their own personal diary. Encourage the children to decorate the notebook as they wish using colouring materials, sequins and stickers.
Each day, invite the children to make an entry in their diary, recording what they have done. If necessary, help younger children. Introduce words and phrases such as 'yesterday', 'tomorrow', 'last week', 'last year' and so on to enable the children to become familiar with past and present tenses. Add photographs to the diary to create a wonderful keepsake for years to come.
Coin rubbings
Make a display of old and new coins
Knowledge and Understanding of the World
What you need
Selection of coins that are no longer in circulation such as an old penny, sixpence, old ten pence piece and so on; selection of coins in circulation today; white paper; wax crayons.
What to do
Set the coins out in front of the children and allow them to look carefully at each one. Show them how to take rubbings of the coins by placing the paper over the coin and rubbing the wax crayon gently over it. Cut out the coin rubbings, label them and create a display. Discuss the value of the old coins and compare them with today's monetary values.
Small businesses, including childminders, with less than £15,000 turnover per annum are not required to employ an accountant, however the Inland Revenue will require you to supply details of your total yearly income, expenditure and net profit.
Q&A
What expenses can I claim when childminding?
Childminders are allowed to claim any 'reasonable' expenses incurred during the course of their duties. You will not be required to produce a receipt for items under £10, however several items amounting to more than £10 will need to have a receipt as proof of purchase.
Some of the items that are widely regarded as reasonable general expenses are: food and drink; toys and equipment; baby requisites; towels, facecloths and soap; toilet rolls, tissues and kitchen roll; soap powder; cleaning equipment; disposable gloves and aprons; first-aid kit; essential equipment such as fireguards, gates, pushchairs, highchairs and cots; telephone calls and postage incurred for business purposes; NCMA membership and insurance; and costs incurred during training such as a first-aid course.
In addition to the above expenses that are incurred directly as a result of your work, you are also entitled to other allowable expenses such as a percentage for wear and tear, as well as a percentage of your council tax, heating and lighting bills and water rates.