Talking pen revolutionises
EAL

and

MFL

teaching

23 September 2010

Add to My Folder
EAL teacher Halina Boniszewska looks at revolutionary ways of teaching phonics, EAL and MFL.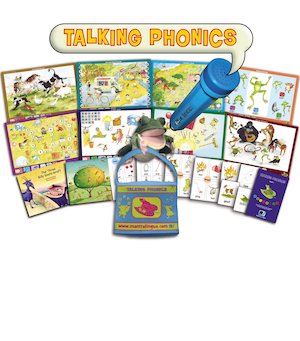 If you teach phonics, EAL or MFL and would like to:
accelerate your pupils' progress in phonics and

MFL

?
help

EAL

pupils to access English?
customize your own resources?
Then Mantra Lingua's TalkingPEN is the answer to your dreams.
If, like me, you teach EAL and phonics from Foundation Stage to Key Stage 4, the TalkingPEN will revolutionize your life.
Are you still sceptical? I confess that I was. I like face-to-face contact. I know how children thrive when we respond to their individual needs. But, after only ten minutes, I was sold. This little bit of magic enables customized, personalized learning in any number of languages.
So, how exactly does it work? The pen allows children to hear pre-recorded information (in English and other languages) by touching printed 'soundspots' on a wide range of educational resources. You can record your own voice and play back hours of your own recordings instantly.
Customized learning
This is how I used the TalkingPEN.
Primary phonics
A Year 5 Korean pupil, Kyung Wah, had trouble pronouncing the phonemes 'v', 'l' and 'r'. I used the award-winning TalkingPhonics until she learned the sounds. Then with theTalkingPEN, I made her some customized, personalized resources. I recorded words and phrases onto TalkingPEN stickers that I stuck into a book. Kyung Wah was then able to record the meaning of all those words in her native Korean. The class teacher then used this customized material in a special Korean session during Languages Week at school.
Download the associated I Spy Alphabet Chart resource at the bottom of this screen. It has a matching game, where children link the initial letter to the object.
Customising resources for EAL pupils
Polish pupil, Jolanta, a new arrival, was reading Kensuke's Kingdom, but there was no EAL support for her in her English lessons. I was able to pre-record clear definitions of each tricky word onto reusable stickers which I stuck in her reading book.
I was also able to give Jolanta some subject-specific vocabulary—in this case, a list of literary terms which enabled her to access definitions in Polish for word such as 'imagery', 'theme' and 'alliteration. These were pre-made materials available from www.mantralingua.com
Modern Foreign Languages
When the Head of the MFL Department at one of my schools saw the TalkingPEN in action, she immediately ordered one for her department. She then made her own personalized, speaking posters in various topic areas and went on to create a talking classroom, labelling every object in French and Spanish.
Foundation Stage
I have used the TalkingPEN with ready-made Mantra Lingua story books. I am particularly keen on the traditional tales, both in English and other languages, as the structures are rhythmic, repetitive and therefore memorable, and they give children a window on many different cultures.
Le Dipavali de Deepak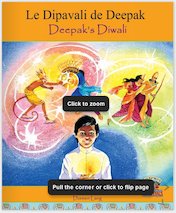 Deepak's Divali is a perennial favourite. Find a free download here.
Mantra Lingua's flip page book is perfect for your whiteboard storytelling. Backspace to get back to this page
As a peripatetic EAL teacher who does not always have easy access to resources, I have now invested in a TalkingPEN of my own. It is easy to use and allows for inclusive, personalized learning in over 45 languages.* It is truly addictive – both for teacher and pupil. The only problem that I have is that wherever I go, everyone wants a go with my TalkingPEN! I can't recommend it too highly.
What teacher's are saying
"The RecorderPEN made a huge impact on the children's learning over the course of the trial." Sonia Panchal, Teaching Consultant, Reading, UK
"A wonderful piece of kit. Spectacular, brilliant…" John Bald, teaching consultant
"The possibilities are endless" Jeanette Redding, Inspector, Barnet
Get Mantra Lingua's TalkingPEN for *only £52.88
For details of how the TalkingPEN works, go to www.mantralingua.com where you will find FAQs and a series of demo videos.
Languages include: Albanian, Arabic, Bengali, Bulgarian, Cantonese, Croatian, Czech, Farsi, French, German, Greek, Gujarati, Haitian-Creole, Hebrew, Hindi, Hungarian, Irish, Italian, Japanese, Korean, Kurdish, Lithuanian, Malayalam, Mandarin, Nepali, Panjabi, Polish, Portuguese, Romanian, Russian, Shona, Slovakian, Somali, Spanish, Swahili, Sylheti, Tagalog, Tamil, Thai, Turkish, Twi, Urdu, Vietnamese, Welsh, Yoruba.