Remember that first impressions last. Find out how you can have positive meetings with parents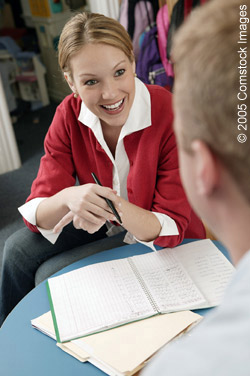 Making a good impression during interviews with parents is essential for your professional integrity and parents' confidence in you as a teacher. But it does require effort on your part. Parent interviews need careful and thorough planning. Although each school will have its own strategy and timetable for these, there are some general rules of thumb that can be applied to all interviews with parents.
Choose your ground
Talking to parents about their children needs to be done in a proper place. Don't be drawn into discussing a child's progress across a busy road or in a pub. If you are put under pressure, suggest a private appointment. Parents will appreciate the effort you are making and will usually concur. If this fails, make polite excuses and move on. A head teacher I know once dismissed parents with the conversation-stopping excuse, 'Sorry, I've got to go. I have to bury the cat'. (This is not recommended.)
The interview environment
It is rare to find ideal conditions in primary schools in which to conduct interviews with parents, but there is a lot you can do to make the best of what you have. How you arrange the furniture does matter. Never put adults bottoms on infant chairs, or parents in seats blinded and over-heated by sunlight. Think about your position too. Do you want to make pronouncements from behind a desk? Perhaps you would prefer to run kneecaps in a circle? Lounge chairs may encourage everyone to relax but they make handling papers and books more difficult.
Break the ice
Many parents will feel nervous about meeting you and you may feel nervous about meeting them. Take the initiative and make them welcome. Always stand up to greet them, shake hands, smile, make eye contact and be pleased to see them. Be alert and make sure that you note, and understand, to who you are talking. Is this a parent, guardian or grandma? Is the child's presence required? The answer is 'no' if the conversation is to be an adult one. However, there may be an occasion when you want the child there – to praise them or to involve them in decision-making where their input is crucial.
The most heinous crime of all is to confuse one child with another
Know your stuff
Parents will be impressed and their confidence in you will grow if you show them that you know what you are talking about. Prepare well and have examples and statistics to support what you say. We all make mistakes, but the most heinous crime of all is to confuse one child with another. Mispronouncing a child's name comes a close second.
Think before you speak
Parents come to be informed so don't start the interview with a question – be active. And be sure to avoid hyperbole. Saying 'She's doing fantastically well!' is meaningless unless you can relate it to a measure that parents can understand. Avoid endless sibling comparisons and try to be positive. Although it is sometimes necessary to make parents aware of their child's problems, there is little purpose served in having one long moan. Allow time for questions: theirs and yours. Never be afraid of admitting that you don't know an answer or that you need time to think. Be wary of being drawn into predicting the child's future. Sometimes you may need to pry a little, but be sensitive. Are there factors affecting a child's behaviour that you should know about?
Avoid confusion
If aggression is an issue, don't be confrontational, but acknowledge that the interview isn't going well. Assert that you are all on the child's side and try to lower the temperature. Parent aggression often has roots in matters beyond your control. Violence of any kind – even of the tongue – cannot be tolerated and you should follow whatever procedure your school has in place for dealing with it.
Be professional
Stay on task, take notes and keep confidences as well as promises. Pass on professional information but not gossip. Avoid jargon, showing-off and jumping to conclusions. Although you should try to impart information in a way that parents can understand, don't patronise them. It really is better to over-estimate rather than under-estimate people's intelligence, and nobody loves a pompous teacher. Remember this, only people of small moral stature need stand upon their dignity.
NB 'Parents' has been used as an all-encompassing term, but guardianship can be quite complicated. If you are not certain about who's who, confess your ignorance and ask for clarification at the start of an interview.