Practical ideas to encourage children to care for others at Christmas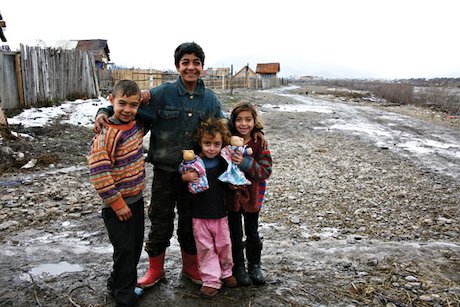 Traditionally, Christmas is a time of year when we think about giving and caring for others. During the cold winter months, encourage children in your setting to think about the many different ways they can help care for people and animals, and learn about a variety of supportive charities.
Activities in this article:
Personal, Social and Emotional Development
Check out charities
Early learning goal: Have a developing awareness of their own needs, views and feelings, and be sensitive to the needs, views and feelings of others. Talk to children about a variety of charities and the work they do to help different people. Start with experiences that the children may be familiar with; have they ever dressed up or done something special for Children in Need, Comic Relief or Sport Relief? Talk about how these charities work to change children's lives.
Introduce the idea of raising money at your setting for a charity that helps people, particularly at Christmas time, such as Shelter, Crisis, Age Concern, or a local charity. Talk about who these charities may support and how they offer help. Invite a local representative to come to your setting to talk about their work and share some images. Invite children to suggest ways they could help.
Problem Solving, Reasoning and Numeracy
Fundraising fun
Early learning goal: Say and use number names in order in familiar contexts. Organise a toy sale to raise funds for the children's chosen charity. Ask children to bring in used toys in good condition to sell at the sale. Help them to sort toys into different types, and to price them on the day. After the sale, encourage them to sort the coins into different piles and count them up.
Organise a sponsored event such as completing a circuit around climbing equipment or a sponsored winter walk. Alternatively, try a 'Keeping warm challenge'. Ask friends and family to sponsor the children to put as many warm clothes onto a willing grown-up as quickly as possible – jumpers, scarves, gloves, hats, boots, ear muffs, coats, and so on. Can the children count all the items they managed to put on? Who can do it the fastest?
More fundraising ideas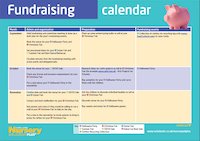 Subscribers to Nursery Education PLUS can download this fantastic Fundraising calendar to help you plan your charity activities throughout the year.
Communication, Language and Literacy
Christmas makes me think
Early learning goal: Sustain attentive listening, responding to what they have heard with relevant comments, questions or actions. Make a collection of books about homelessness suitable to share with foundation stage children, such as Christmas Makes Me Think by Tony Medina (Lee & Low), Homelessness by Kaye Stearman (Wayland), The Lady Who Lived in a Car by Suzanna Hubbard (Chrysalis), The Little Match Girl by Hans Christian Andersen/Jerry Pinkney (Puffin). Talk about what it must feel like to not have a home or place where you can be safe and warm, especially during the winter. Invite children to draw pictures and write their own stories or poems about being homeless.
Pack a shoe box full of smiles
Early learning goal: Attempt writing for different purposes, using features of different forms such as lists, stories and instructions. Many charities distribute shoe boxes filled with suitable gifts to children and adults in need in developing countries, as well as to local children's homes and hospices. Look out for central collection points and campaigns in your community.
Ask children to draw and write lists of things that they would like to find in a shoe box. Encourage them to think of items that would help them to keep clean, or things to play with or perhaps something to wear. What would you like to find in your imaginary box? Talk about these lists and, following the advice from your chosen shoe box appeal charity, make a list of items that they could bring in to help pack a shoe box. Invite parents and carers to help with finding items and packing up boxes. Often suggested items include; toothbrushes, soap, flannels, plasters, socks, tights, gloves, hats, pencils, notebooks, colouring books, crayons, felt pens, toy cars, balloons, small bouncy balls, small travel games, small soft toys, hair accessories and wrapped sweets. Boxes can be made to be suitable for different ages and genders, or for a family to enjoy. Help children to write appropriate labels for the shoe boxes.
Creative Development
Caring crafts for neighbours
Early learning goal: Express and communicate their ideas, thoughts and feelings by using a widening range of materials, suitable tools, imaginative and role-play, movement, designing and making, and a variety of songs and musical instruments. Provide children with lots of different craft materials to create decorative Christmas cards. Use cardboard, scissors, glue, glitter, shiny paper, fabric, feathers, stamps, printing inks, sticky shapes and so on. Cut the cardboard into the shape of a present and invite children to create a collage card. Ask children to design their Christmas card for an elderly neighbour or relative. Explain that by giving them a card they will show that they care.
Help children to design posters to advertise fundraising events you are holding in your setting and also to inform others about the charities and causes that the children have been finding out about.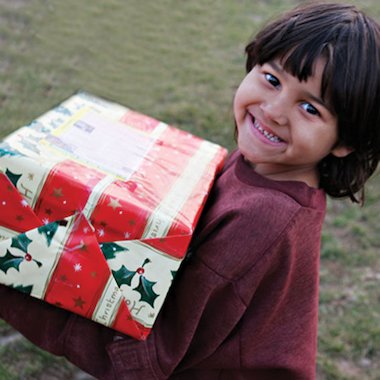 Knowledge and Understanding of the World
Charity shop challenge
Early learning goal: Find out about their environment, and talk about those features they like and dislike. Look at photographs of shops in your local area: What do they sell? Food, clothes, or other products? Can you think of any local charity shops? Talk about charity shops with the children. Explain how they use donated goods to raise money to help people in need and are a good way of recycling objects and clothing. Ask children and their families to donate warm clothes they no longer need to take to a local shop. Invite a charity shop assistant to talk with the children about their work.
If you have a local shelter, soup kitchen or charity working with homeless people, invite children to bring in canned foods, such as soup, other non-perishable items, such as pasta and rice, warm clothes and blankets, that they can donate.
The bird's Christmas tree
Early learning goal: Find out about and identify, some features of living things, objects and events they observe. Explain that it is not only people who need looking after and caring for. Talk about how the birds and other wildlife in the garden struggle to find food and water in the cold weather. Help children to decorate a tree outside for the birds. If there are no suitable trees, hang the items on a metal wire coat hanger. Hungry birds will love small mesh bags of peanuts in their shells or suet, raisins threaded onto lengths of string, peanut butter spread onto pine cones and stale ring doughnuts, slices of apple and segments of oranges hung up. All of these will look colourful and feed the birds at the same time. Take photos of the different birds as they visit their Christmas tree.
Physical Development
Wrapping and packing presents
Early learning goal: Handle tools, objects, construction and malleable materials safely and with increasing control. Explain to your children that the shoe boxes they have packed with presents will look much better and more exciting if they have been decorated or wrapped in Christmas paper. Encourage children to practise wrapping boxes using wrapping paper, scissors and sticky tape. Help them to wrap the shoe boxes, base and lid, before packing them carefully with the collected items.
Useful links
Try these websites for more information about helping charities with your children:
With thanks to photographer Maria Scard (www.mariascard.com) and Link Romania for use of their photographs. For more information about their Christmas appeal visit: www.linkromania.co.uk