The second part of Tom Barrett's series about free technology resources available on the web, discussing the use of internet search engines as a classroom research tool
In our classrooms today we have a generation that have only known a world with the internet. Information is only a web link away and the volume of information we can access is staggering. Being able to navigate, search and filter this information has naturally become a crucial literacy skill for young learners.
As educators we also need to competently manage what the internet has to offer and provide the best tools to our pupils to help facilitate this.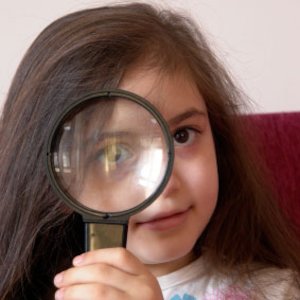 Classroom ideas
Explore these Google tips to help keep your search results fresh and relevant:
Timeline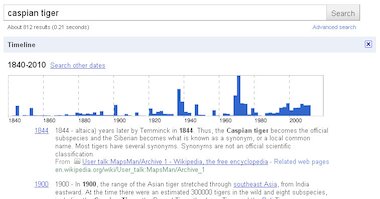 Timeline displays results along a timeline, which is really useful when researching a historical event or comparing different time periods. For example, a search for the Caspian Tiger shows most results between 1960-1979 when the species became extinct. Timeline can be accessed from the More Search Tools link on the left of the Google search results page.
Wonder Wheel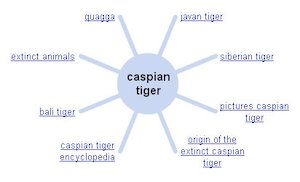 Wonder Wheel displays an interactive diagram of related search terms. This is displayed alongside a column of normal results. This is an excellent way to research a topic more widely. The search for the Caspian Tiger provides a Wonder Wheel showing other species of tiger that have become extinct and also the Quangga. Wonder Wheel can be accessed from the More Search Tools link on the left of the Google search results page.
Image Swirl

Image Swirl is another Google Search development to come from their Labs. It provides a visual representation of images grouped together by common features and categories. At the top of the search results there is also a set of text links showing relevant categories. A search for Caspian Tiger shows tiger, tigers and extinct species as related categories.
Images are grouped in different ways such as line drawings, illustrations or black and white images. YouTube video results are also available within this search tool, which is a useful addition.
Google Squared

Google Squared is one of my favourite ways to research in the classroom. It would be a great extension to the way you and your children search because it not only provides really structured results, but also the opportunity to talk about the validity of what they find.
When you use Google Squared you see your results presented in a grid format with different category headings for each column. Sometimes you can select which source you want for your results from each cell and decide on the accuracy of information.
Explore my guide to Google Squared on my blog and take a look at a screenshot walkthrough of the features.
Google Instant
Google Instant is the most recent search innovation. It provides search results as you are typing and is a superb way to show children how their search terms provide different results.
Starter tips
There are alternative search engines to
Google
, but considering Google's mission is 'to organise the world's information and make it universally accessible and useful', it's useful to expand the variety of ways you can use Google search:
Use speech marks to search for an exact phrase (for example, "school holidays" searches for web pages containing that exact phrase)
Explore how Boolean operators such as – and + change your search results (for example, school +holidays searches for web pages featuring both words, but school –holidays searches for pages containing the word 'school' but not the word 'holidays')
Explore the idea of keywords with children, as this is a great way for them to improve their searches – link this with the idea of note taking in literacy
In some browsers there is a search toolbar (usually in the top-right of the browser window) – ensure your children are clear about the difference between the address bar and search toolbar
Using Google Chrome negates this address/search bar confusion: you have a single space that allows you to search or type web addresses
Other search engines
Spezify
Spezify presents results from a variety of engines in different ways. Visual blocks appear alongside each other and allows you to move around a large open page to navigate them. Images, web results, video and sound results can be toggled on or off to help you refine your search.
Shahi
Shahi is a visual dictionary that combines images with word definitions. I find this a really useful way to explore word meanings and the images give children plenty of support when exploring definitions. As you search different words, completed search terms are archived in a growing list, allowing you to go back and explore them.
Visuwords
Visuwords is another word-related search engine that works really well on an interactive whiteboard. It is a dictionary/thesaurus/etymology visualisation tool. It uses Princeton University's WordNet, an opensource database built by University students and language researchers.
Searching for copyright-free images
Finding a good image search tool is really important when generating engaging content for children. Making sure that you have the appropriate rights to use the images is also key – here are a few of my favourites:
Simple CC Flickr Search
Simple CC Flickr Search was created by John Johnston, a former classroom teacher now working for a local authority in Scotland. He built this search tool to access images that can be freely re-used ('CC' stands for 'Creative Commons', a licensing agreement allowing free use of content). The results provide you with all you need to embed the images in your sites.
CompFight
CompFight provides another good alternative to Google Image Search and gives you the ability to filter your results according to licenses that allow you to use them freely.
Tag Galaxy
Tag Galaxy displays results in a series of 'galaxies' according to the image tags. This is a really useful way to explore related images and search terms. Tag Galaxy has a fantastic interface to explore your image results too.
More to explore
Tom Barrett runs the educational technology blog edte.ch and can be reached via his account on Twitter.
Image © Orhan Çam/istockphoto.com