As a student or NQT, you may not have had to deal with child bereavement. Follow our guide to supporting children following the death of someone close
Bereavement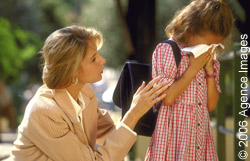 What you need to know
Each day, 40,000 families worldwide experience the death of a child. Many will face the death of a relative at some time, and children may come across death early in their lives.
Younger children find it hard to accept the permanence of death.
Most of us, children included, move through stages of denial, grief, anger, guilt and readjustment. All these feelings are normal, take time and are best supported by those nearest and dearest to us.
Grieving only needs outside support if it becomes 'stuck'.
How you can help
When someone in one of the families attending your school dies, try not to let your embarrassment and fear of not knowing what to say get in the way of speaking to the family.
Avoid giving direct advice and platitudes, such as 'time will heal' or 'you're taking it so well', but be sensitive to what practical help you can give. Perhaps you can provide additional support to any siblings or friends in school who are grieving in their own individual ways.
Be there to listen. If one of the children has died, find happy memories to share, and continue to talk about the child.
Do give extra attention to siblings or friends who will be feeling confused and sad just when the adults around them may not have the time or emotional resources to comfort them.
Talk about what has happened in clear, absolute terms. Work and play alongside the child and provide opportunities.