These yummy recipes are a lovely treat to prepare and share with your children as the days get shorter
Recipes supplied by

Recipes in this article:
1. Crunchy Sundae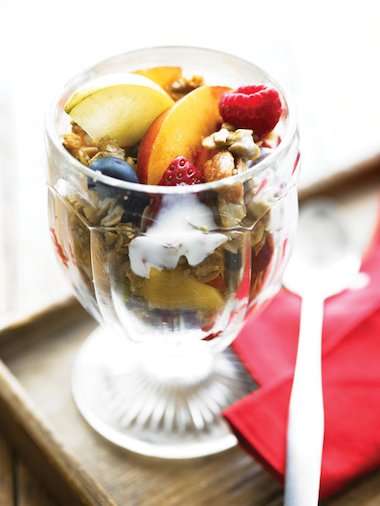 Serves 3 or 4
Preparation time: 10 minutes
This breakfast sundae is super easy to create for a colourful and delicious start to the day and a fun alternative to a bowl of cereal. Experiment with your children's favourite fruits and with different toppings, such as nuts or maple syrup.
Ingredients:
160g fresh fruit or berries of your choice
125g Rachel's Pouring natural yogurt
75g granola or muesli
1 tablespoon honey
Equipment needed:
Method:
Spoon the fresh fruit or berries into the bottom of a sundae dish or glass bowl. Top with yogurt and then the granola or muesli, repeat spooning in the layers until the glass is full.
Drizzle with honey or syrup and serve immediately.
Why not try…
Using fresh fruit when it's in season and available more cheaply, otherwise you can make this with unsweetened canned or defrosted frozen fruit.
2. Oaty Cookies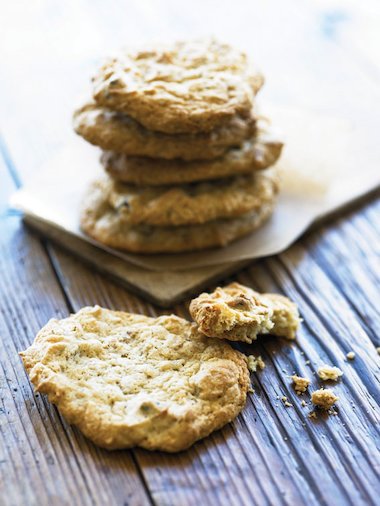 Makes 18 biscuits
Preparation time: 10 minutes
Cooking time: 10 minutes
Help your children to make these yummy biscuits ready for snacktime. They are a lovely treat – crisp on the outside and chewy on the inside.
Ingredients:
110g soft brown sugar
100g caster sugar
55g unsalted butter or margarine
30g vegetable shortening
115g Rachel's Pouring natural yogurt
drop of vanilla extract
125g plain flour
1 teaspoon bicarbonate of soda
100g mixed oat and wheat flake cereal, or rolled oats
Equipment needed:
Large mixing bowl
Large baking sheet
Wire cooling rack
Method:
Pre-heat the oven to 195°C/Gas mark 5
Line or grease a baking sheet.
In a bowl cream together the sugars and fats until light and fluffy.
Stir in the yogurt and vanilla extract, then mix well.
Add the flour and bicarbonate of soda and mix until all the flour is incorporated.
Add the flakes or oats.
Drop tablespoons of the mixture onto the prepared sheet and bake for 8–10 minutes until golden brown on the edges.
Leave to cool slightly before removing onto a wire cooling rack.
Why not try…
Adding some chocolate chips for an extra treat, or a few sultanas, raisins or other small dried fruits for a healthier snack!
3. Fruit Cobbler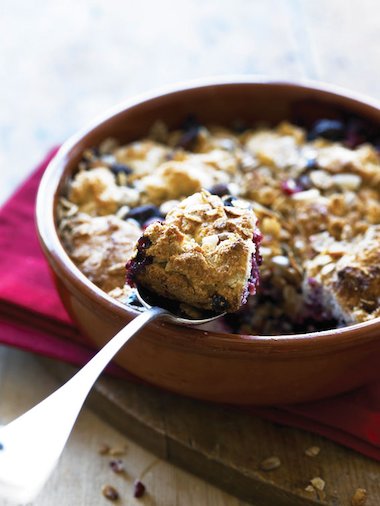 Serves 6-8
Preparation time: 20 minutes
Cooking time: 40 minutes
This recipe is easy to make as a special dessert with either fresh or frozen fruit. A cobbler is half way between a crumble and a pie. If you don't have a food processor, you can rub the butter into the flour and sugar, or use a hand-held mixer.
Ingredients:
300g frozen berries mix (you can use fresh fruit, if you wish)
200g golden caster sugar, plus extra for sprinkling
½ teaspoon ground mixed spice
3 tablespoons cornflour
175g self-raising flour, sifted
75g unsalted butter, cubed
125g Rachel's Pouring natural yogurt
25g fruity muesli or jumbo oats
Equipment needed:
Oven-proof dish approximately 26cm x 18cm
Food processor or mixer
Method:
Pre-heat oven to 200°C/Gas mark 6
Place the fruit or frozen berry mix into an oven-proof dish.
Mix together in a small bowl 100g of the caster sugar, mixed spice and cornflour. Sprinkle this over the fruit and gently combine.
Take the sifted flour, butter and the remainder of the sugar. Using a food processor or mixer, whizz together for a few seconds on pulse speed (or rub in by hand) until fine crumbs form.
Add the yogurt and whizz again until a soft dough forms – don't worry the dough will be very sticky. Spoon the mixture in scattered clumps over the fruit, leave some gaps for the cobble effect. Sprinkle with muesli and sugar.
Bake for 40 minutes, or until pale golden and the fruit is tender.
Why not try…
Adding some sliced Bramley apple or pear to the fruit mix. This pudding is even more delicious served warm with some ice-cream or vanilla yogurt and great on really cold days.
More recipes online…
Try more warming Winter recipes, available from our web resource bank: