The education sector is set for a shake up in recruitment methods – but what will be future trends in the primary education sector?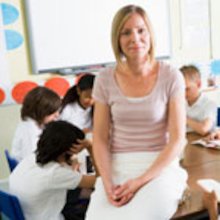 The current market
Over the last 12 months, we've seen largely positive trends in recruitment in the primary education market. The temporary supply market has been particularly buoyant, while permanent teaching roles have been inundated with applications as huge numbers of NQTs have entered the workforce.
However, primary education is still having problems recruiting male teachers at Key Stage 2, especially in London and the South East. Recruitment agencies are having to put more resources behind attracting male staff to meet the demand for male teachers, one-to-one male SEN support for boys and male teaching assistants across the country.
Another key issue for primaries is that demand for headteachers is currently outstripping the supply of qualified candidates. This will inevitably mean that some schools are forced to use interim Heads to cover posts that have yet to be filled. For classroom teachers this may result in a lack of management and strategy and mean that any development of the school's objectives is put on hold until a permanent Head is in place.
The rise of academies
With the first primary schools gaining academy status earlier this year, and the likelihood for others to follow if the new academy model proves successful, we could see some changes in recruitment methods. It's likely that primary academies will begin recruiting through agencies, rather than through traditional methods like advertising in local newspapers.
From our experience with secondary academies, we've found that there's a minority of teachers that oppose the academy movement. However, for the vast majority of teachers the important factors for them when applying for a job are the school's ethos, support structures and leadership. If academy status improves those key areas we may find that more teachers are driven towards academies.
The impact of the spending review
Despite the Department of Education's funding falling overall, the dedicated budget for schools will slightly rise by 0.1 per cent. However, factoring in discretionary raises, loss of funding for any teaching assistant training and the £2.5bn set aside for the pupil premium, it's clear that there will be a number of effects on primary schools.
Large inner city primaries will potentially fare better as they can better absorb cost changes within their larger budgets. But, the cost implications could be much larger for small village primaries that could result in mergers as schools seek economies of scale or even closures if local authority support is withdrawn.
The great unknown is the impact of cuts to the central services budget. As primary schools tend to buy some, if not all, of these services from the LEA any cuts could force primaries to form partnerships with secondary schools that already manage services such as HR and payroll in-house or outsource to a private sector supplier. This partnership will have the positive impact of allowing primaries to benefit from the buying power of a large secondary, but risks adding extra costs if predictions of the level of services needed fall short of actual requirements.
For changes that impact directly on classroom teachers, we may see a rise in less-permanent teaching roles. Rising unemployment and an end to lifetime tenure of social housing may result in a more transitory workforce, meaning school roll numbers would be harder to predict. Consequently, fixed-term contracts or long-term supply arrangements could become more popular.
In the short term, this shouldn't mean redundancies for primary teachers as incremental discretionary raises will not impact on staffing budgets to a great degree in the next couple of years. By the time it does begin to affect budgets, schools will have had time to plan their recruitment and staffing levels to decrease the likelihood of any shock job losses.
Due to the School Teachers' Pay and Conditions Document, classroom teachers should not find their current job roles changing vastly. However, teachers may see the impact on teaching assistants and office staff when workloads increase as they are forced to take on more and more tasks.
Have changing budgets affected your school? Have your say in our forum.
Image © Catherine Yeulet/istockphoto.com