Reward your pupils with our certificate maker
12 November 2010
Add to My Folder
This item has 4 stars
of a maximum 5
Rated 4/5 from 6 ratings (Write a review)
With five positive phrases to choose from and hundreds of combinations of children to create, you're sure to love our easy-to-use certificate maker.


Whether you make the certificates for your class or pre-school group or you let your children make them for their friends as part of critiquing each other's work, our Certificate maker is a great way to say 'Well done'.
Our customised certificates are quick and easy to make. Just choose a body, get your Bright Spark dressed, pick an accessory, add their name and then choose one of five 'well done' messages:
... is really working hard
... is reading very well
... has made us happy today
... keeps on getting better and better
... is a great person to have in our class
Then just print out your certificates and hand them out – or, for long distance praise, email your certificate and let everyone know how pleased you are with their progress.
Maybe you think your colleagues are 'working really hard' too, or if they've 'made you really happy today', why not let them know?
Once printed, there's even space to sign them or to add stickers or smiley faces for extra praise.
Make someone's day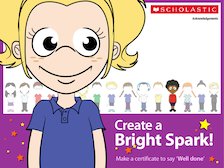 Our promise: We never store any of the email addresses you might enter when using the certificate maker.
You may need Flash To use this resource you need Adobe Flash installed on your computer.
To get the latest player:
Install Adobe Flash Player (You may need to be an Administrator to install Flash)


Not quite looking right? If our Bright Sparks Certificate Maker isn't showing fully in your browser window just go to View and zoom in.
New to our website?
Take a look at the top ten reasons why you should sign up.